Filtered By: Topstories
News
Trillanes avails of amnesty, admits 'breaking rules'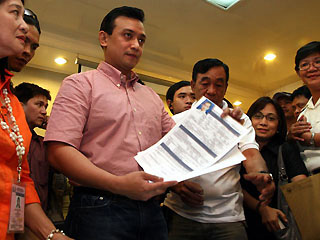 NO REMORSE. Senator Antonio Trillanes IV shows his application for amnesty to reporters at Camp Aguinaldo on Wednesday. Mark Adrian
UPDATED 4:30 p.m. -
"We are man enough to admit that we have broken rules."
These were the words of former Navy Lt. Senior Grade and incumbent Senator Antonio Trillanes IV after he availed of government amnesty on Wednesday, along with the other Magdalo soldiers.
Trillanes said they filled out an application form and signed the sections that state they were agreeing to their "general admission of guilt" that they violated military rules and the Revised Penal Code (RPC).
However, Trillanes, who won in the 2007 senatorial elections after securing 11 million votes, was quick to admit despite their admission of guilt, they never regretted participating in the 2003 Oakwood mutiny.
In the 2003 uprising, some 300 soldiers, who collectively identified themselves as the "Magdalo" group, took over a posh hotel in Makati City to air their grievances against the Arroyo administration.
He insisted he and his colleagues who participated in the uprising never denied that what they did in 2003 was something out of the ordinary.
"Ever since, hindi naman kami nagpanggap na ang ginawa namin na pagpunta sa Oakwood at Peninsula [Hotel in 2007] ay natural na ginagawa ng sundalo... so it's very easy for us to admit that,"
Trillanes told reporters at Camp Aguinaldo.
"Pero wala pong regret,"
he added.
Trillanes said while they admitted to "violating some rules," they were not admitting guilt to the mutiny and coup d'etat charges lodged against them both in the civil and military courts.
"I would like to qualify that we did not admit to the charge of 'coup d'etat' or anything
na finile sa amin because we believe hindi iyon ang nararapat na charge na ginawa sa amin,"
he said.
He said their uprising in 2003 "could not be defined as coup d'etat."
"We, ourselves, don't know if what we did was coup d'etat," he added.
Trillanes said he felt "good" as he was accomplishing the application form, and described the experience as "a milestone in our lives."
On Tuesday, a total of 39 "mutinous" soldiers applied for amnesty — 19 of them were officers, 20 were enlisted personnel.
This brings the total number of amnesty appplicants to 58 - including the four officers and 15 enlisted personnel who also applied for amnesty on Tuesday.
Sen. Antonio Trillanes IV and other members of the Magdalo group pose for a 'group shot' after applying for government amnesty before the Department of National Defense amnesty committee at Camp Aguinaldo on Wednesday. Mark D. Merueñas
Life after amnesty
Trillanes said even if they are no longer in the service, they would still pursue their advocacies as members of the Magdalo group, "although on a different path, largely in politics and social movements and even community service."
Earlier in the day, another military officer who applied for amnesty and talked to GMANews.TV on condition of anonymity said they were availing of amnesty for the sake of their families.
He also said they wanted to clear their names and restore the ranks of their colleagues who were demoted for the 2003 uprising.
He said most of the Magdalo soldiers had either taken up other jobs or had migrated abroad.
He said some of their colleagues abroad might be coming back for the amnesty application, which runs until March.
As for Trillanes, he vowed to prioritize military-related measures when sessions in Congress resume in two weeks' time. The lawmaker said he would push for the modernization of the Armed Forces of the Philippines, as well as the provision of a higher combat pay for soldiers.
Trillanes acknowledged President Aquino's order to hike the combat pay of soldiers being sent to the field by P260, but admitted the amount was insufficient.
Amnesty applicants
Aside from Trillanes, the following individuals also applied for amnesty on Wednesday:
OFFICERS
2Lt. Edgardo Aguilar
2Lt Leopoldo Apellanes
Lt. JG Arturo Pascua Jr
Lt. JG Ceferino Checa
2 Lt. Jonnell Sangalang
Ens. Cesar Carmel Tamba
2Lt. Jeoffrey Tacio
2LT Norman Spencer
Lt. SG Andy Torrato
Lt. SG Manuel Cabochan
Lt. Norberto Santiago
2Lt. Jeveehboy Macarubbo
Lt. Billy Pascua
1Lt. Francisco Ashley Acedillo
1Lt. Jonathan Costales
Cpt. Gary Alejano
Cpt. Segundino Orfiano
Lt. Eugene Louie Gonzalez

ENLISTED PERSONNEL

Cpl Edgar Velasco
Cpl. Joey Membreve
SSG Francisco Bosi
Cpl. Bonifacio Barrion
Cpl. Berting Cabara
Cpl. Dennis Lopez
Cpl. Danilo Butial
Cpl. Leo Gapayao
Sgt. Jigger Paculba
Cpl. Lorenzo Carranzo
Cpl. German Linde
Sgt. Walter Manalansan
Cpl. Roel Molina
Pfc Abraham Apostol
Sgt. Ronald Reyes
Cpl. Ruel Espenilla
Pvt. Jocil Regulacion
Cpl. Emmanuel Tirador
Cpl. Filomeno Ramirez
Cpl. Carlo Pilos

Proclamation 75

Trillanes and the other Magdalo soldiers were able to avail of amnesty by virtue of Proclamation 75, issued by President Benigno Simeon Aquino III in November last year.

Aquino earlier issued on October 11 Proclamation 50 granting amnesty to all active and former personnel of the Armed Forces of the Philippines (AFP) and their supporters, who committed acts or omissions punishable under the RPC, the Articles of War or other special laws related to the following:

the July 27, 2003 Oakwood Mutiny;
the February 2006 Marines Stand-Off;
the November 29, 2007 Manila Peninsula Incident, and/or
related incidents "provided that amnesty shall not cover crimes against chastity and other crimes committed for personal ends."

However, lawmakers had questions about the proclamation such as the "effectivity clause" of the proclamation and the supporters of the rebel soldiers who will also be covered by the amnesty.

??Malacañang transmitted to the House on November 24 and to the Senate the next day, Proclamation 75, the amended version of Proclamation 50.

The Senate on December 7 adopted the resolution concurring with the amended presidential proclamation granting amnesty to soldiers and policemen involved in at least three attempts to overthrow the Arroyo administration.

Meanwhile, the House of Representatives on December 13, voting 213-7 with two abstentions, concurred with Aquino's Proclamation 75.

Those who were not in favor of the amnesty grant were:
ANAD Rep. Pastor Alcover Jr.;
Agusan del Norte Rep. Jose Aquino II;
Arroyo's son Camarines Sur Rep. Diosdado 'Dato' Arroyo;
Arroyo's brother-in-law Negros Occidental Rep. Ignacio Arroyo Jr.;
Davao del Sur Rep. Marc Douglas Cagas IV;
Siquijor Rep. Orlando Fua, and
Lanao del Norte Rep. Imelda Dimaporo.

Lanao del Sur Rep. Hussein Pangandaman and Bukidnon Rep. Jose Ma. Zubiri III abstained from voting.

Mutineers

The mutineers covered by the amnesty proclamation are those who were involved in the following incidents:

Oakwood mutiny — occurred on July 27, 2003 when 321 armed soldiers, who called themselves "Bagong Katipuneros" (New Katipuneros) took over the Oakwood Premier Ayala Center (now Ascott Makati) serviced apartment tower in Makati City. Led by Army Capt. Gerardo Gambala and then Lt. Senior Grade and now Senator Antonio Trillanes IV, the mutineers protested against the alleged corruption of the Gloria Macapagal-Arroyo administration;

Manila Peninsula incident — On November 29, 2007, Trillanes, Brig. Gen. Danilo Lim, Capt. Nicanor Faeldon and other Magdalo officials walked out of their trial and marched through the streets of Makati City, calling for the ouster of Arroyo. They then headed to The Peninsula Manila Hotel along Ayala Avenue in Makati City and seized its second floor;

February 2006 Marine stand-off — The Philippines was placed under a state of emergency on February 24, 2006 after the government foiled an alleged coup d'état attempt; Arroyo lifted the state of emergency on March 3, 2006. – VVP, GMANews.TV