Filtered By: Topstories
News
222 private schools raise college tuition; hikes average P41.52 per unit
222 of 2,181 private colleges and universities nationwide will raise their tuition rates by an average of 10 percent or P41.52 per unit when the next school year opens in June, the Commission on Higher Education (CHED) said.
However, CHED said the 222 figure may rise to 256 "once CHED-National Capital Region finalizes the processing of all the schools in the NCR...," while also indicating through a chart that 301 private higher education institutions "applied" to raise their tuition. Tuition hikes usually apply to incoming freshmen. The CHED sent the data on tuition fee increases to news media on Tuesday. The tuition hike list does not include state universities and colleges (SUCs) and other public higher education institutions, whose governing boards are empowered to raise school fees through board resolutions by virtue of their charters and Republic Act 8292 or the Higher Education Modernization Act. The country has a total of 2,247 higher education institutions (HEIs), according to CHED.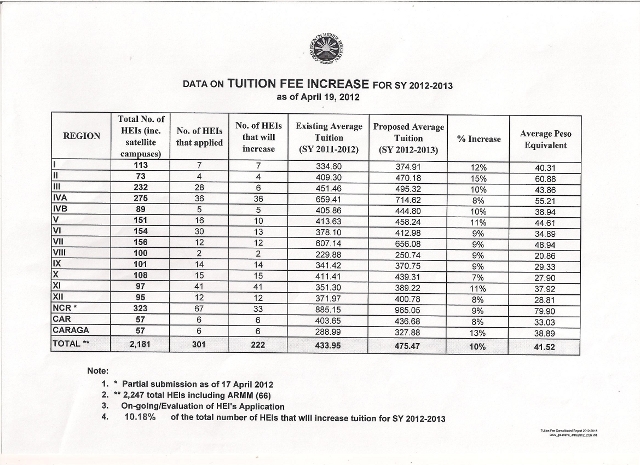 In the chart on data on tuition fee increases emailed to news media, CHED showed that the national proposed average tuition for SY 2012-2013 will increase by P41.52 per unit to P475.47 from the current level of P433.95. The same chart also indicates regional averages of proposed tuition ranging from a low of P250.74 by two schools in Region VIII or Eastern Visayas to a high of P965.05 in Metro Manila, where the increase amounts to P79.90 per unit on the average. Aside from NCR, the two other regions which have the most number of private schools raising college tuition are Region IV-A (Calabarzon) and Region XI (Davao region) where rates will increase by 8 percent and 11 percent, respectively. There are no more pending applications for tuition hikes in the following regions: I, II, IV-A, IV-B, VII, VIII, IX, X, XI, XII, CAR, and Caraga. A total of 79 proposed college tuition hikes are pending before the CHED offices from these regions: III, V, VI, and NCR. The CHED did not specifically identify or list any of the HEIs that will raise their tuition starting next school year.
CHED: HEIs cite rising costs
In an earlier statement, CHED chairperson Dr. Patricia Licuanan said HEIs "are under pressure to increase tuition fees because of increasing costs at a difficult time." She added that a law, the Education Act of 1982 stipulates that, "Each private school shall determine its rate of tuition and other school fees or charges… subject to rules and regulations promulgated by the Ministry of Education, Culture and Sports (now the Commission on Higher Education)." Licuanan added that the task of the CHED is " to ensure that HEIs meet the guidelines provided by law, especially the requirement of consultation on how tuition fees are allocated, and that HEIs adhere strictly with the processes that seek to make tuition fee increases transparent, reasonable, and affordable." She said the CHED appealed to HEIs "to carefully study their tuition and fee increases each year and to spend wisely and judiciously in order to lessen costs to its most important stakeholders – its students." Last school year 324 HEIs increased their tuition by P36.93 or P10.62 percent, Licuanan said. The latest round of CHED-processed tuition hikes does not cover miscellaneous fees. The new CHED memorandum order on school fee increases will also cover miscellaneous fees, although not now, but in SY 2013-2014 yet.
HEI tuition rates vary
Tuition and school fees vary from school to school and from course to course, according to available information on universities' websites. At
Adamson University
in Manila, downpayment rate upon enrolment is P8,000 and fees for its Hospitality Management program totals P44,683.00 for incoming freshmen. Its Business Economics program costs P32,192.00. At the
Far Eastern University
, the total fees for the first semester of SY 2012-2013 for its Bachelor of Science Major in Business Management is P39,914.00 with downpayment at P8,500.00. FEU's Bachelor of Science in Hotel and Restaurant Management program has total fees for the first semester at P35,512.00 with downpayment also at P8,500.00. FEU is one of only two Philippine private universities
listed in the Philippine Stock Exchange
(PSE). The other listed university is Centro Escolar University (CEU). Unlike FEU, CEU does not disclose on its
website
information on its tuition fees for SY 2012-2013. CEU, however, posts its PSE corporate disclosures, including financial statements, on its website. CEU revealed that in the nine months ended Dec. 2011, it earned P1 billion in revenue from tuition and school fees and had net income of P248 million for the same nine months. It said its revenue declined by 1.18 percent in those months compared to the same months ending Dec. 2010. CEU also said majority of its enrollees pay fees on installment basis. It has P337.56 million in net accounts receivable. CHED data indicate that CEU and FEU are among the private HEIs with high enrolment. At the University of Santo Tomas, freshmen last June paid P40,184 at the College of Commerce and P50,174 for the Nutrition and Dietetics course. At De La Salle University, average tuition and fees for freshmen in the College of Business was at P63,000 in SY 2011-12. CHED estimates higher education student enrolment in SY 2012-2013 to reach 2.69 million with 23.9 percent of students taking up business and related courses and 16.61 percent going into medical and allied programs.
–Earl Victor Rosero/KG/HS, GMA News