Filtered By: Topstories
News
Pulse Asia: Pinoys who believe May 2019 elections were free from cheating down by 9%
The percentage of Filipinos who believe that the May 2019 polls were fraud-free reached 74%, a decrease from the 83% who believed that there was no cheating in the May 2016 elections, a Pulse Asia survey showed Wednesday.
The Pulse Asia post-election assessment poll, conducted last June 24-30 among 1,200 respondents, also showed that there were 19% who can't say if cheating happened in their place.
Pulse Asia president Ronald Holmes, however, admitted that it is hard to rule out poll fraud considering that the same poll showed that while only 16% of those surveyed said there was vote buying in their place which is a form of cheating, 20% could not say if there was vote buying.
Those who said there was no vote buying in their place was 64%.
"It is really pretty hard to probe vote buying, with 20% of people who could not say if vote buying happened which is up from 9% in 2016. With 64% percent saying there is no vote buying in their place, there could be instances when a form of vote buying is not considered vote buying by the [poll] respondents," Holmes said in a forum.
"They could be given a merienda, and not consider it as vote buying," Holmes added.
The Omnibus Election Code prohibits "any person who gives, offers or promises money or anything of value, gives or promises any office or employment, franchise or grant, public or private, or makes or offers to make an expenditure, directly or indirectly, or course an expenditure to be made to any person, association, corporation, entity, or community in order to induce anyone or the public in general to vote for or against any candidate or withhold his or her vote in the election."
Lawyer Ona Carritos, executive director of election watchdog Legal Network for Truthful Elections, agreed with Holmes that it is hard to determine data on poll fraud and vote buying.
"We have observed that vote buying became more rampant since automated polls took place in 2010 because the politicians cannot rig the vote counting machines. Now, they go straight to organizers, operators in barangays. Ways of vote buying became more creative," Carritos said.
"We are good with the procedure, but the fraud is happening outside of the machines and the automated system, and that is something that we need to focus on 2022 presidential polls and succeeding polls," Carritos added.
The survey's margin of error was ±3 percentage points for national percentages, and ±6 percentage points each for National Capital Region, Balance Luzon, Visayas, and Mindanao.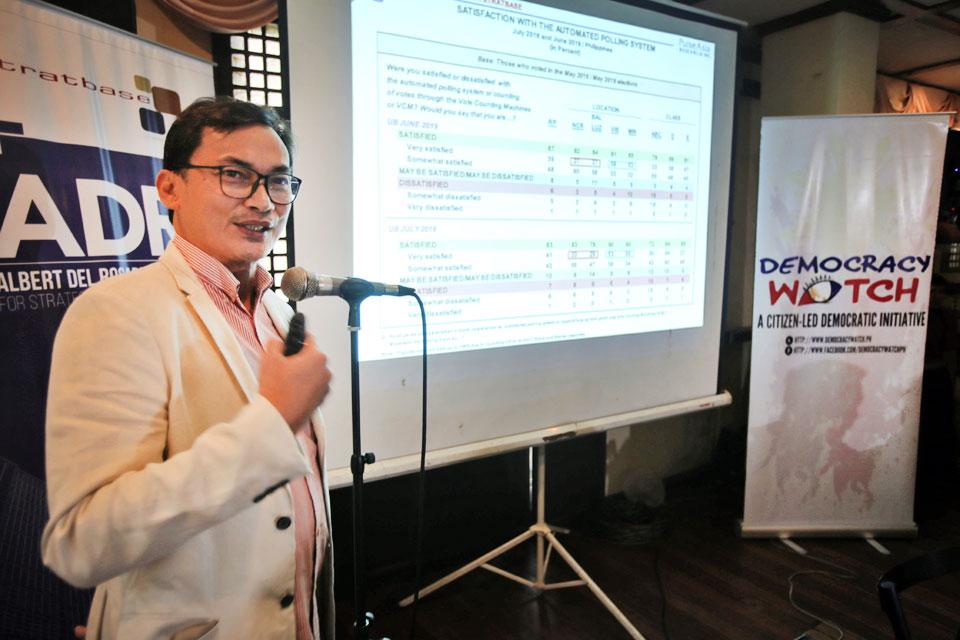 At a forum in Manila on Wednesday, August 7, 2019, Dr. Ronnie Homes, president of Pulse Asia Research Inc., presents data showing 87% of Filipinos are satisfied with the automated polling system or the use of vote-counting machines in the last election, which is 4% higher than the satisfaction rating posted in the 2016 polls. The same survey also shows 91% of respondents said they want to see automated voting to continue in future elections. Danny Pata
The same survey showed that 91% of Filipinos back continued automated polls and 84% of 61 million registered voters voted in the May 2019 elections. —KG, GMA News