Filtered By: Topstories
News
Health workers groups: We are the soldiers, not the enemy, in COVID-19 fight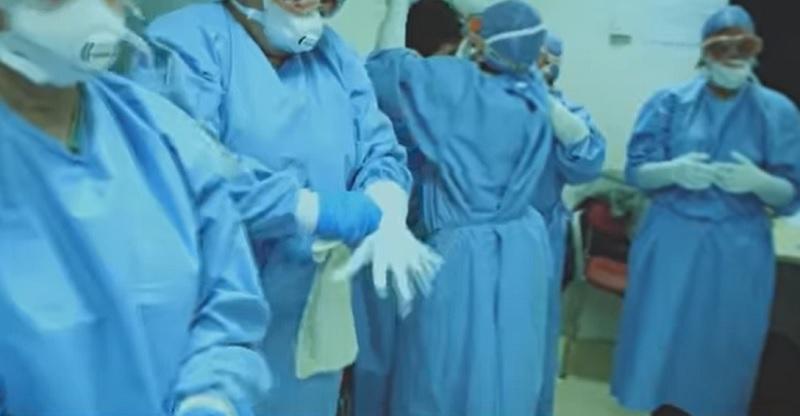 Health workers should be treated as soldiers, not enemy, as the country faces the COVID-19 pandemic, according to the Philippine Health Sector Affiliates of Public Services International (PSI) on Tuesday.
The health workers groups issued the response in a letter to Inter-Agency Task Force chief Francisco Duque III and Chief Implementer Carlito Galvez, Jr. of the National Task Force Against COVID-19 in the aftermath of President Rodrigo Duterte's televised tirade against health care workers for calling for stricter quarantine protocols.
The groups include Alliance of Filipino Workers, Confederation of Independent Unions in the Public Sector, Philippine Government Employees Association, Philippine Independent Public Sector Employees Association and Public Services Labor Independent Confederation
"In our frontliners' call for time-out, they didn't mean work stoppage and they didn't demean the government. Their call is a plea for help—sounding off a distress signal to prevent our healthcare system from collapsing," the groups said in their letter provided by Jennifer Fabros, chairperson of the Philippines Health Project-Public Services International (PSI), to GMA News Online.
"Our health workers at the front lines are not the enemy but our soldiers in this unprecedented war. We cannot survive this pandemic without them. Unnecessary remarks against our health workers will not help us win the battle," the groups added.
Having said that, the health workers groups called for the immediate implementation of the following measures during the modified enhanced community quarantine (MECQ), a protocol that bans mass transport and non-essential work—from August 4 to 18.
increasing the capacity of the health workforce by providing secured or tenured employment;
sustaining a uniform grant of hazard pay, special risk allowance and insurance to health workers, both in the public and private sectors regardless of community quarantine classification;
ensuring adequate provision of appropriate Personal Protective Equipment (PPEs) to our health workers;
providing safe and secured accommodation and transportation to our health workers;
creating of an IATF Sub-Committee to include medical experts in epidemiology, pulmonology, infection control, public health, etc., medical societies, professional organizations and workers representatives; and
reporting on COVID-related data and information that is accurate and verified.
Likewise, the groups called for the timely implementation of the Bayanihan law, specifically its provisions protecting health workers such as:
providing them with a COVID-19 special risk allowance in addition to the hazard pay granted under the Magna Carta of Public Health Workers
PhilHealth shouldering all medical expenses of public and private health workers in case of exposure to COVID-19 or any work-related injury or disease during the duration of the emergency
providing P100,000 compensation to public and private health workers who may contract severe COVID-19 infection while in the line of duty
providing P1 million compensation to public and private health workers who may die while fighting the COVID-19 pandemic, among others.
"This is the time to unite. Thus, we fervently hope that these recommendations warrant your attention and kind consideration," they said.
As it is, the health workers said at least seven problems beset the country's fight against the COVID-19 pandemic:
hospital workforce deficiency
failure of case finding and isolation
failure of contact tracing and quarantine
transportation safety
workplace safety
public compliance with self-protection and
social amelioration
"We support the call of our frontliners for time out as a breather for our health workers, as a way to reduce the transmission, and as an opportune time to regroup, reassess, and recalibrate our response to this COVID-19 pandemic," they said.
Maristela Abenojar, President of Filipino Nurses United, echoed her colleagues' lament on lack of manpower amid the COVID-19 pandemic.
Abenojar said that their group already called for mass hiring of health care workers in February, but their call was only heeded by mid-April.
"Ang bagal ng kilos," Abenojar said in an ANC interview.
Abenojar cited that while the ratio of one nurse per 10 to 12 patient is the standard, this should be calibrated amid the pandemic, considering that the COVID-19 virus is highly communicable.
"We have to remember na the COVID-19 patient has no relative present. So iyong extra care na kailangan, iyong pagpapakain, pag-assist papunta sa banyo, pag-aayos ng sarili nila, nurse ang gumagawa noon," Abenojar said.
"Critical care ito, kaya dapat one nurse is to two to three patients lang," she added.
Abenojar also said considering this situation, it is no surprise that over 5,000 health workers have already been infected with COVID-19, of which 2,000 are nurses.
"Huwag isisi sa health workers bakit di sila nag-aapply kasi valid ang fear," Abenojar said. --KBK, GMA News