Filtered By: Topstories
News
Jails' congestion rate reaches 438%; P2.7B worth of BJMP infra projects delayed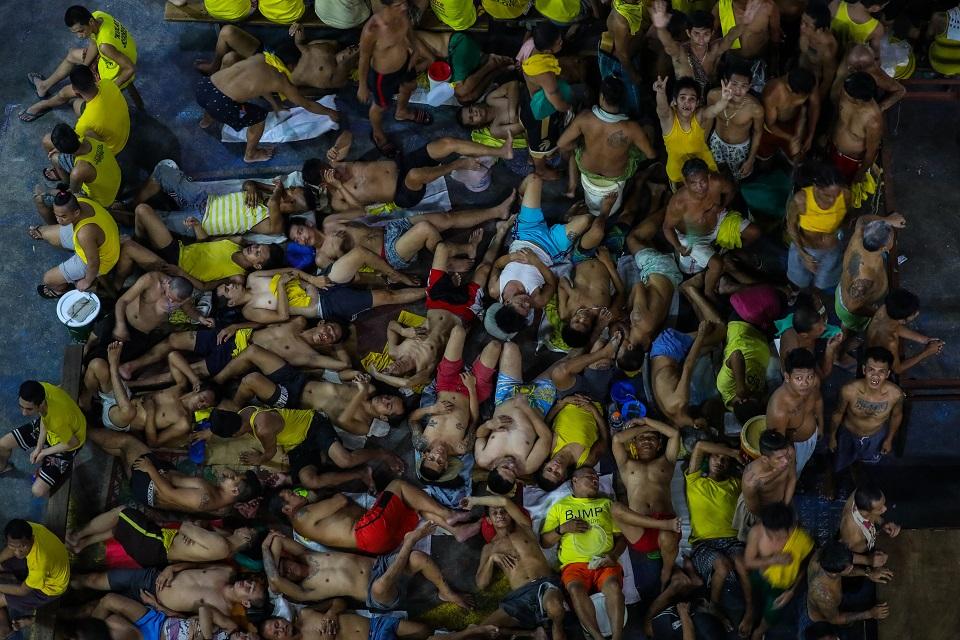 Jails in the Philippines have exceeded their capacity by 438% while the completion of P2.7 billion worth of infrastructure projects of the Bureau of Jail Management and Penology (BJMP) have been delayed, the Commission on Audit (COA) said.
In its 2019 Annual Audit Report on the BJMP, state auditors said that the total jail population in the country reached 130,667 as of December 31, 2019—way beyond the ideal capacity of jails at 24,306.
Region 9 is the most congested at 821%, followed by the National Capital Region (NCR) with a congestion rate of 645%.
Region 7 ranked third with a 611% congestion rate.
On the other hand, jails in the Cordillera Administrative Region were the least congested at 103%, followed by Region 2 at 107%. Region 4B is third least congested at 222%.
"While the Agency (BJMP) has been continuously professionalizing the jail services as well as unceasingly provides for the basic needs of PDL such as food, drugs and medicines, rehabilitation supplies, etc., congestion has always been one of the biggest challenges in carrying out its mandate in humane safekeeping and development of PDL (persons deprived of liberty) under its care," COA said.
"Congestion in jails resulted in health and sanitation problems as well as increased gang affiliation of inmates. To sustain survival, inmates hold on to gangs or "pangkat" where they find protection, a network of social support and most importantly, access to material benefits, which are scarce in highly congested facilities," COA added.
COA traced the congestion problem to the delayed completion of BJMP's 49 infrastructure projects amounting to P2.76 billion.
"We noted that while total jail population decreased by 5,647 PDL from 2018 to 2019, congestion rates decreased only by one percent from 439 percent in 2018 to 438 percent in 2019 in view of the temporary closure of various jail facilities nationwide to give way for the constructions and/or redevelopment of a number of jail facilities," state auditors said.
The highest amount of delayed infrastructure projects was recorded in NCR with P2 billion, followed by Region 3 with P272 million, Region 6 with P249 million, Region 12 with P126 million and Region 5 with P46 million.
BJMP cited the following reasons for delays:
delays in the conduct of soil testing
unworkable weather condition
delays in the approval of Detailed Architectural and Engineering Design (DAED)
delays in the garbage/scrap disposal
unworkability in the area due to adverse weather conditions
lack of construction materials delivered/stocked at project site
lack of contractor's manpower provided at jobsite
non-implementation of project's plan
lack of monitoring supervision by the contractor
suspension of work due to shortage of water and electrical supply and obstructions in the construction area, among others.
In decongesting the jails, COA said, the BJMP has already taken the following steps:
designation of paralegal officers who have a background in the field of law or other related discipline that is beneficial in assisting the fast release of PDLs
vigorous implementation of the BJMP Paralegal Program
implementation of the provision of the New Good Conduct Time Allowance law
continuous coordination with the Local Government Units (LGUs) for possible lot donation and/or construction of jails
the ongoing construction of Mandaluyong City Jail male and female dormitories located at Maysilo Circle, Mandaluyong City and Quezon City Jail Female Dormitory at Camp Tomas B. Karingal, Maginhawa Street Sikatuna Village, Quezon City being funded by the LGUs; and
construction of various jail facilities and/or expansion of existing jail facilities that are funded out of the 2018 and 2019 budget, six of which are expected to be fully operational in 2020, among others.
COA, on the other hand, made the following recommendations:
include in its budget appropriation a provision for capital outlay for the purchase of lots and/or construction of additional jail facilities to address the continued and increasing jail population;
continue its effort making representations with LGUs, national government for possible lot donations and/or construction/expansion of jail facilities
require the Regional Bids and Awards Committee to ensure timely completion of all procurement activities pertaining to the construction and/or improvement of all jail facilities
strictly supervise the implementation/construction of various infrastructure projects and immediately notify the contractor for any delays or any indication that will cause delays on the project's completion and
enhance and intensify the GCTA process.
— BM, GMA News