Filtered By: Topstories
News
Antonio Sanchez negative for COVID-19 — BuCor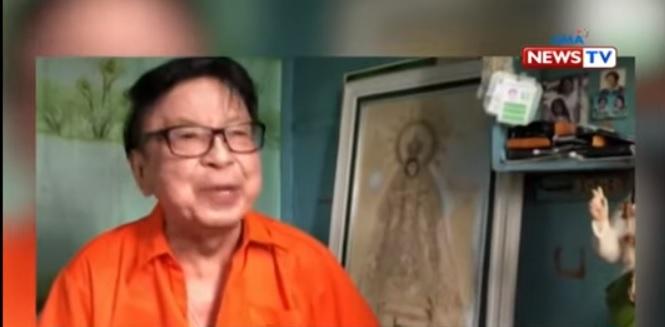 Convicted former mayor Antonio Sanchez has tested negative for COVID-19, the Bureau of Corrections (BuCor) said Thursday.
Though positive in a rapid test, Sanchez tested negative in a confirmatory swab test, BuCor spokesman Gabriel Chaclag told reporters.
Sanchez was admitted to the New Bilibid Prison Hospital earlier this week after showing flu-like symptoms. He was tagged as a "probable" COVID-19 patient.
Justice Undersecretary Markk Perete also cited BuCor as saying that the elderly inmate's condition has improved and that he will no longer be transferred to the Philippine General Hospital.
Perete previously said that Sanchez was diagnosed with "electrolyte imbalance secondary to acute gastroenteritis, chronic kidney disease, hypertension, and benign prostatic hypertrophy."
On Thursday, Chaclag said the diagnosis was "community acquired pneumonia moderate risk, chronic kidney disease, diabetes mellitus type 2, benign prostatic hypertrophy." He said the acute gastroenteritis was "resolved."
Perete said Sanchez is still at the national penitentiary's hospital.
As of July, the BuCor had recorded more than 300 COVID-19 cases, including 18 deaths, in two of its seven facilities nationwide.
Sanchez was convicted for the 1993 rape and murder of college student Eileen Sarmenta and the murder of her friend Allan Gomez. His conviction was upheld by the Supreme Court.
GCTA
He made headlines last year after it was reported that he was due for early release from prison on account of good conduct time allowances (GCTA).
The issue, which sparked public and official criticism, prompted authorities to revise the rules for granting prison time allowances.
The GCTA issue resurfaced this week after a court in Olongapo ordered the release of US Marine Joseph Scott Pemberton because of GCTAs he had accumulated that supposedly added years to his actual time served.
Pemberton was found guilty of killing Filipina transgender woman Jennifer Laude in 2014. He was sentenced to six to 10 years in prison in 2015.
Laude's family has asked the court to reconsider the release order. — RSJ, GMA News