Filtered By: Topstories
News
TIMELINE
Revisiting the Jennifer Laude slay case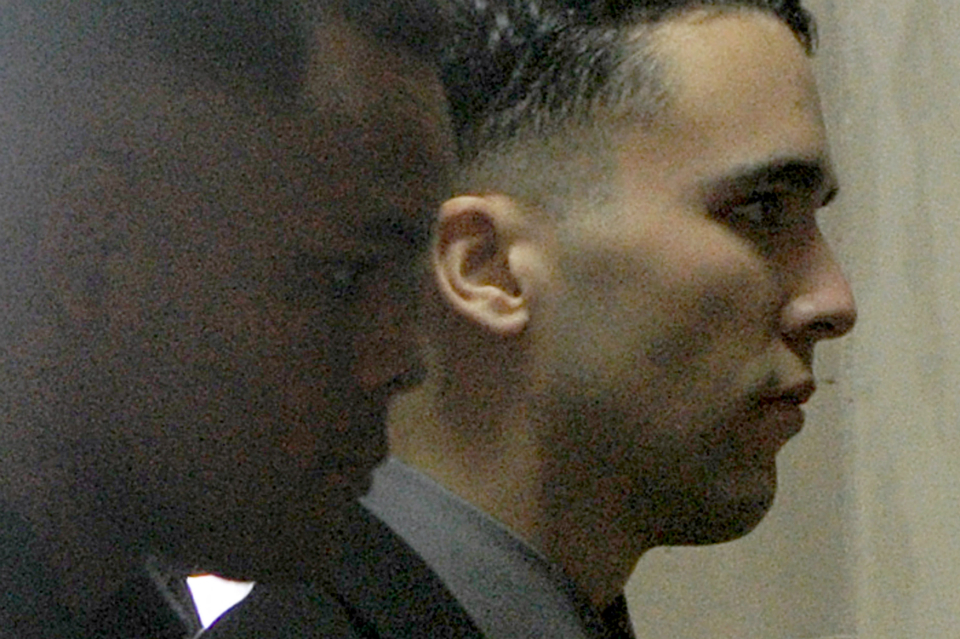 Nearly six years after the death of Filipino transgender woman Jennifer Laude, a trial court has ordered the release of the American serviceman found guilty of killing her.
Philippine authorities said they are not releasing Joseph Scott Pemberton until the court has resolved the Laude family's motion for reconsideration.
This timeline looks back at court developments following Laude's death.
October 11, 2014 — Laude, 26, is found dead in a room in Celzone Lodge in Olongapo City with her head inside the toilet bowl. She was last seen with US Marine Joseph Scott Pemberton, 19.
October 13, 2014 — Laude's friend, Barbie, gives a voluntary sworn statement to a Naval Criminal Investigative Service officer at the local police station and identifies Pemberton in a photo lineup.
October 15, 2014 — Laude's sister, Marilou, files a murder complaint against Pemberton before the Olongapo City Prosecutor's Office.
December 15, 2014 — Prosecutors charge Pemberton with murder. He is accused of attacking, assaulting, boxing, beating up, strangling and choking Laude from behind, according to the criminal information filed in court.
December 16, 2014 — The Olongapo Regional Trial Court issues a warrant of arrest against Pemberton.
December 19, 2014 — Pemberton surrenders. He is detained at Camp Aguinaldo.
February 23, 2015 — The court enters a not-guilty plea on Pemberton's behalf after he refused to enter a plea.
March 23, 2015 — The trial proper begins. According to one of his fellow Marines, Pemberton admitted that he thought he "killed a he/she."
In his own testimony, as narrated by the Court of Appeals (CA), Pemberton said he fought with Laude when he discovered she was a trans woman. He "got his arm around Laude's neck" and "just held Laude there until he realized that he was not moving," the CA said.
He claimed that he "acted in defense of his life and honor." He also claimed that Laude was still breathing when he left her; he denied that he dunked her head inside the toilet bowl.
December 1, 2015 — The Olongapo RTC convicts Pemberton of homicide, not murder, and sentences him to six to 12 years in prison. Pemberton is also ordered to pay Laude's family millions of pesos in damages.
December 16, 2015 — Pemberton files an omnibus motion for partial reconsideration, bail, and clarification.
March 29, 2016 — The RTC denies Pemberton's motion for reconsideration and bail but adjusts his penalty to six to 10 years. Pemberton would later file an appeal before the CA.
April 3, 2017 — The CA denies Pemberton's appeal for lack of merit.
August 15, 2017 — The CA denies Pemberton's motion for reconsideration of its April decision. The previous decision stands.
October 5, 2017 — Pemberton asks the Supreme Court to reverse the CA decision that upheld his conviction.
June 2, 2020 — Pemberton files a motion to withdraw the petition he filed at the SC, saying he "accepts and recognizes that his conviction will become final and executory."
June 15, 2020 — The SC Third Division grants Pemberton's motion to withdraw. The case is now considered "closed and terminated."
September 1, 2020 - The Olongapo RTC orders Pemberton's release. The court counted the serviceman's good conduct time allowances on top of his actual time served and rules that he has served a total of 10 years, one month, and 10 days -- more than the maximum penalty of 10 years.
September 2, 2020 — Laude's family files a motion for reconsideration, arguing that there is no proof of Pemberton's good conduct.
September 3, 2020 — The Bureau of Corrections says it has suspended Pemberton's release and will wait for the resolution of the Laude family's motion for reconsideration.
September 7, 2020 — President Rodrigo Duterte granted Pemberton absolute pardon.
September 13, 2020 — Pemberton was released from his detention facility at Camp Aguinaldo in Quezon City. Escorted by the Bureau of Immigration personnel, Pemberton went straight to the Ninoy Aquino International Airport in Pasay City, where a military aircraft was waiting to fly him back to the US.
September 14, 2020 — Presidential spokesperson Harry Roque said Pemberton will face court martial proceedings in the US. Roque said this was relayed by US officers during the pre-trial on the case against Pemberton.
—KBK/RSJ/LBG, GMA News