Filtered By: Topstories
News
Manila Bay rehab not commendable, group says after Duterte praised DENR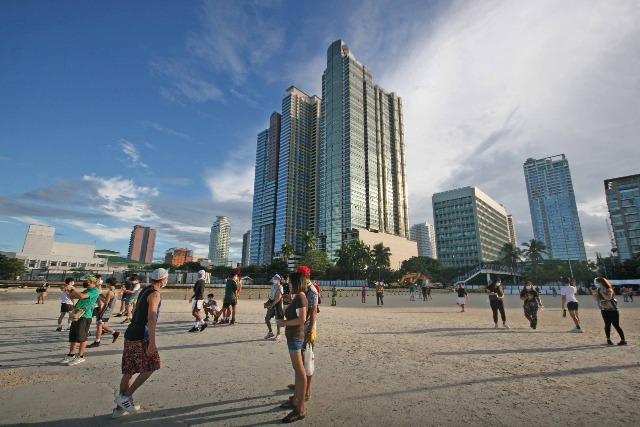 The rehabilitation of Manila Bay led by the Department of Environment and Natural Resources (DENR) is not commendable, environmental groups said on Tuesday, after President Rodrigo Duterte praised the agency for the project.
Fisherfolk groups' alliance PAMALAKAYA chairperson Fernando Hicap contradicted Duterte's appreciation of DENR's efforts on Manila Bay, once again stressing that the ongoing rehabilitation is superficial.
"There is nothing commendable on the DENR's thrust on Manila Bay rehabilitation which is actually based on external beautification, rather than a genuine restoration of its marine and fishery resources," Hicap told GMA News Online.
"Moreover, there is nothing applaudable on the DENR's efforts on Manila Bay because they facilitate large-scale destruction of its mangrove forests and seabeds through reclamation projects."
Amid criticism on the Manila Bay rehabilitation efforts, Duterte on Monday congratulated DENR Secretary Roy Cimatu for leading the campaign.
Hicap said Duterte did not pay attention to the environmental and health concerns that are being raised by different sectors about the dumping of crushed dolomites on the portion of the bay's shoreline to give it a "white sand" look.
"Not surprising but still disappointing," Hicap said.
"Amid the wide criticism and objection both from the public and experts, President Duterte has still chosen to side with this infamous 'beach nourishment' project," he added.
Hicap also noted that the DENR has been granting environmental compliance certificates (ECCs) to several big-ticket reclamation projects across the Manila Bay. He said this includes the 320-hectare reclamation in Bacoor City, Cavite, and the reclamation for the international airport in Bulakan, Bulacan.
Ocean conservation organization Oceana Philippines Vice President Atty. Gloria Estenzo Ramos, meanwhile, reminded the government to implement environmental laws after Duterte congratulated the DENR.
"The State agencies need to implement our environmental laws," Ramos told GMA News Online.
Ramos pointed out that DENR is not exempt, noting that the Supreme Court in the 2008 MMDA Ruling has directed it and 12 other agencies to perform their mandates to protect the environment.
"This is and must be a priority if our people are to survive as we face health, fisheries, climate and biodiversity crisis all at once," Ramos added. —KBK, GMA News