Filtered By: Topstories
News
Makabayan solons dare Duterte: Sue us if there's proof we are linked to Reds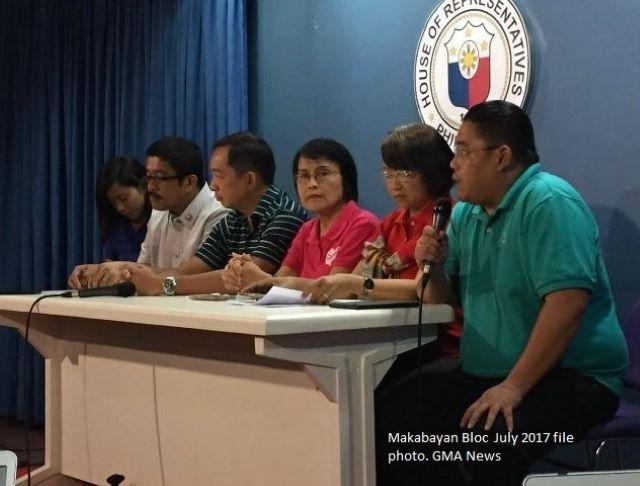 The House Makabayan Bloc on Tuesday dared President Rodrigo Duterte and other government officials to file charges against them in court if they have credible evidence to say that they are indeed connected with communist rebels.
They made the remark after Duterte, in his televised address on Monday night, "red-tagged" the progressive bloc anew, particularly Bayan Muna party-list Representative Carlos Zarate.
Duterte was quoted as saying "the act of one is the act of all...the act of a soldier NPA (New People's Army) is the act of Zarate, the congressman."
He added that there would be a time before his term ends when he would name all of those involved with the National Democratic Front of the Philippines, the negotiating arm of the Communist Party of the Philippines.
The Makabayan Bloc slammed Duterte's statements as "flawed" and "dangerous" and only meant to justify the intensified attacks against critics of his administration.
"President Duterte and his ilk do not have any credible evidence against us, because if so they would have gone to court a long time ago," they said.
"They have been saying for the longest time that they have tons of evidence. Then present it in court now, not just rant about it. Or is it because you do not have evidence and state forces are still manufacfuring it?" they added.
The progressive lawmakers maintained that the intensified attacks against them and Zarate, in particular, only shows the Duterte administration's intention to eliminate them.
"They know that Rep. Zarate and the Makabayan bloc's sterling record in and outside Congress is a stark contrast to the criminally negligent and incompetent handling of the Duterte administration of the different problems of the country from the COVID-19 pandemic, to typhoons, unemployment, landlessness and others," they said.
"They know that the Makabayan Bloc's whole machinery would be mobilized to expose the corruption issues and other anomalies of the Duterte administration from the generals' pork, to subservience to China, to illegal POGOs, high electricity and water rates among others," they added.
Despite the continued attacks against them, the Makabayan Bloc vowed that they will not back down.
"Duterte and his ilk are continuously seeking to impose on us their extremist, militaristic views. For them, to think otherwise is to be red or an enemy of the state. We will not let this pass," they said.
The Makabayan Bloc have earlier denied that they are members, or even "fronts" of the Communist Party of the Philippines, NPA, or NDF. —KBK, GMA News