Filtered By: Topstories
News
Muntinlupa court junks De Lima drug case, sustains another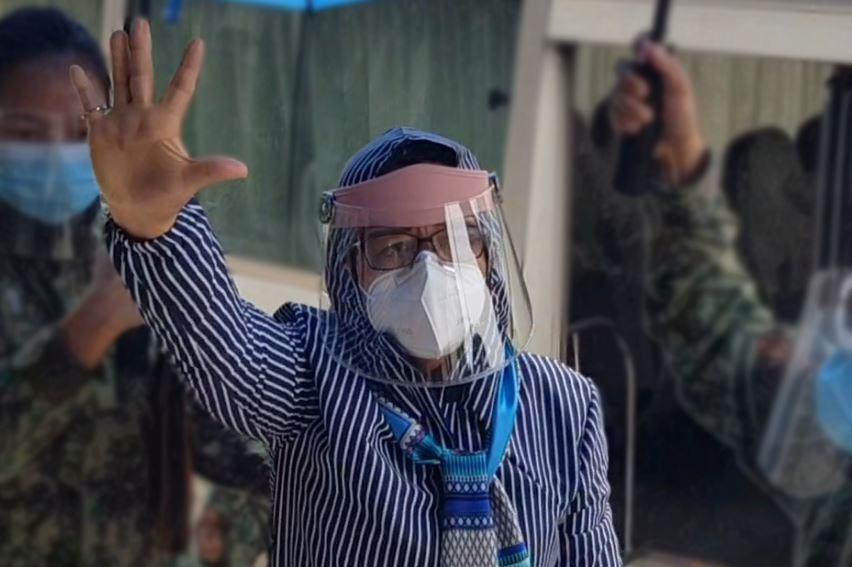 A Muntinlupa City court on Wednesday denied Senator Leila de Lima's plea for the junking of her drug case involving her former driver and bodyguard Ronnie Dayan.
In an order, Judge Liezel Aquiatan of the Muntinlupa City Regional Trial Court (RTC) Branch 205 did not grant both the detained lawmaker's demurrer to evidence, as well as her petition for bail.
At the same time, however, the judge granted De Lima's demurrer to evidence in another drug case involving Jose Adrian Dera.
A demurrer to evidence is a pleading seeking a case's dismissal because of weak prosecution evidence and without the defense presenting its own. The granting of such a plea is tantamount to an acquittal, while its denial means the trial will proceed.
In the same ruling, the court denied a similar plea by Dera although he was allowed to post bail worth P500,000.
Apart from the two drug cases, the senator is facing a third drug case that is pending before another court, the Muntinlupa City RTC Branch 256.
De Lima welcomed the court's action in her case with Dera.
"Ikinalulugod po natin ang pag-abswelto sa akin at pagbasura ng korte sa aking kaso sa Criminal Case No. 17-166. To be acquitted even in just one case, in the time of [President Rodrigo] Duterte, is a victory," she said in a statement read by her lawyer Boni Tacardon at a press conference.
The senator added she will file an appeal to the denial of her demurrer to evidence in her case with Dayan.
"Wala ring napatunayang pera, ni isang kusing, na napunta sa akin mula sa bentahan ng ilegal na droga. Puro tsismis. Puro haka-haka lang," she said.
No link between De Lima, Dera
According to the Department of Justice, De Lima had conspired with Dera in committing illegal drug trading since Dera demanded and received money and vehicles from Peter Co, a high profile inmate at the New Bilibid Prison, supposedly for her 2016 senatorial campaign.
But Aquiatan said the prosecution failed to establish De Lima's connection to Dera, who was allegedly the senator's nephew.
"While there exist a factual link that Peter Co delivered money through his bank transactions, this Court is convinced that the prosecution did not present sufficient evidence to establish Dera's relationship or connection with De Lima," the order stated.
There was also no evidence that could prove that any money received by Dera benefited De Lima, the judge said, adding only Dera was responsible for the "consequences of his acts."
"Apparently, the prosecution failed to elicit strong evidence to sustain a finding of guilt beyond reasonable doubt on the part of accused De Lima," the order added. "No link between the two accused was proven, and thus, it cannot be concluded that they agreed to engage in illegal drug trading."
Aquiatan, however, granted Dera's bail petition because the probability of him being convicted of the crime charged is "not that strong."
Sufficient evidence vs De Lima, Dayan
The judge, meanwhile, did not see any reason to dismiss at the moment the case involving De Lima and Dayan. In this case, prosecutors alleged that P10 million in Bilibid drug trade proceeds was delivered to De Lima's house in 2012.
Aquiatan said the prosecution was able to show that illegal drug trading exists in Bilibid and that some of its proceeds went to De Lima and Dayan.
The judge cited the testimonies of several witnesses, including that of convict Nonilo Arile who said that he was gathering money from the drug lords in Bilibid for De Lima's senatorial bid.
Former Bureau of Corrections officer-in-charge Rafael Ragos and National Bureau of Investigation intelligence agent Jovencio Ablen Jr. had also testified to have seen Dayan in De Lima's residence in Parañaque City when they delivered the money.
"This Court is convinced that the prosecution has presented sufficient evidence to sustain a verdict," the judge said.
The opposition senator has been detained for nearly four years on allegations that she conspired to commit illegal drug trading with corrections officials and inmates when she was secretary of the Department of Justice (DOJ).
De Lima has repeatedly denied the charges that she and her supporters claimed were politically motivated. -MDM, GMA News