Filtered By: Topstories
News
EXPLAINER
What is the 'NCR Plus' bubble?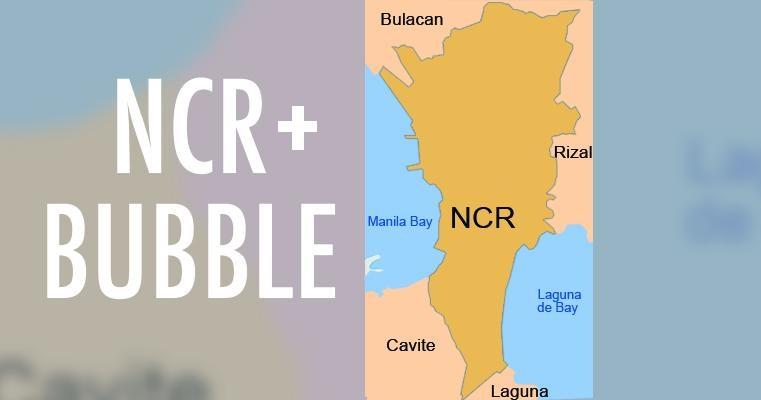 Due to the recent spike of COVID-19 cases in the country, the government has placed Metro Manila, Bulacan, Cavite, Laguna and Rizal under a stricter community quarantine bubble for two weeks. This area has been designated "National Capital Region Plus," and the quarantine is described as a stricter general community quarantine (GCQ).
It is, however, not a modified enhanced community quarantine (MECQ), which until now was the next higher level of quarantine after GCQ. There are differences between the two, laid out below.
The NCR Plus bubble will be in effect from March 22 to April 4.
Travel restrictions
Going into and out of the bubble will be restricted, except for essential travel.
Those who may leave and enter the bubble are:
Essential workers with valid company IDs
Health and emergency frontline services personnel
Government officials
Duly-authorized humanitarian assistance workers
Persons traveling for medical or humanitarian reasons
Persons going to the airport for travel abroad
Persons crossing zones for work or business and going back home
Returning overseas Filipinos and overseas Filipino workers
There is a current lack of clarity about travel inside the bubble. Philippine National Police Officer In Charge Police Lieutenant General Guillermo Eleazar said that travel would not be restricted within the bubble itself, but the PNP also set up an NCR Plus border control point between Quezon City and Rizal province that snarled traffic for hours.
What is prohibited or closed under the stricter GCQ?
All mass gatherings, including religious activities. Weddings, baptisms, and funerals may be held but limited to only 10 persons.
Indoor eating in restaurants. Only take-out and al fresco dining is allowed, and the establishment must follow the 50% capacity limit. Establishments also need to install dividers and limit diners to two per table with physical distancing.
Driving schools, traditional cinemas, video and interactive game arcades, libraries, archives, museums, and cultural centers. Open-air tourist attractions are exempted.
Leaving the household from 10 p.m. to 5 a.m. The curfew will be implemented in the entire NCR Plus bubble, except for workers, cargo vehicles, and public transportation.
Who are not allowed to leave the household?
Individuals below 18 years old
Individuals with health risks or immunodeficiencies
Pregnant women
Individuals over 65 years old may be allowed outside, but only for non-contact sports and outdoor exercise.
Persons with disability are also allowed outside, but only for therapy upon the presentation of a prescription or a PWD ID.
What is the difference between the MECQ and the stricter GCQ?
During the MECQ, public transportation was prohibited, while in the stricter GCQ, public transportation will remain operational, subject to guidelines of the Department of Transportation.
Also during the MECQ, many industries, establishments and offices operated under the same stringent restrictions as during the enhanced community quarantine (ECQ). A few were allowed to operate at full capacity, while others were allowed to operate at up to 50% capacity.
During this stricter GCQ, the government only encourages a 30% to 50% capacity of essential and non-essential services or industries, with the following exceptions:
Restaurants: mandatory 50% capacity limit for al fresco or outdoor dining only
Personal care service establishments: mandatory 50% capacity limit
Gyms: mandatory 75% capacity limit
What are the new recommendations in the stricter GCQ?
Avoid visiting other households
Wear face masks at home
Presidential spokesperson Harry Roque earlier said the country is aiming to reduce the number of new daily cases by 25% after the implementation of movement restrictions within the NCR Plus bubble.
So far, the country has 80,970 active COVID-19 cases, with total confirmed cases at 671,792.
The country has registered over 7,000 new COVID-19 cases daily from March 19 to 21 and posted a record-high 8,019 new COVID-19 infections on March 22.
Currently, the country has detected 223 B.1.1.7 (UK) variant cases, 152 B.1.351 (South Africa) variant cases, one P.1 (Brazil) variant case, and over 100 P.3 variant vases.
The OCTA Research group has said new cases could reach up to 20,000 daily if the surge is not contained. — BM, GMA News