Filtered By: Topstories
News
Chinese ships in Julian Felipe Reef a matter of concern but no reason to panic —envoy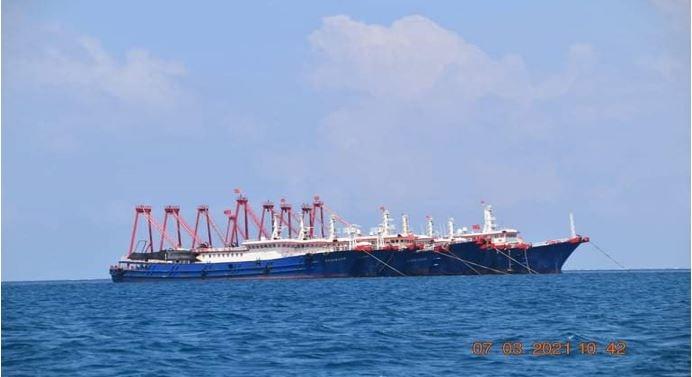 The presence of more than 100 Chinese vessels in Juan Felipe Reef in the West Philippine Sea is a matter of concern, but there is no need to panic, Philippine Ambassador to China Jose Santiago "Chito" Sta. Romana said Saturday.
"I look at this as a situation that we should be concerned with but we don't have to panic about," Sta. Romana said during the Laging Handa public briefing.
He urged the Philippine government to be vigilant regarding the situation in Juan Felipe Reef saying it is the "price of sovereignty."
"We should just exercise a high degree of vigilance, a high degree of monitoring and see what happens on the ground," he said.
The Philippine ambassador said he expects this matter to be resolved with an "abundance of diplomacy."

With the good relations between the Philippines and China, Sta. Roman said he expects that the presence of Chinese ships in the West Philippine Sea will not be a permanent situation which might eventually turn into occupation or reclamation of the area.
While the diplomatic exhanges are ongoing, Sta. Romana refused to give a time frame on the pullout of Chinese vessels in Juan Felipe Reef but he hoped to "see an improvement" on the situation next month.
He recalled a similar situation in 2019 where over 100 Chinese vessels were found swarming near Pag-asa Island, which China refers to as Thitu— one of the biggest islands in Spratlys situated in the West Philippine Sea.
Sta. Romana said the Philippines has also filed diplomatic protests on the similar incident and it was even tackled with Chinese President Xi Jinping during President Rodrigo Duterte's visit in China last 2019.
"Nagkapalinawanagan through diplomacy, nagkalinawan, and over time nakita natin na unti-unti or nabawasan ang Chinese ships at tumuloy sila sa kanilang gagawin," he said.
(Both leaders clarified the issue through diplomacy and over time we have seen that the Chinese vessels were eventually pulled out.)
Last Monday, the Armed Forces of the Philippines confirmed that around 183 Chinese militia vessels remained moored off Juan Felipe Reef.
The Department of Foreign Affairs has already filed a new diplomatic protest against China regarding the matter.
The Armed Forces of the Philippines on Thursday also conveyed to its Chinese counterpart the demand for the pullout of the Chinese vessels in the area.
However, China's People's Liberation Army reiterated the Chinese government's stand that the vessels were not manned by Chinese militia and are just taking refuge in the area amid foul weather, according to AFP spokesperson Major General Edgard Arevalo. —KG, GMA News