Filtered By: Topstories
News
Coalition launches signature drive for Walden Bello's bid for president in Eleksyon 2022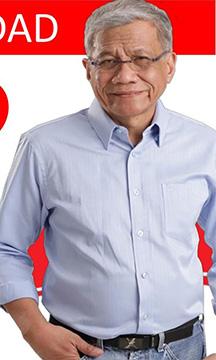 Coalition Laban ng Masa on Monday launched a campaign to collect 300,000 signatures to urge activist and former party-list lawmaker Walden Bello to run for president in the 2022 elections.
In a statement, Laban ng Masa said it wants to "push for an ambitious platform that focuses on the poor, prioritizes the neglected, and fights for the rights of ordinary Filipinos."
"We are all tired of the same breed of traditional politicians whose incompetence and neglect of duty make every waking day an endless nightmare for all of us. We deserve better than this, and we are offering a genuine alternative that will work hard towards systemic change that is long overdue."
Laban ng Masa said Bello, its national chair, is the "best candidate to represent this platform by running for president."
The group said President Rodrigo Duterte's legacy "cannot be allowed to continue in the 2022 elections through the Duterte political dynasty and its cronies."
It said Duterte is "only a symptom of a larger, systemic problem."
"Political parties, even in the mainstream opposition, are run by the rich and powerful. They make vague promises about "good governance" and choose their candidates - and more importantly, their policies - in backroom deals," it said.
"The Filipino people deserve leadership that isn't afraid to stand up to the elites and fight for concrete solutions to our country's problems," the group added.
The coalition aims to get 300,000 signatures by September 15, 2021.—Ma. Angelica Garcia/LDF, GMA News