Filtered By: Topstories
News
Duque: Herd immunity vs. COVID-19 likely by Q1 2022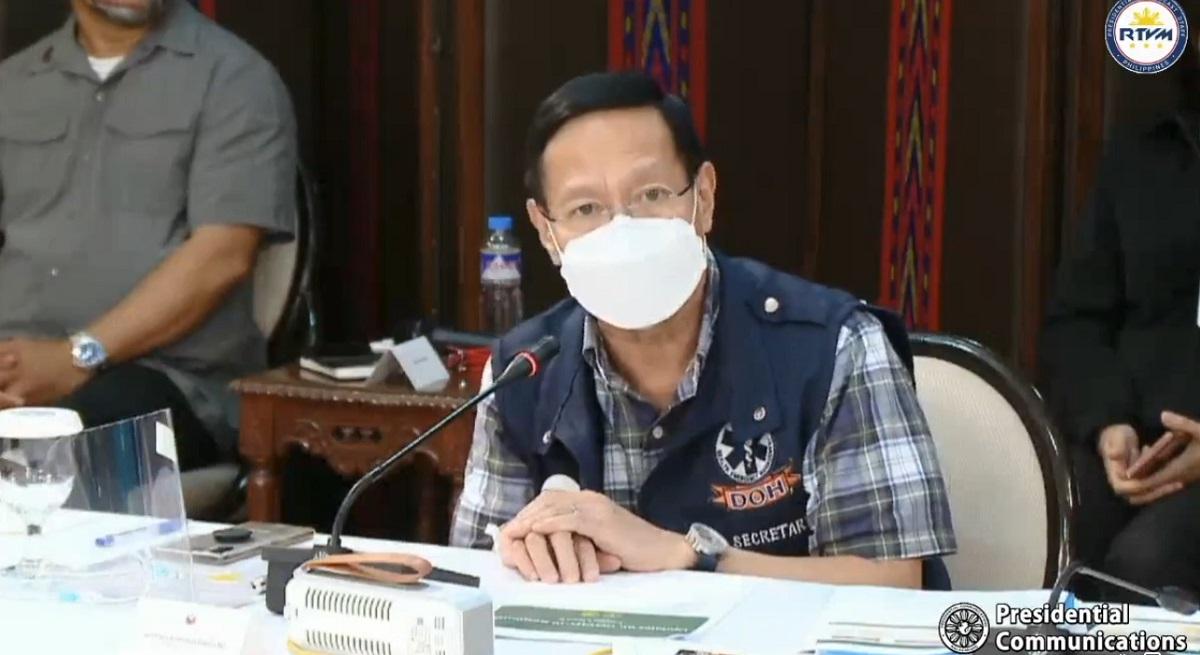 Herd immunity can be achieved by the first quarter of 2022 with 500,000 COVID-19 vaccine doses being administered daily, Health Secretary Francisco Duque said on Thursday.
"Supply permitting and assuming that there will be about 500,000 to 600,000 doses jabbed per day, the conservative estimate is, we might be able to achieve herd immunity sometime... second month of the first quarter of 2022," Duque said during the deliberations for the DOH's proposed P242.22-billion allocation.
Duque said the Department of Finance had reported to President Rodrigo Duterte that 195 million doses of COVID-19 vaccines are expected to arrive by the end of 2021.
"Having said that, it will exceed our herd immunity target of 77 million Filipinos, about 70% of the population, so we are confident that excess doses will be sufficient to cover those not belonging to the herd immunity population as identified," he said.
Duque said this could also include the inoculation of children, although at this point, the age threshold is still being determined.
"The VEP and the all experts group are working on this double time and hopefully next week they will be able to give us the technical report that will [determine] a policy amendment which means we can start inoculating children," he said.
Former Health chief and Iloilo Representative Janette Garin, meanwhile, said herd immunity should not be discussed at this point. Discussions on having a third dose of vaccine must instead be done.
"Let's do away with the discussion of herd immunity as of the moment but let's discuss the importance of a third dose," Garin said.
"Herd immunity means di ka na makakahawa at karamihan ng bakunado ay hindi makakahawa. This is science," she added.
COVID-19 threat to last a year or two
During the budget hearing, Duque was also asked by Marikina City Representative Stella Quimbo how long the COVID-19 pandemic would last.
Duque responded that it could still be a threat to Filipinos for a year or two.
"Malamang ito ay abutin pa ng isa hanggang dalawang taon batay sa mga projections ng WHO at mga grupo ng eksperto," Duque said.
(COVID-19 threat could still last for a year or two based on the projections of the World Health Organization and other expert groups.)
So far, 13.7 million Filipinos are fully vaccinated against COVID-19, which is way behind the 76.3 million target to achieve herd immunity.
The Philippines had failed to meet its target of administering 500,000 doses of COVID-19 vaccine daily during the last week of August.
NCR repro number down
Earlier in the day, OCTA Research, an independent group monitoring the pandemic, said COVID-19 reproduction number further went down in the National Capital Region.
Based on its latest report, OCTA said NCR reproduction number decreased to 1.39 as of September 2 compared to 1.43 as of August 31.
"Based on current trends, it is possible that the reproduction number in the NCR may decrease below 1 by the third week of September," it said.
Reproduction number refers to the average number of secondary infections by each infected individual. —LBG/KBK, GMA News