Filtered By: Topstories
News
When can Eleksyon 2022 candidates be substituted? Comelec explains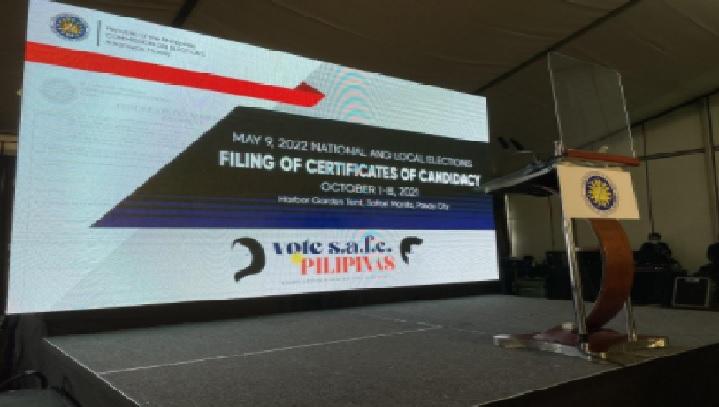 As the period for the filing of certificates of candidacy ended today, October 8, the Commission on Elections (Comelec) is now drafting the list of Eleksyon 2022 bets in the national and local positions.
The list of candidates, however, is still subject to change until the poll body ends the period of substitution.
Under the Comelec's calendar for Eleksyon 2022, substitution for a candidate in a national or local post can be filed from the end of the COC filing period until November 15, 2021.
Article IX, Section 77 of the Omnibus Election Code provides that "[i]f after the last day for the filing of certificates of candidacy, an official candidate of a registered or accredited political party dies, withdraws or is disqualified for any cause, only a person belonging to, and certified by, the same political party may file a certificate of candidacy to replace the candidate who died, withdrew or was disqualified."
In a press briefing Friday afternoon, Comelec spokesperson James Jimenez explained the poll body's rules on substitutions.
He said substitutions of candidates can be made for voluntary and involuntary withdrawals.
A voluntary withdrawal occurs when an aspirant decides to quit the electoral race, while involuntary withdrawal refers to the death or disqualification of the aspirant who filed his COC.
According to Jimenez, an aspirant who withdrew his candidacy before November 15 can be substituted, but only by a duly nominated party-mate.
"Voluntary withdrawal is still possible prior to November 15, and if there is voluntary withdrawal prior to November 15, then they can be substituted by a party-mate," Jimenez said.
This rule is also applied to aspirants who died or were disqualified before November 15.
Can substitutions be made beyond November 15, 2021? The Comelec said yes, but only for candidates in the final list who died and were disqualified.
Also, these candidates can only be substituted by a person with the same surname until mid-day of the election day or on May 9, 2022.
"Beyond November 15, ito na ang sinasabing namatay o na-disqualify (these are the candidates who died or were disqualified). This is referred to as involuntary withdrawal," he said.
"In which case, they can be substituted all the way to the mid-day of election day. They can be substituted by someone who has the same surname," he added.
In the same press briefing, the Comelec was asked if an individual who was not a party member but eventually took an oath before a political party can qualify as a substitute.
"If a supposed non-member takes an oath in a political party and becomes a member of that political party, the answer is yes," Director John Rex Laudiangco of the Comelec's Law Department said.
"Anybody who will take an oath before that political party and complies with their standards… can be declared as a member of that party and can have all the rights of substitution under the law," he added.
The question was floated as Senator Ronald Dela Rosa, on the last day of COC filing, submitted his COC for president under the PDP-Laban.
Dela Rosa was wearing a Hugpong ng Pagbabago shirt when he filed his COC.
HNP is a regional political party chaired by President Rodrigo Duterte's daughter, Davao City Mayor Sara Duterte.
When asked if Sara Duterte would soon replace him as the party's standard-bearer, Dela Rosa said, "Eh, 'di mas maganda."
(That's even better.)
Sara is not affiliated with PDP-Laban.
Up to the last day of the filing of candidacies, there were persistent calls for President Duterte's daughter to run for president.
Sara Duterte said that she would seek reelection as mayor in the family's hometown.
Comelec Chairman Sheriff Abas assured the public that the rules on substitution would not be altered in the middle of the game.
"The rules on substitution are fixed unless otherwise, amended but malabo po yon (that's unlikely). We will assure you that we will not change the rule [in] the middle of the game. Rest assured, that the Comelec will be very fair," he said, answering media queries. — DVM, GMA News