Filtered By: Topstories
News
Pilot face-to-face classes start in several areas
The pilot testing of face-to-face classes started Monday in several areas in the country amid the COVID-19 pandemic.
A total of 100 public schools are participating in the pilot run subject to strict health protocols.
These schools are in areas deemed safe by both the Department of Education (DepEd) and the Department of Health (DOH).
Twenty-two private schools meanwhile are scheduled to join the pilot run on November 22.
At Aspang Elementary School in General Santos City, students in Grades 2 and 3 trooped to their classrooms for face-to-face classes on Monday, according to a 24 Oras News Alert.
Next week, it will be the turn of Kinder and Grade 1 students at this school.
Their classes would only be for half a day.
Strict and orderly
Meanwhile, at the Pablo D. Maningas National High School in Barangay Argosino in the municipality of Quezon in Quezon Province, the conduct of the face-to-face classes was orderly.
Nine senior high school students in Grade 11 started arriving at the school past 6 a.m.
Before they were allowed entry into the school compound, they had to go to the barangay covered court which served as triage area. Here, barangay health workers took the students' body temperature and made them fill out health declaration forms.
Each student had an ID with a QR code to facilitate contact tracing. The school also gave each student a face shield.
Afterwards, the students were allowed to proceed to the school itself, but again their body temperatures were taken at the school entrance. Their QR codes were also scanned. Students also submitted their health declaration forms and washed their hands here.
Before entering their classroom, students had another round of body temperature checking. They were also made to put alcohol on their hands.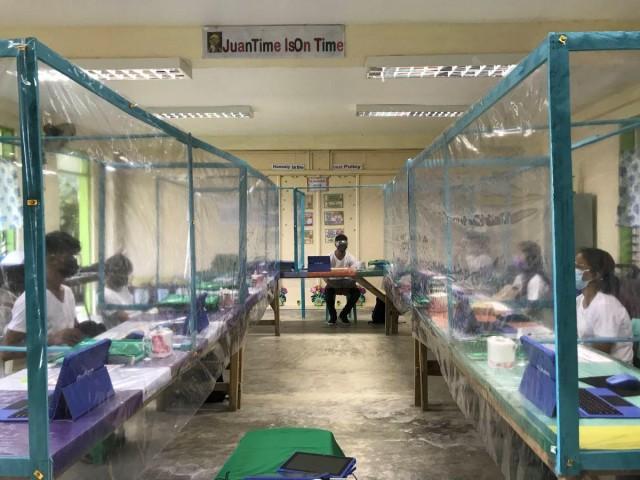 Students wearing face masks sit with adequate distance from each other during their class at the Pablo D. Maningas National High School in Barangay Argosino in the municipality of Quezon in Quezon Province on Monday, November 15, 2021. Peewee C. Bacuno
The senior high school students' classes lasted only for four hours. Each student had a tablet and book. There were plastic divisions segregating their seats.
The students also brought their own food as there is no canteen in the school. They were not allowed to leave the school compound.
On Tuesday, nine students in Grade 12 will attend their face-to-face classes at this school.
After classes, school personnel will disinfect the rooms used by the students.
Police and barangay tanod positioned themselves outside the school to provide security.
Janette Cabangon, principal of Pablo D. Maningas National High School, said they were able to comply with all the requirements set by the DepEd and the DOH.
She also thanked the local government unit, the Philippine National Police, Bureau of Fire Protection, Municipal Disaster Risk Reduction and Management Office and nongovernment organizations for their support in ensuring the conduct of Monday's pilot face-to-face classes would go smoothly.
Education Assistant Secretary Malcolm Garma on Monday said the DepEd is eyeing one school in every Metro Manila area to be included in the pilot run of face-to-face classes.
"We are happy to see our learners inside our classrooms as we recognize the significance of face-to-face learning in their social development," the DepEd said in a statement on Monday.
The department said more schools both public and private join the pilot run "in the coming weeks."
Assessment period for the initial run of pilot face-to-face classes will be until December 22, 2021. The pilot study is set to end on January 31, 2022.
Results of the pilot testing will be presented to President Rodrigo Duterte in February 2022. If all goes well, expansion will start on March 7, 2022. —With a report from Peewee C. Bacuño/KG, GMA News