Filtered By: Topstories
News
'PARA SA BABE'?
Gabriela accuses PNP of trying to frame group with misspelled tarp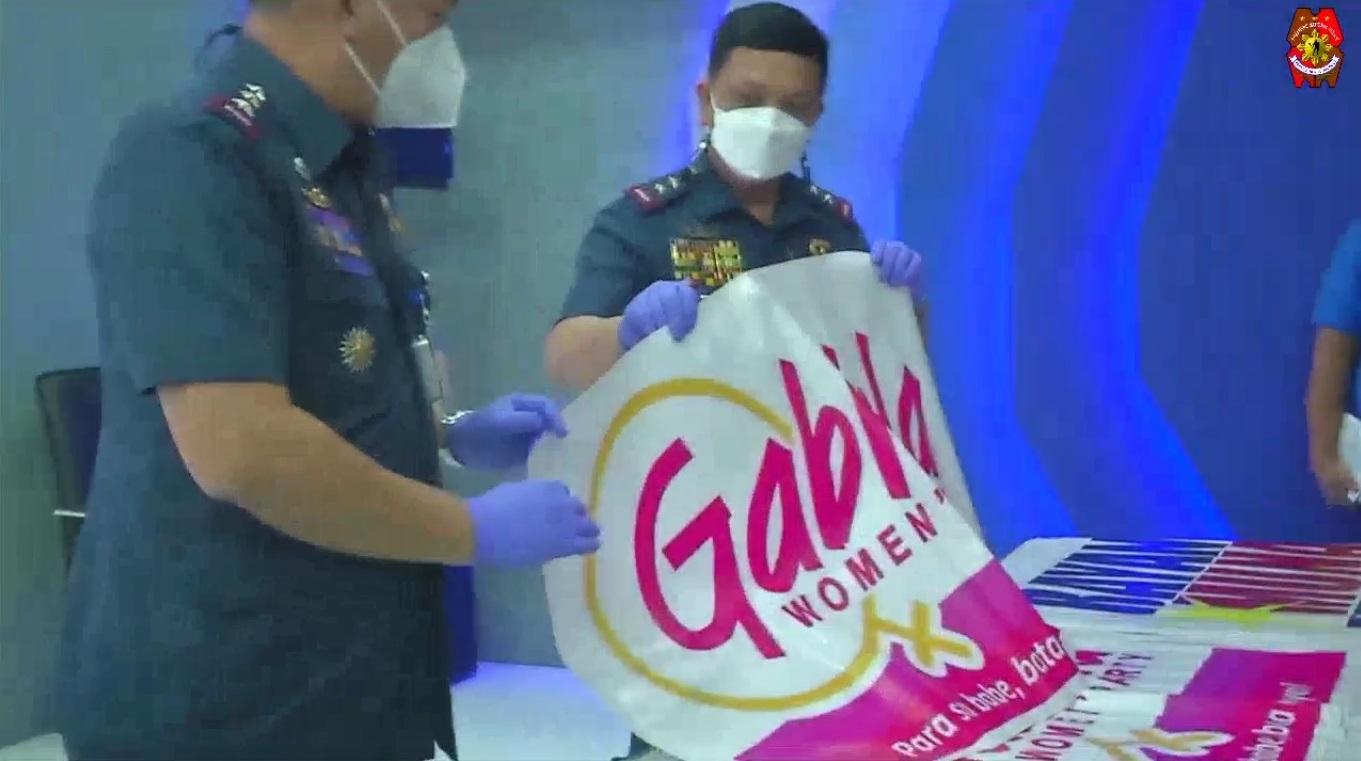 The Gabriela Women's Partylist on Wednesday derided the Philippine National Police over a misspelled tarpaulin that the police claim was among contraband seized in simultaneous raids in Quezon City and Bulacan.
In a press conference, PNP chief Police Lieutenant General Dionardo Carlos had said that the Criminal Investigation and Detection Group (CIDG) captured six alleged communist rebels wanted for the crimes of murder, multiple murder, homicide, and arson.
He claimed that found in their possession, along with firearms, explosives, and communication equipment, were tarpaulins for progressive groups Gabriela and Bayan Muna.
Gabriela, however, pointed out that the tarpaulin misspelled the group's slogan of "Para sa Babae, Bata at Bayan," with the word "babe" instead of "babae."
"Maybe the police officers have been so accustomed to using 'babe' in their flirtatious relations with several women, or they were rushing to print the fake tarps ahead of our own printing without diligent proofreading," Gabriela said in a statement, disowning the paraphernalia they called "fake."
"In any case, the PNP has been caught red-handed with this typographical error in the fake tarps in their desperate attempt to red-tag us. Lamentably, public funds are being splurged on operations like this seeking to distort and misrepresent our advocacy for women and children," they added.
Gabriela added that this "black propaganda" by the police was one of the reasons they have been critical of the National Task Force to End Local Communist Armed Conflict's (NTF-ELCAC) proposed 2022 budget of P28 billion. Last week, a Senate panel slashed it to P4 billion, realigning the rest to health-related programs.
PNP denies planting tarps
The Bayan Muna party-list, led by Representative Carlos Zarate, also filed a complaint to the Quezon City Legal Department after reports that there were tarpaulins and posters that include "black propaganda" dispersed in the area, which they claim was done by the NTF-ELCAC.
"These red-tagging gimmicks, while not new, seek to place the lives and safety of our members and leaders on the line. We strongly condemn these publicly funded gimmicks and assert our firm stance against red-tagging and fake news," Gabriela's statement said.
CIDG Director Police Major General Albert Ignatius Ferro denied the allegations, saying that the PNP was not involved in producing the seized materials and did not plant those as evidence.
"The pieces of evidence that were inadvertently found in the possession of the wanted persons were properly inventoried in the presence of barangay officials. Our personnel strictly followed the Police Operational Procedures during the operation. The PNP neither condones planting of evidence nor does it authorize red-tagging and the PNP has no participation in the creation of these materials," Ferro said in a statement.
Ferro added that the two partylists want to discredit the police involved in the operation and that this was not the first time they discovered their materials along with contrabands during legitimate operations. — BM, GMA News