Filtered By: Topstories
News
SWS: 45% of Filipino families rate themselves poor in September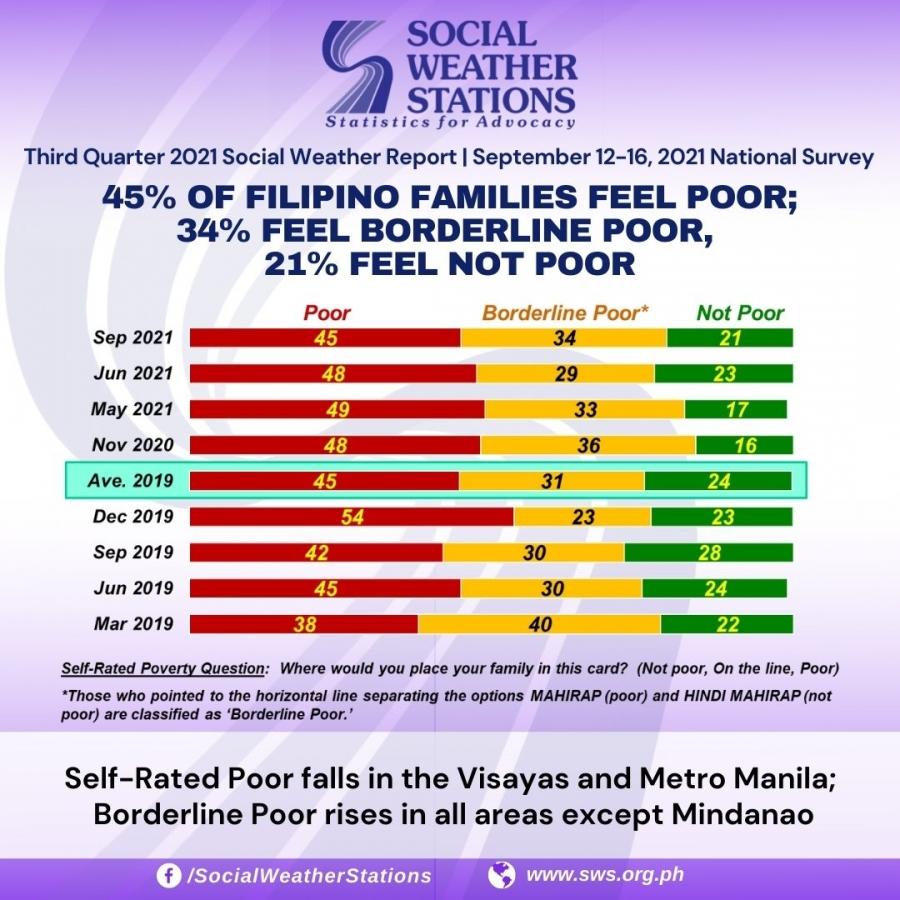 A new Social Weather Stations (SWS) poll found 45% of Filipino families considered themselves poor in September, a slight improvement from 48% in June.
Conducted from September 12 to 16, the survey released on Saturday also showed that 34% of families rated themselves as borderline poor, while 21% said they were not poor.
By comparison, 29% of families considered themselves borderline poor and 23% said they were not poor in June.
"The three-point decrease in self-rated poor in the third quarter of 2021 was due to a sharp decline in the Visayas and a slight decrease in Metro Manila, offset by a steady score in Balance Luzon and an increase in Mindanao," SWS said.
In particular, the percentage of families in the Visayas feeling poor dropped to 54% from 70%.
It fell in Metro Manila from 43% to 34% and remained at 38% in Balance Luzon. However, it rose in Mindanao from 51% to 58%.
Families who considered themselves borderline poor rose in the Visayas from 24% in June to 42% in September. It also rose in Metro Manila from 19% to 30%. It went up slightly in Balance Luzon from 28% to 32%.
It fell in Mindanao from 42% to 34%.
"Compared to June 2021, not poor hardly changed in all areas: it went from 7% to 4% in the Visayas, from 38% to 37% in Metro Manila, from 34% to 30% in Balance Luzon, and from 7% to 8% in Mindanao," SWS said.
According to the pollster, 30% of families said they were food poor, 26% said they were not food poor, while 44% said they were borderline food poor in September.
Meanwhile, 6.9% of poor families rated themselves as newly poor. This means they were not poor one to four years ago.
SWS said of the estimated 11.4 million poor families in September, 1.7 million were newly poor, 1.2 million were usually poor, and 8.2 million were always poor.
Of the estimated 13.8 million non-poor families in September, 3.5 million were newly non-poor, 3.0 million were usually non-poor, and 7.3 million were always non-poor, the pollster said.
The survey was conducted using face-to-face interviews of 1,200 adult Filipinos nationwide.
It has a sampling error margin of ±3% for national percentages and ±6% for Metro Manila, Balance Luzon, the Visayas, and Mindanao. — VBL, GMA News