Filtered By: Topstories
News
Election period officially starts with gun ban in effect, checkpoints installed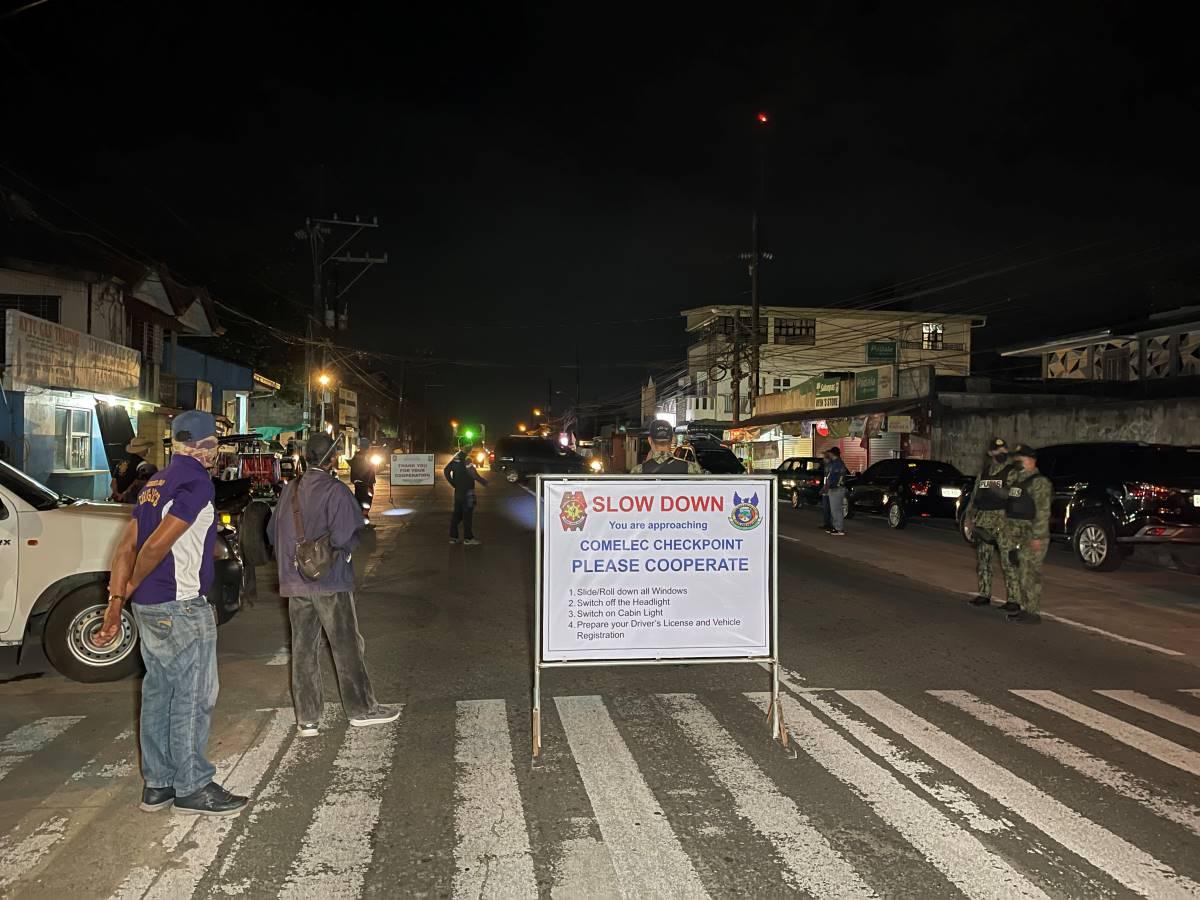 The election period officially started on Sunday, January 9, 2022, as per the Commission on Elections (Comelec) calendar for Eleksyon 2022.
With this, a gun ban is in effect until June 8, 2022 for a total of 150 calendar days.
Comelec checkpoints have been put up in several strategic areas starting at 12 a.m. Sunday in coordination with the Philippine National Police (PNP) and Armed Forces of the Philippines (AFP) to strictly implement the gun ban.
The PNP, in a statement issued on Saturday, said the checkpoints may be co-located with existing quarantine and border control points in areas placed under Alert Level 3 or higher.
At 5:30 a.m., police were seen stationed at a checkpoint on the Batasan-San Mateo Road in San Mateo, Rizal, according to a video posted on Twitter by Manny Vargas of Super Radyo dzBB.
As of 5:30AM, election gun ban, epektibo ngayong araw; checkpoint sa Batasan-San Mateo Road, San Mateo, Rizal, ipinatutupad. | via @VargasMannysen pic.twitter.com/kQ6tterj7c

— DZBB Super Radyo (@dzbb) January 8, 2022
The Quezon City Police District also put up a checkpoint on Katipunan Avenue in Quezon City at midnight, according to a report by Olan Bola on Super Radyo dzBB.
Quezon City Police District o QCPD, naglatag ng checkpoint sa may bahagi ng Katipunan Avenue sa Quezon City kasabay ng pagsisimula ng implementasyon ng COMELEC gun ban. l via @olanbola

— DZBB Super Radyo (@dzbb) January 8, 2022
The National Capital Region Police Office (NCRPO) said on Saturday that the election gun ban in Metro Manila will be strictly enforced beginning January 9.
NCRPO chief Police Major General Vicente Danao Jr. said all kinds of firearms with a license and permit to carry will not be allowed to be brought outside of the owner's residence during the imposition of the Comelec gun ban.
In Lucena City, Quezon meanwhile, the Comelec and the Lucena City Police Office led the installation of checkpoints at 12 a.m. Sunday in coordination with the Armed Forces of the Philippines, Bureau of Fire Protection, barangay police and force multipliers.
Comelec Quezon Acting Provincial Supervisor and Lucena City Election Officer Atty. Anamei Barbacena on Sunday said all licensed firearms cannot be carried during the election period, except if a certificate of authority is given by the poll body. Even with a permit to carry a firearm, an individual may face charges if found not to have certification from Comelec, she clarified.
Since Lucena City is under Alert Level 3 and a curfew is in effect, only a few vehicles were seen passing through the checkpoint before dawn on Sunday. No untoward incident has been reported as of posting time.
Police Lieutenant Colonel Alexis Oliver Nava, deputy provincial director for administration of the Quezon Police Provincial Office, on Sunday urged residents to stay home if there is no essential matter to attend to. He also advised the public not to carry deadly weapons to avoid facing charges. Nava also asked the public for their cooperation and understanding as authorities man checkpoints.
Comelec has issued Resolution No. 10728 that states the prohibition on unauthorized firearms and bodyguards.
The resolution bans bearing, carrying or transporting firearms or deadly weapons outside residence or place of business and in all public places from January 9 to June 8, 2022 or for a total of 150 calendar days.
Under the resolution, only the PNP, AFP, and Philippine Coast Guard and members of other law enforcement agencies, are exempted from the gun ban, as long as they obtain authorization from the Comelec and wear agency-prescribed uniform while performing official duty during the election period.
"We appeal to the public to abide by the provisions of COMELEC Resolution No. 10728 that impose a 150-day firearms prohibition period for the entire duration of the election period from January 9 up to June 8, 2022," the PNP said in a statement.
"We remind firearm holders that violation of this prohibition shall be punishable with imprisonment of not less than one (1) year but not more than six (6) years and shall not be subject to probation, in addition, the guilty party shall suffer disqualification to hold public office and deprivation of the right of suffrage and lastly, cancellation of and/or perpetual disqualification to secure gun license/permit," it added.
The elections will be held on Monday, May 9, 2022. —With a report from Peewee Bacuño/KG, GMA News