Filtered By: Topstories
News
CHR, FLAG 'gravely concerned' as to Dr. Naty Castro's whereabouts after arrest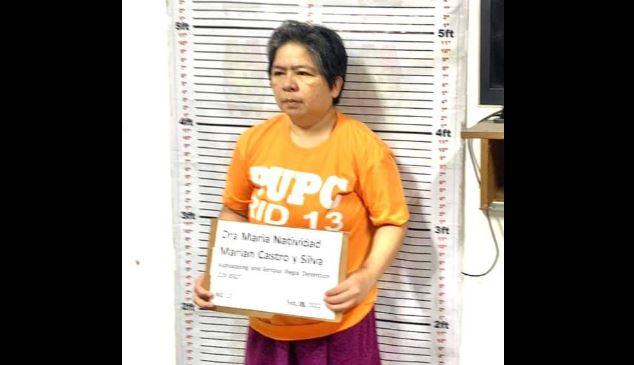 The Commission on Human Rights (CHR) and the Free Legal Assistance Group (FLAG) on Saturday said they were gravely concerned as to the whereabouts of health worker Dr. Ma. Natividad "Naty" Castro after her arrest by authorities on Friday.
Castro, 53, an advocate of Lumad communities in Mindanao, was taken into custody by Philippine National Police and Armed Forces intelligence operatives in Barangay San Perfecto, San Juan City on the basis of a warrant of arrest issued on January 30, 2020 by acting presiding judge Fernando Fudalan of the Regional Trial Court Branch 7 of Bayugan City, Agusan del Sur.
Police said Castro is a ranking member of the Communist Party of the Philippines and is facing kidnapping and serious illegal detention charges.
The CHR however said Castro has been red tagged for her work.
"The Commission on Human Rights (CHR) expresses grave concern over the manner of arrest of health worker Dr. Natividad 'Naty' Castro early Friday, 18 February 2022 in San Juan City," the CHR said.
"Dra. Naty had been red tagged for her work as a human rights and development worker. Before the pandemic hit the country in 2020, Castro initiated several health programs in Mindanao. She also brought members of the Lumad community before the United Nations in Geneva to seek help against harassment in their areas. She also once served as secretary general of rights group Karapatan in Caraga region," it added.
The CHR said it has deployed a quick response team to the National Capital Region and Caraga and is conducting a motu propio investigation to check "on the reports received that indicate possible violations of the Philippine National Police rules of procedure, among others."
The CHR also said it "is coordinating with local authorities and is in close contact with the Castro family to assist them in Dra. Naty's safety while in custody."
No access
FLAG demanded that the PNP disclose Castro's whereabouts and grant access to her counsel and family.
"FLAG is gravely concerned as to the whereabouts of Dr. Ma. Natividad Castro," FLAG national chairperson Atty. Jose Manuel "Chel" Diokno said in a statement.
FLAG said it was retained as Castro's counsel by her relatives when she was taken from her home.
Relatives of Castro said they would like to know her whereabouts as they have not received any word from authorities since the time of arrest.
Menchi Castro, a younger sister of Castro, said the doctor was brought to the airport on Friday afternoon.
Assuming she will be at the Butuan airport as the warrant was issued by Regional Trial Court Branch 7 of Bayugan City, Agusan del Sur, her family informed a group of lawyers in Agusan del Sur of the flight details.
The lawyers however did not see her as well as the 15 unidentified arresting officers.
Likewise, FLAG said that police officers from the Intelligence Group informed them that Castro was no longer at Camp Crame as she was supposedly "brought to the airport" to be "delivered to the court" in Butuan City.
"Family members proceeded to the airport but were not able to see her there. The scheduled flight to Butuan took off without any confirmation of Dr. Castor being on board," the group said.
FLAG said that requests for copies of the warrant of arrest, reports, and documents relative to Castro's arrests and transportations likewise went unheeded.
The group demanded that the PNP officially confirm Castro's whereabouts to her counsel and family, "present her physically to and grant access to counsel and family and to all others she may request under RA 7438 and RA 10353 within 24 hours; failing which, the appropriate criminal and administrative suits will be filed."
"Additionally, FLAG demands that Dr. Castro be provided access to medical and mental health care by a doctor of her choice under RA 9745, Sec. 12," the group said.
"Finally, FLAG demands that an official investigation be conducted identifying all those responsible for denying family members and counsel access to Dr. Castro and for the PNP to submit a report on the action taken within 48 hours," it added.
Detained
In a statement issued on Saturday afternoon, PNP-PIO chief Police Brigadier General Roderick Augustus Alba said after her arrest, Castro was flown to Bayugan, where she is presently detained.
"As a Person Under Police Custody (PUPC), and upon her request, she was provided with hygiene kit, clothes and toiletries, while the local office of the Commission on Human Rights [has] been duly informed of her present status," Alba added.
Castro will then be presented before the trial court for proper disposition.
In a Facebook post on Friday, Jun Castro, brother of the arrested doctor, wrote: "My sister is accused of multiple charges of kidnapping and illegal detention, all related to her human rights advocacy. ALL UNTRUE."
"Many years ago, Dr. Naty brought a Lumad (Philippine Indigenous People) who were victims of militarization to UN Geneva. She spoke there, in Geneva, to seek help for the Lumad people," he added.
Castro's family would like to give her medicines for hypertension and diabetes and other basic necessities but they do not know her whereabouts.
"First of all, they should show us if she is being taken cared of. She has diabetes, we have her medicine. She also has hypertension," Menchi said.
Menchi described her sister as a dedicated doctor who had chosen to help poor people.
'Immeasurable'
Meanwhile, the Department of Health (DOH) on Saturday said that the contributions of healthcare workers serving the underserved are "immeasurable."
"The contributions of our health workers, especially those who have opted to work with the underserved are immeasurable," the DOH said in a statement.
"All our citizens, health workers included, enjoy the constitutional guarantees of due process and presumption of innocence until proven guilty. We trust our authorities to uphold these rights," it added. —With reports from Jamil Santos and Richa Noriega/KG/VBL, GMA News