Filtered By: Topstories
News
Facebook warns Esperon vs. post on alleged CPP infiltration in Congress; NTF-ELCAC balks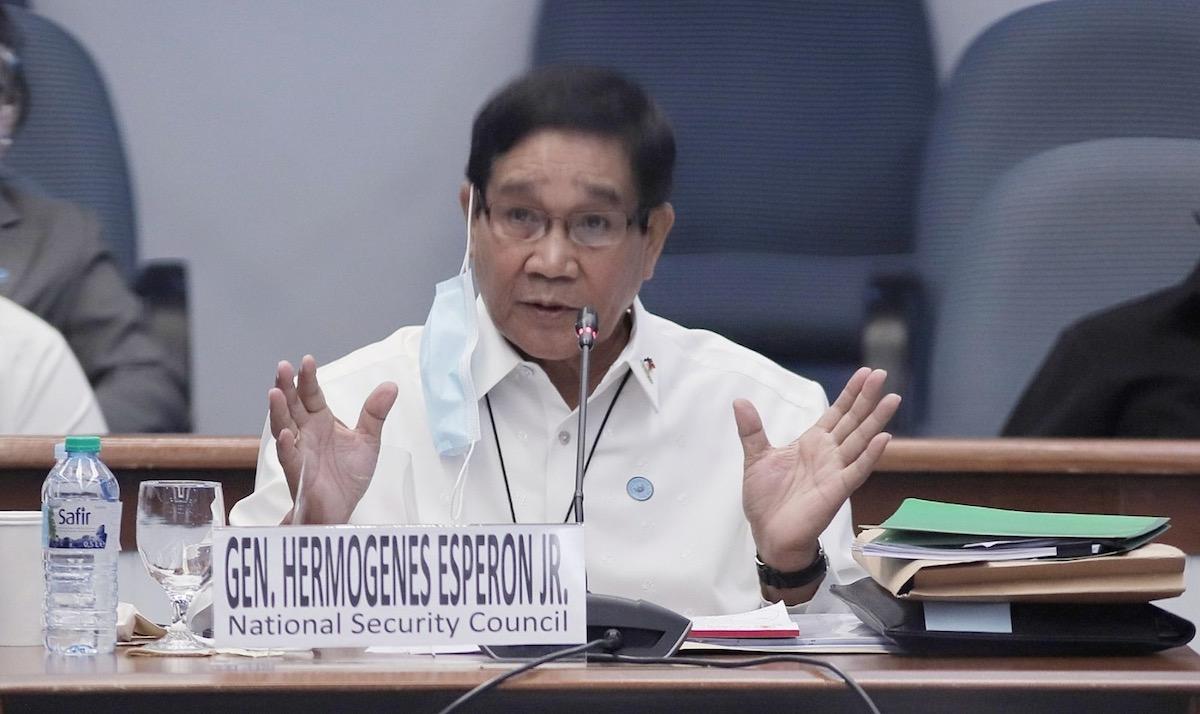 Social networking site Facebook has warned National Security Adviser (NSA) Hermogenes Esperon, Jr. due to his post calling on Filipinos to unite against communist rebel group members including those "who have infiltrated the Congress," a spokesperson of the anti-insurgency task force said Wednesday.
In a statement, National Task Force to End Local Communist Armed Conflict (NTF-ELCAC) spokesperson Jonathan Malaya said Facebook's warning to Esperon was offensive and alarming.
"The imprudence of FB to warn Secretary Esperon on a national security issue is unthinkable and downright offensive as the social media platform has taken on the role of Big Brother with the power to censure the social media posts of the NSA himself on matters of national security," he said.
"This move of FB is alarming, if not dangerous, as it has appointed itself as an omnipotent force that can censure at their discretion — based on standards that they themselves created — the legitimate posts of highly respected officials of the country," he added.
According to Malaya, the NTF-ELCAC questioned Facebook and its supposed biased fact-checkers for being overly focused in restricting and calling out government officials but allegedly ignoring others.
Due to this, Malaya said the NTF-ELCAC is urging Facebook to revisit and modify its "one-sided" standards that supposedly promotes the interests of the few and powerful.
Malaya, who is also the spokesperson of the Department of the Interior and Local Government, added that the DILG is also denouncing the warning issued to Esperon.
"The DILG denounces Facebook and its biased fact-checkers for their imprudence and audacity to issue a warning to no less than the country's NSA Hermogenes Esperon, Jr. for his FB post on April 14, 2022 urging all Filipinos to unite to end the Communist insurgency," he said.
Malaya called on Facebook to stick to its goal of connecting people and "to leave national security matters to the experts."
In a Facebook post, Esperon questioned the action of the social media giant, saying that he knows better than it does when it comes to national security matters of the country.
"I should know better than you do on matters of national security," he said in a post on Monday showing a screenshot of the warning from Facebook.
"How come I was restricted by Facebook when I shared a status about ending the insurgency in the country? As the NSA, I sure know what I'm talking about and have basis for it. How did I violate the community standards when I only shared the truth," he added.
Based on the screenshot, Facebook was pertaining to the April 14 post of Esperon saying:
"In ending insurgency, the Filipinos must unite against armed struggle and against all organizations, aboveground and underground, that support the New People's Army, including Communist Party (CPP) members who have infiltrated the Congress through the partylist system…" the post read.
GMA News Online has contacted Facebook for comment but has yet to receive a reply as of posting time. —KG, GMA News