Filtered By: Topstories
News
Sara on DepEd chief post: I'll produce skilled learners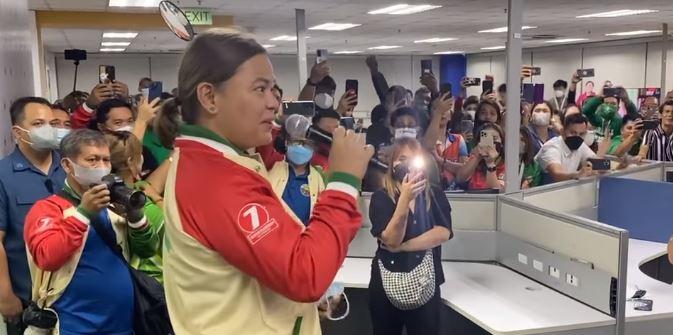 Leading vice presidential candidate and Davao City Mayor Sara Duterte said Thursday she would work on producing skilled learners following the announcement by leading presidential candidate Ferdinand "Bongbong" Marcos Jr. that she has agreed to become the next Department of Education (DepEd) chief.
"Yesterday, the presumptive President and I once again talked about how I could help the country. It was decided that I would work on producing skilled learners with the mindset to realize their full potential as individuals," Duterte said in a statement.
"Our country needs a future generation of patriotic Filipinos that advocate peace and discipline in their respective communities," she added.
Duterte recalled that before the campaign period for Eleksyon 2022, she and Marcos talked about the Department of National Defense post.
However, she sees that "people who want to see the new administration fail will fabricate intrigues about my loyalty and the DND position to break the UniTeam."
Duterte thanked Marcos for the latter's confidence in her to lead DepEd. She further expressed gratitude to incumbent Education Secretary Leonor Briones for their readiness to work for the transition of leadership of the agency.
"We thank Sec. Leonor Briones and the entire DepEd organization for their readiness to work with our team for the transition of leadership after the proclamation," Duterte said.
"We recognize the sincerity, hard work, and dedication of Sec. Liling in implementing education reforms under the Duterte administration," she added.
In choosing Duterte as next DepEd chief, Marcos said the Davao City mayor was a mother who wanted her children to be "well-trained and well-educated."
In a television interview, Marcos' spokesperson, Atty. Vic Rodriguez, was asked if Duterte was qualified for the post. He said her biggest qualification was that at least 31 million Filipinos had voted for her in the vice presidential race.
"Is she qualified? Definitely she's a lawyer and the biggest qualification I think is indisputable, she has the confidence of the 31 million Filipinos who voted her into office. That's the biggest qualification and she enjoys the trust and confidence of the electing power, president-elect Bongbong, I think that's the most important," Rodriguez told ANC.
"As to her competence, let's give her a chance to prove that she can run ably the Department of Education," he added. — RSJ, GMA News