Filtered By: Topstories
News
US vows to de-escalate tensions in Taiwan Strait to keep Philippines, region safe
US Secretary of State Antony Blinken on Saturday said the United States is determined to de-escalate tensions over the Taiwan Strait to keep the region, including the Philippines, safe and ensure unimpeded access to the major waterway, where a huge bulk of trading ships pass through.
"Maintaining peace and stability across the Taiwan Strait is vital not only for Taiwan but for the Philippines and many other countries," Blinken said in a virtual joint press conference with Foreign Secretary Enrique Manalo in Manila.
"What happens to the Taiwan Strait affects the entire region and in many ways affects the entire world like the South China Sea is a critical waterway."
Blinken said the US will keep its lines of communication with China open, even as China announced it is cutting off contacts with Washington on key issues, including defense and climate change cooperation, in retaliation to US House Speaker Nancy Pelosi's visit to Taiwan.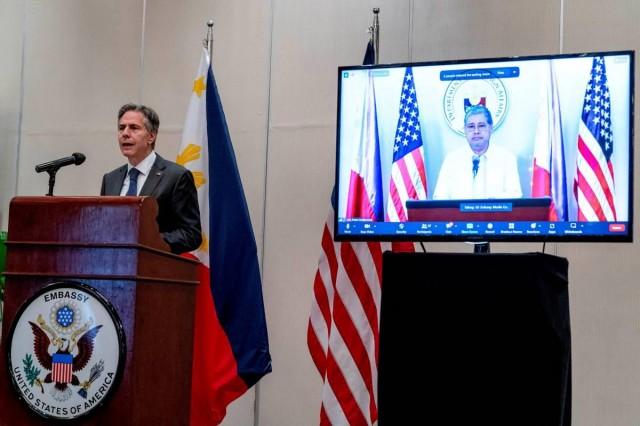 US Secretary of State Antony Blinken speaks during a virtual joint news conference with Philippine Secretary of Foreign Affairs Enrique Manalo at the Peninsula Hotel in Manila on Saturday, August 6, 2022. Andrew Harnik/Pool via REUTERS
Enraged by US House Speaker Nancy Pelosi's visit to Taiwan, China held its largest military drill near the self-governing island on Thursday, firing live missiles and deployed scores of planes. Japan said five missiles landed on its economic zone.
Chinese military exercises are expected to run through Sunday.
"For 40 years plus we managed this problem. We have done it in a way that has avoided any conflict, we've done it in a way that allowed Taiwan to flourish. That's the expectation that countries around the region and around the world have. They certainly expect us – the United States and China – to manage their differences responsibly and that's what we are determined to do," Blinken said.
The Association of Southeast Asian Nations, in a statement during a meeting in Cambodia this week, has warned of miscalculations in the Taiwan Strait and "serious confrontation and open conflicts" among major powers as it called for maximum restraint and peaceful dialogue among concerned parties.
China, which considers Taiwan a part of its territory that needs be reclaimed by force "if necessary," opposes any high-level contacts with the island and called on countries to adhere to the One-China Policy.
Amid brewing tensions in the Taiwan Strait, the Philippines expressed its commitment to the One-China policy but noted that lines of communication must remain open among concerned parties to avoid a crisis in the Taiwan Strait.
"It is very important for the lines of communication to be maintained to prevent matters from escalating and reducing tensions," Foreign Secretary Manalo said in the joint press conference with Blinken.
In a bilateral meeting with Blinken before the press conference, Manalo expressed concern over the developments in the Taiwan Strait, saying the region can "ill afford any further escalation of tensions" as countries rebuild their economies due to the effects of the COVID-19 pandemic.
"We are already facing a number of challenges getting our economy back to work, especially because of the COVID-19 pandemic," Manalo said. "We look at the United States, a very important ally, our dear friend, as we chart our path forward."
A transcript of the opening statements of Manalo and Blinken during their bilateral meeting was provided by the Department of State.
Even as Beijing announced several countermeasures against the US and Pelosi - the highest-profile elected US official to visit the Taipei in 25 years, Blinken said Washington "will keep its channels open."
Blinken defended Pelosi's solidarity trip to Taiwan, calling it a "peaceful visit," adding there has been a "long, long history" of US lawmakers visiting Taiwan, but did not provoke intense reaction from Beijing in such scale.
Blinken pointed out the "total disproportion between a peaceful visit in the one hand and escalatory military maneuvers" that has threatened security in the region.
"The use of the Chinese military, the launching of ballistic missiles. You have military maneuvers including maneuvers that threaten to impede passage of ships to the Taiwan Strait, something that is vital to global commerce," he said, accusing China of using Pelosi's trip as a "pretext" to change the status quo in Taiwan.
"What we see China do for the last few years is move away from a peaceful resolution of differences to doing so coercively and potentially forcefully. That's what's changed," Blinken said. —KG/DVM, GMA News