Filtered By: Topstories
News
What Marcos had to say about climate change, food security at UNGA
Climate change, peace and stability, and food security were among the main topics tackled by President Ferdinand "Bongbong" Marcos Jr. during his address at the United Nations General Assembly (UNGA) on Wednesday (PHL time).
Marcos is the first leader from the Association of Southeast Asian Nations (ASEAN) who delivered a statement at the high level general debate, which is significant for world leaders so that they could lay out the priorities of their respective administrations.
In his speech, Marcos said climate change is the greatest threat affecting various nations and that its effects are uneven and reflect historical injustice.
"Those who are least responsible suffer the most. The Philippines, for example, is a net carbon sink, we absorb more carbon dioxide than we emit. And yet, we are the 4th most vulnerable country to the effects of climate change," said Marcos.
"This injustice must be corrected, and those who need to do more must act now. We accept our share of responsibility and will continue to do our part to avert this collective disaster," he added.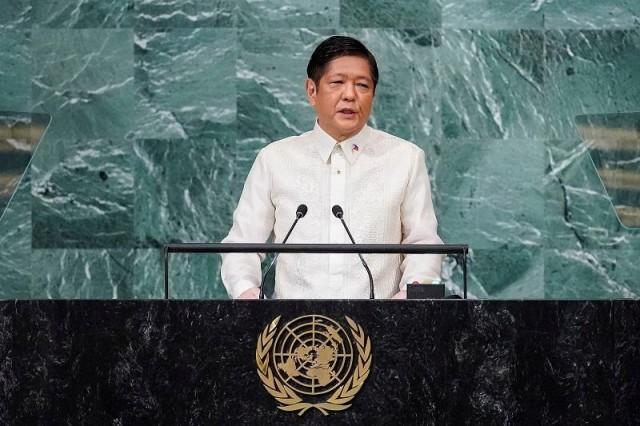 President Ferdinand Marcos Jr. addresses the 77th Session of the United Nations General Assembly at UN Headquarters in New York City, US, September 20, 2022 (US time). REUTERS/Eduardo Munoz
The President called on industrialized countries "to immediately fulfill their obligations under the United Nations Framework Convention on Climate Change and the Paris Agreement to cut their greenhouse gas emissions, provide climate financing and technology transfer for adaptation for the most vulnerable and developing countries to lead by example."
Meanwhile, Marcos also stressed that differences should only be resolved through peaceful means. He said the Philippines "shall continue to be a friend to all, and an enemy of none."
"By reinforcing the predictability and stability of international law, particularly the 1982 United Nations Convention on the Law of the Sea, we provided an example of how states should resolve their differences: through reason and through right," Marcos said.
"These two contributions provide useful guidance for our time. For amidst the challenging global tides, an important ballast stabilizes our common vessel. That is, our open, inclusive, and rules-based international order that is governed by international law and informed by the principles of equity and of justice," he added.
Food security, a priority of his administration, was also discussed by Marcos during his address as he believed that food is the "very basis of human security."
He said there is a need to take concrete measures towards a modern and resilient agriculture as food is not just a trade commodity nor a livelihood.
"To attain food self-sufficiency and security, we are providing innovative solutions and financial support to farmers and fisher-folk to adapt new technologies and connect to national and global value supply chains," Marcos, who sits as Agriculture Secretary, said.
"We look forward to forging cooperation with the UN and our partners to boost agricultural productivity and food security," he added.
Marcos also expressed confidence that the Philippines could be a "moderately prosperous country" by 2040. He said the country remains on track in reaching the upper middle-income status in 2023.
Marcos left Manila on Sunday for a working visit to the US and will be back in the Philippines on September 24.
Earlier, he met with the Filipino community in New Jersey, then presented his administration's plan to boost the country's economy during the New York Stock Exchange Economic Forum. —KG, GMA News