Filtered By: Topstories
News
Vietnam PM lauds Philippines' COVID-19 measures, economic recovery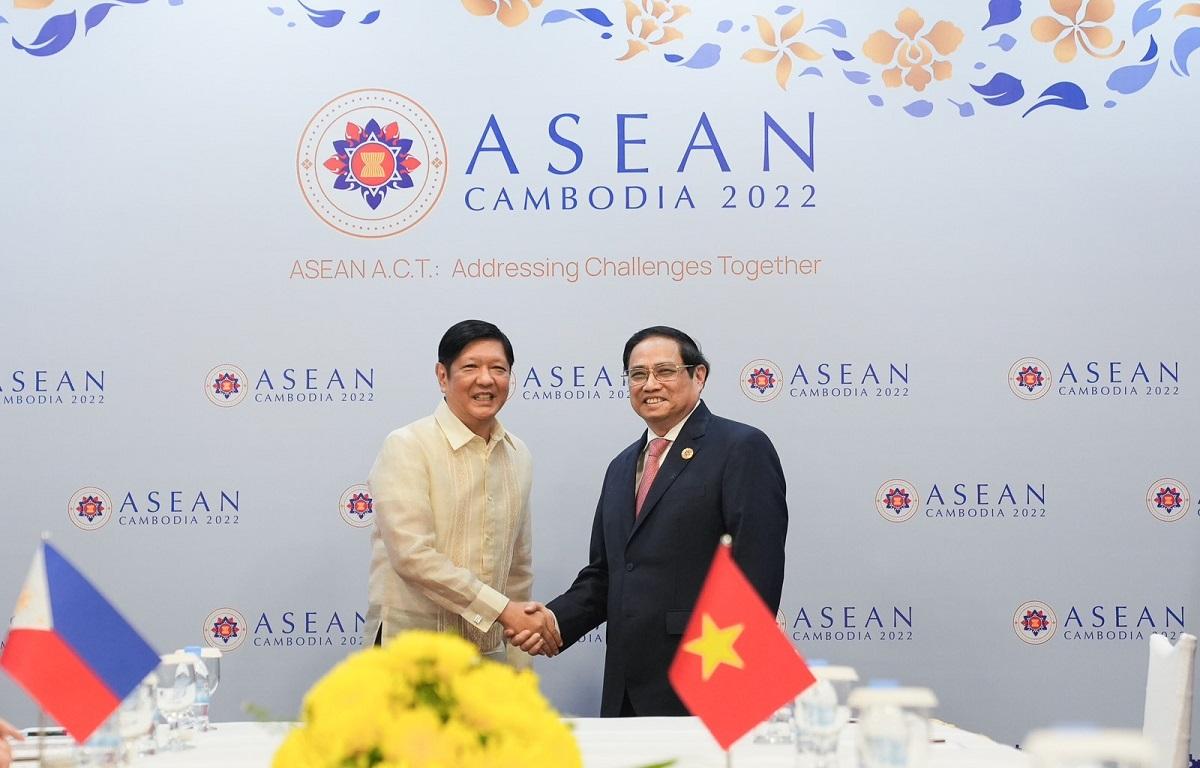 Vietnamese Prime Minister Pham Minh Chinh lauded the Philippines' measures to combat the COVID-19 pandemic as well as its economic recovery efforts during his meeting with President Ferdinand "Bongbong" Marcos Jr., the Office of the Press Secretary said Thursday.
The two leaders met at the sidelines of the 40th and 41st ASEAN Summits and Related Summits in Phnom Penh, Cambodia, where Marcos expressed his intention of strengthening the relations of the two countries when it comes to agriculture, trade, and security.
"I wish to send my congratulations to the people of the Philippines for containing the COVID-19 pandemic and sustaining a high growth rate of GDP," Pham said.
On matters dealing with security, trade and agriculture, the two countries have agreed to strengthen their ties, with Marcos saying that he looks forward to working closely with the government of Vietnam.
"As we have observed, the Philippines and Vietnam, since the beginning of our diplomatic relationship, have had a burgeoning, a growing relationship, both in the political and security side and of course, in terms of trade and in people-to-people exchanges," Marcos said.
He also mentioned the increased total trade between the two countries, with overall trade nearing US$6 billion, which is higher than pre-pandemic levels. Marcos, however, hoped to address the trade imbalance between the two nations.
"In the past few years, we have seen the great success, the great economic success that Vietnam has enjoyed and with that even Filipino investors have started to go to Vietnam to be part of this development in your country, and since then our trade has increased," Marcos said.
The Philippines reestablished the Philippine Trade and Investment Center (PTIC) in Ho Chi Minh, which is expected to enhance economic relations between Vietnam and the Philippines.
In terms of agriculture, Marcos said Vietnam is an important partner in ensuring food security as it accounts for 90% of the Philippines' rice imports.
Marcos also accepted Pham's invitation for a state visit to Vietnam, the OPS said.
In the same meeting, Marcos also raised the need for ASEAN to "find common ground" in dealing with pressing concerns, including rising tensions in Taiwan as well as resolving the crisis in Myanmar.
"All of these issues are of extreme importance and of extreme urgency. And that is why I believe ASEAN must find common ground from which to face those challenges," he said. — BM, GMA Integrated News