Filtered By: Topstories
News
Poe seeks Senate probe into possible human smuggling at NAIA using private aircraft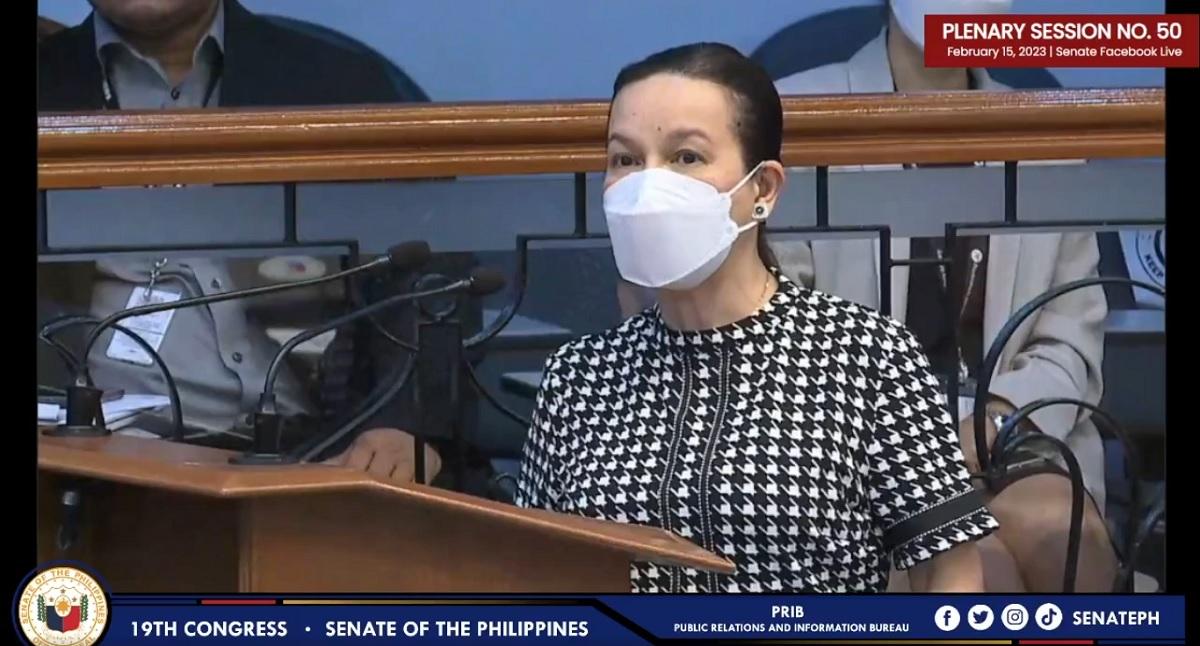 Senator Grace Poe on Wednesday called for a Senate investigation into possible human smuggling activities using private aircraft at the Ninoy Aquino International Airport (NAIA).
During Wednesday's session, Poe delivered a privilege speech about an alleged human smuggling incident on February 13 involving an aircraft operated by Cloud Nine No. 1 Leasing Company Ltd., a Hong Kong-registered leasing company whose aircraft was handled by local company Globan Aviation Service Corporation.
The Philippine National Police Aviation Security Group (PNP-AVSEGROUP) received an anonymous tip at 3:09 p.m. last Monday that six passengers had been declared for a flight set to depart for Dubai at 10:00 p.m. that night, but that the plane—with tail number N92527E—actually had 14 passengers, Poe said.
AVSEGROUP briefed the aircraft inspectors about a possible interdiction operation and instructed them not to sign any document until the aircraft and its passengers were thoroughly inspected.
According to Poe, at around 7:45 p.m., aircraft inspectors and general aviation police station personnel proceeded to Balagbag Ramp, where the plane was stationed for departure. They informed Globan representatives that the aircraft and its passengers would be inspected before the Safety Security Flight Coordination sheet could be signed for its departure.
Two Globan vans carrying three foreign national crew arrived at the ramp at 9:15 p.m., followed by another van carrying three immigration officers and six foreign nationals at 10:11 p.m.
Poe said the vans were escorted by Airport Police Department patrol vehicles.
The verification procedure with the immigration officers found that the six passengers were the same persons in the General Declaration.
However, Poe said, a Globan handler said they were still waiting for another passenger.
"We were able to secure a copy of this flight's General Declaration at nakasaad dito na tatlong crew at anim na pasahero lang ang dapat na sakay ng eroplano. Ngunit base sa impormasyong nakuha namin mula sa Bureau of Immigration, pito ang pasaherong nakasaad sa hawak nilang General Declaration: isang Malaysian, Korean, Chinese, Vanuatu at tatlong mula sa Saint Kitts and Nevis. Nasabi rin sa atin na ang hawak nilang mga visa ay mix ng tourist, employment at Special Resident Retiree's Visa (SRRV)," Poe said.
(We were able to secure a copy of this flight's General Declaration at it said only three crew and six passengers would be on the flight. But based on the information we received from the Bureau of Immigration, seven passengers were listed on the General Declaration they had: a Malaysian, a Korean, a Chinese, a Vanuatu citizen and three from Saint Kitts and Nevis. They also told us that the passengers' visas were a mix of tourist, employment, and Special Resident Retiree's Visa.)
The Bureau of Immigration said its personnel did not witness any irregularities regarding the seven passengers and three crew members, and that the flight was considered a special flight or chartered flight.
"Seven passengers and three crew were listed in the manifest, and all underwent derogatory checks and were compliant to immigration formalities. An immigration officer was likewise assigned to attend to and process the passengers in the said aircraft," said BI Commissioner Norman Tansingco in a statement, according to John Consulta's report on 24 Oras.
Door closing
At around 10:20 p.m., two vans arrived carrying eight individuals who appeared Asian, Poe said.
"These individuals were not included in the General Declaration but they attempted to board the aircraft—attempted, dahil natigilan sila nang makitang kumukuha ng video ang isa sa mga aircraft inspectors [because they stopped when they saw one of the aircraft inspectors taking a video]," Poe said.
"At around the same time, the inspectors noticed three unauthorized individuals entering the aircraft followed by the aircraft door closing," she added.
Poe said the airport inspectors directed the Globan handler to stop the aircraft's departure while the head of AVSEGROUP went to the ramp to ask the immigration officers why the aircraft was cleared to depart without going through a pre-flight inspection and why it had passengers who were not listed on the General Declaration.
The immigration officers said that they already processed the additional passengers and that they were cleared to travel even though they were not included in the flight manifest, Poe said.
"Sa report, there will be 14 foreigners who will be transported to other countries, but out of those 14, only six were declared sa flight manifest. Supposedly, our personnel will conduct the pre-flight inspection but kinlose po agad yung pinto ng aircraft [they immediately closed the aircraft door]. So wala kaming magawa dahil ang tawag doon ay 'in flight' na po siya, wala kaming authority na magpabukas," said AVSEGROUP Chief Police Colonel Rhoderick Campo in the 24 Oras report.
(We could do nothing because the aircraft was already what is called 'in flight' and we have no authority to make them open the door.)
Campo added that with the door closing some of the foreigners were not able to get on the flight.
"Sumakay na lang sila ulit sa van at umalis kasama ng mga nag-escort sa kanila [They just got back in the van and left with their escorts]," he said.
Despite the efforts to coordinate with Globan representatives, Poe said, the aircraft took off at about 10:40 p.m.
"We should check if Globan's really in the business of smuggling people out of the country," she said.
The AVSEGROUP called the control tower to hold the departure but they were told that it was not possible because the flight navigation clearance had been approved, Poe said.
Campo also said that documents show that the AVSEGROUP was deliberately bypassed.
"Supposedly kami muna ang pipirma bago po ang operations. Ito ang katibayan namin na binastos po ng aircraft na ito ang kapulisan natin," he stressed.
(AVSEGROUP is supposed to sign the document before operations. This is our proof that the aircraft showed disrespect to the police.)
Globan denies allegations
The senator said the Bureau of Immigration is currently looking into the incident and she is waiting for their response.
GMA Integrated News, meanwhile, reached out to Globan through the phone number on the company's website.
According to a 24 Oras update, a person named Lucia answered and stressed that the allegations are untrue, and that their documents are complete. She also said that the company issue a statement on the matter. She did not identify her position in the company.
Other incidents
Poe said this is not the first time an incident like this happened at happened in NAIA.
In December 2022, she said, some Chinese nationals managed to leave the country on a private aircraft without pre-flight inspection clearance.
According to Poe, this was reported to the Manila International Airport Authority (MIAA) but that no action was taken.
"Malinaw na may irregularity at paglabag sa existing policies at procedures ng airport agencies tulad nang MIAA, Immigration, PNP Aviation, at
CAAP," she added.
(It is clear that there have been irregularities and the flouting of existing policies and procedures by airport agencies such as MIAA, Immigration, PNP Aviation, and the Civil Aviation Authority of the Philippines.)
Apart from the absence of a pre-flight inspection clearance before the flight's departure, Poe questioned why there were individuals who could enter the security-restricted area without going through the proper security screening procedure and documentation.
It is also unclear if the passengers' baggage had been thoroughly inspected, she added.
"Pag tayo ini-escort papasok doon sa may tarmak ng airport, yan ay usually domestic flight at tsaka sangkatutak na kailangan meron tayong dinadaanang proseso. Ito, parang kasama pa nila ang immigration sa paghatid sa kanila. Walang nakalista kung ano ang mga dala-dala nilang mga bagahe," Poe stressed.
(When we are escorted to the tarmac, it is usually for a domestic flight and you have to go through a lot of procedures. In this case, it seems as if Immigration ushered them to their flight and there is no listing of the baggage they brought.)
"Mr. President, pwede palang pumuslit dito kahit sino. Pwedeng espiya, pwedeng naghu-human traffic," she went on.
(Mr. President, apparently just anybody can slip out. Spies and human traffickers.)
More than just a protocol glitch, Poe said, the issue digs deeper as it involves
national security and human smuggling.
With this, the senator said the BI should explain how individuals were able to fly out of the county "with just a whim of uttered clearance from an immigration officer, without an amendment of the General Declaration, based on proper procedures."
"Malinaw na may tinatago ang mga taong nasa likod nito [It's clear that the people behind this are hiding something]. Is this a case of human trafficking? But we have yet to confirm. Hanggang ngayon [Until now], despite our consistent follow-ups, we are still awaiting the report from MIAA," she said.
Poe said they should also look into the incident's possible connection to the Philippine Offshore Gaming Operations (POGO) industry.
"We call on the proper Committees to look into this further so that we can strengthen and reinforce our borders at once. Let us not allow private flights in our airports as a highway for human trafficking," she said.
'Utter disgust'
Senate President Juan Miguel Zubiri and several other senators joined Poe in calling for an investigation.
Zubiri expressed his "utter disgust" over the incident.
"I totally agree. Not only spies, you can have criminals, they could have a criminal record here and then to avoid arrest, flying out in the middle of the night," the Senate president said.
For Senate Majority Leader Joel Villanueva, this matter is an issue of accountability as well as graft and corruption.
Senator Ronald dela Rosa expressed his anger over the apparent special treatment given to Chinese nationals while the Philippine Coast Guard experience harassment in the West Philippine Sea.
"Apparently, our people on the ground are doing...While these people are identified to be Chinese-sounding names, their compatriots are blinding our Coast Guard with laser lights and yet dito sa ating teritoryo [here in our territory], they are given the VIP treatment. What a disgusting incident, Mr. President. Hindi ako naiinis, kundi gusto ko na sakalin yung mga tao natin na gumagawa ng ganoon [I am not infuriated, but I awnt to strangle our people who are doing this]," Dela Rosa said.
"Vina-violate natin lahat ng protocols, vina-violate natin lahat ng batas [We are violating protocols and all the laws] just to give VIP treatment to these people," a visibly angered Dela Rosa added.
He offered to lead the investigation into the incident under the Senate committee on public order and dangerous drugs.
However, the body decided to refer the privilege speech to the Senate blue ribbon committee, with the committee on public order and the committee on public services as secondary and tertiary committees, respectively.
Same company?
Senator Risa Hontiveros, meanwhile, said she wants to find out if the Globan mentioned in Poe's privilege speech is the same Globan flight provider that allegedly attempted to smuggle Twinkle Dargani and Mohit Dargani out of the country.
The Dargani siblings are affiliated with Pharmally Pharmaceutical Corporation—the company that was implicated in the alleged overpriced purchase of COVID-19 supplies during the height of the pandemic.
Senate President Pro Tempore Loren Legarda, Senators Robin Padilla, and Sherwin Gatchalian also supported Poe in her call for accountability. — with Sherylin Untalan/BM, GMA Integrated News