Filtered By: Topstories
News
Chinese envoy, AFP chief meet amid laser controversy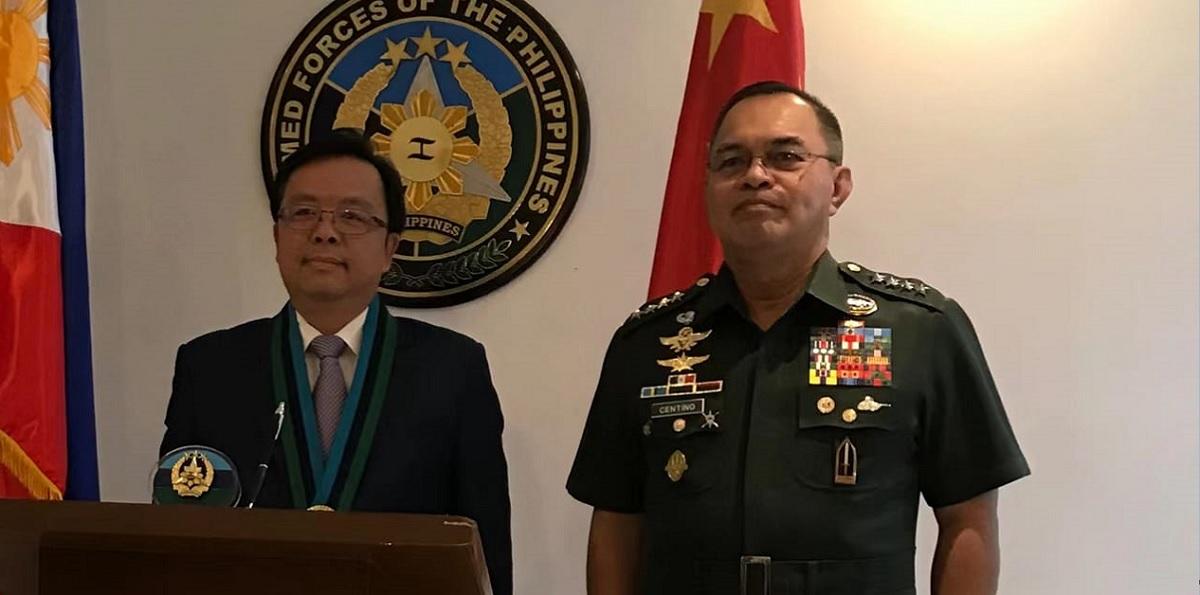 Chinese Ambassador to the Philippines Huang Xilian has met with Armed Forces of the Philippines (AFP) chief General Andres Centino amid the tension following the laser-pointing incident in Ayungin Shoal.
In a Facebook post on Wednesday, Huang said they discussed military liaison exchanges and cooperation as well as maintaining "peace and stability" in the region.
"Had a cordial and constructive meeting with CSAFP General Andres C. Centino during my courtesy visit at the AFP General Headquarters in Camp Aguinaldo, Quezon City," he said.
"We discussed matters pertaining to mil to mil exchange and cooperation as well as sustaining peace and stability in the region."
The meeting came days after a Chinese coast guard (CCG) vessel, on February 6, pointed a military-grade laser against a Philippine Coast Guard (PCG) vessel performing a resupply mission for Filipino troops stationed in Ayungin Shoal in the West Philippine Sea.
According to the PCG, the laser temporarily blinded some of the crew members onboard their ship.
The incident prompted the AFP to call on the Chinese government to control its forces.
President Ferdinand "Bongbong" Marcos Jr. also summoned Huang to Malacañang to express his serious concern over the increasing frequency and intensity of China's actions against PCG personnel and Filipino fishermen in the West Philippine Sea.
On Tuesday, the Philippine Department of Foreign Affairs filed a diplomatic protest against China over the incident.
Defending CCG's action, Beijing accused the PCG vessel of intruding into the waters off Ren'ai Reef, which is what it calls Ayungin Shoal, "without Chinese permission." China virtually claims the entire South China Sea, including parts the Philippines refers to as West Philippine Sea.
Denial
China has denied that its coast guard personnel pointed lasers at the crew of the BRP Malapascua.
During a press briefing, Chinese Foreign Ministry spokesman Wang Wenbin said the Philippines' allegations did "not reflect the truth."
Maritime expert Jay Batongbacal slammed Beijing, saying that it is "trying to shift from 'wolf-warrior' to 'stand-up comedy' diplomacy."
"China denies that its coast guard ship pointed a military-grade laser at the Philippine Coast Guard vessel, saying the use of laser was only for 'navigation safety,'" Batongbacal said in a tweet.
"Good idea, China MOFA. Ships of all nations should use lasers on Chinese coast guard, navy, and militia vessels for 'navigational safety.' What a great contribution to the safety of life at sea!" he added.
Batongbacal further told GMA News Online that China's denial could not be given any credence.
He explained that the weather and sea conditions were clear, both vessels were equipped with AIS and other modern navigation equipment, and that they had unlimited visibility and were in communication by radio.
"There is no plausible reason why there would be a need to 'measure the distance and speed' and 'signal directions' with a device that is known to be potentially hazardous & dangerous to the operator of the other vessel," he said in a text message.
Wang had said China's vessel used a hand-held laser speed detector and hand-held greenlight pointer to measure the distance and speed of the Philippine vessel and signal directions to ensure navigation safety. —Joviland Rita and Anna Felicia Bajo/KBK/RSJ, GMA Integrated News