Filtered By: Topstories
News
Oriental Mindoro oil spill cleanup progressing —sunken ship owner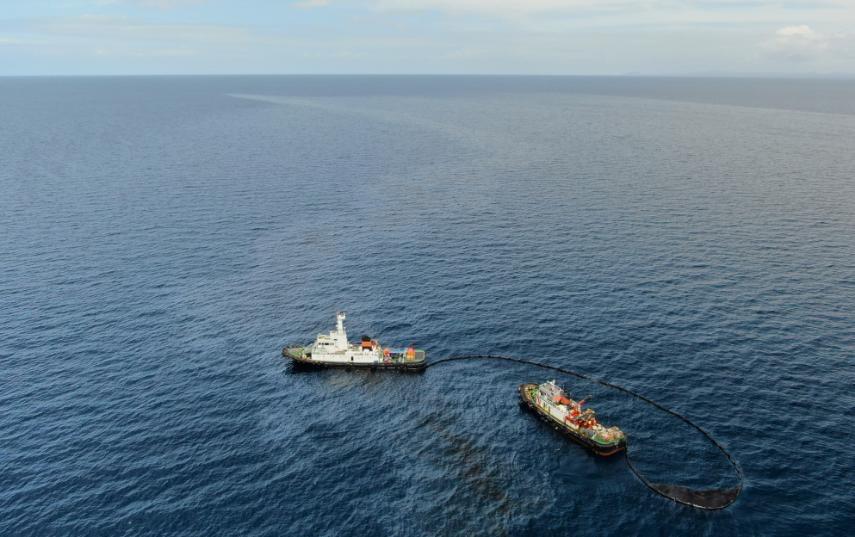 The owner of motor tanker Princess Empress on Saturday said that the oil spill response effort continues to progress in Naujan, Oriental Mindoro, weeks after the vessel sank.
In a statement, the RDC Reield Marine Services said the effort continues "to grow and evolve" after it received advice from independent international oil spill expert International Tanker Owners Pollution Federation Limited (ITOPF), both at-sea and along affected shorelines.
Also, it said that tug boats with the appropriate spill response equipment continued to work with the Philippine Coast Guard (PCG) for the at-sea containment and recovery of any floating oil at the point where the oil surfaces.
Additional assets are also on the way to the scene, including the ROV "Hakuyo" and workboat "Shin Nichi Maru."
Further, French oil spill response company Le Floch Depollution (LFD) and local oil spill response contractors have established operation bases in both Pola, Oriental Mindoro and Semirara Island, while work crews actively remove oil from the priority cleanup sites.
The PCG, local government units, and the ITOPF continue to hold joint shoreline surveys and provide clean-up plans, to be carried out by shipowner appointed contractors LFD and response contractors.
Authorities continue to conduct aerial surveillance of the remaining oil at-sea to assess the direction of the spill's spread, while satellite imagery is being utilized to understand the overall oil trajectory and its potential impacts.
Joint shoreline surveys from air and on the ground are also constantly held in any area suspected or reported of being affected by the spill, in order to direct clean-up operations provide environmental monitoring plans that are crucial for affected fishing communities.
"We remain committed to the oil spill response and will continue to work closely with the Philippine government, the Philippine Coast Guard, local government representatives, international oil spill experts and contracted responders to ensure a unified approach," the RDC Reield Marine Services said.
The PCG on Tuesday said that MT Princess Empress was carrying 900,000 liters of industrial fuel oil when it sank off Oreintal Mindoro on February 28.
PCG spokesperson Rear Admiral Armand Balilo said they are still waiting for the result of the investigation if the sinking of the fuel tanker was caused by neglect or a case of force majeure.
Meanwhile, Department of National Defense chief Carlito Galvez Jr. said in his report to President Ferdinand "Bongbong" Marcos Jr. that at least 169 individuals were reported to have been injured or have fallen ill due to the oil spill.
He added that the national government and the private sector have provided around P43 million worth of assistance to 74 affected areas in Mimaropa and Western Visayas. —LBG, GMA Integrated News