Filtered By: Topstories
News
Senate cites cop in contempt for failure to answer questions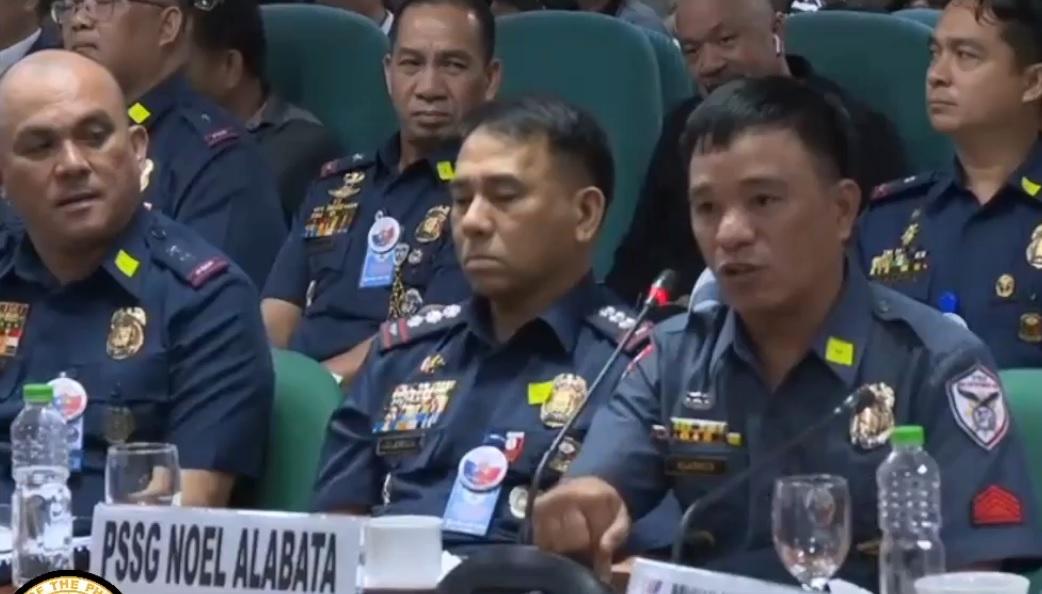 The Senate Committee on Public Order and Dangerous Drugs on Wednesday cited in contempt a police officer who is being linked to an assassination attempt in Dumaguete for his apparent failure to answer their questions.
Senator Jinggoy Estrada moved to cite Police Staff Sergeant Noel Alabata in contempt.
Claiming that he did not remember such details, Alabata did not answer questions as to who posted his P120,000 bail; if he had carried firearms during the alleged assassination attempt in March 2021; and why he used aliases such as "Mr. X" and "Alfonso Tan."
"'Yung totoo talaga sir hindi ko talaga alam sir. Totoo talaga 'yan. Hindi ko talaga alam," Alabata said when questioned about his bail.
"Actually, sir, unconscious po ako sir. Ang ulo ko sir biyak po ang ulo ko sir. Hindi ko po talaga alam kung anong nangyari sa akin sir. Totoo 'yan sir. Hindi ko nga alam bakit ako andoon sa ospital, kung ano pangalan ko, hindi ko talaga alam," he added.
He was supposedly engaged in a fight with the small restaurant owners he allegedly attempted to kill and sustained a gunshot wound and several injuries.
Dr. Marc Llosa, the doctor who performed surgery on Alabata, said that the latter would not talk to him and the hospital staff, but that he heard him whispering with his caretaker.
Alabata, however, said he could not remember who his caretaker was. When pressed, he later said that it was his cousin or his wife.
Then Dumaguete police chief Ramoncelio Sawan also said two guns were retrieved from Alabata, a claim which he denied.
Alabata claimed that an "original CCTV" would show otherwise.
"Actually… ito ang nangyari sir, ha, makikita po 'yan sa original CCTV sir," Alabata said, adding that there was no date and time indicated in the CCTV footage shown during the hearing.
When unable to answer questions, Alabata would also knock on his head with his hand in admonition.
Meanwhile, Siaton Mayor Cezanne Fritz Diaz said Alabata may be fearing for his family's safety.
"Baka takot lang talaga siya, sir, sa pamilya niya. 'Yun ding mga ibang pulis sir takot ano din mangyari sa pamilya," Diaz said.
Meanwhile, Estrada moved to lift the contempt order against Police Staff Sergeant Renevic Rizaldo, who allegedly refused to accept the blotter report of a political killing victim in Negros Oriental.
The Committee held the hearing to probe the assassination of Negros Oriental governor Roel Degamo and eight others. — BM, GMA Integrated News