Filtered By: Topstories
News
Manalo: Differences should not prevent PH and China from managing sea dispute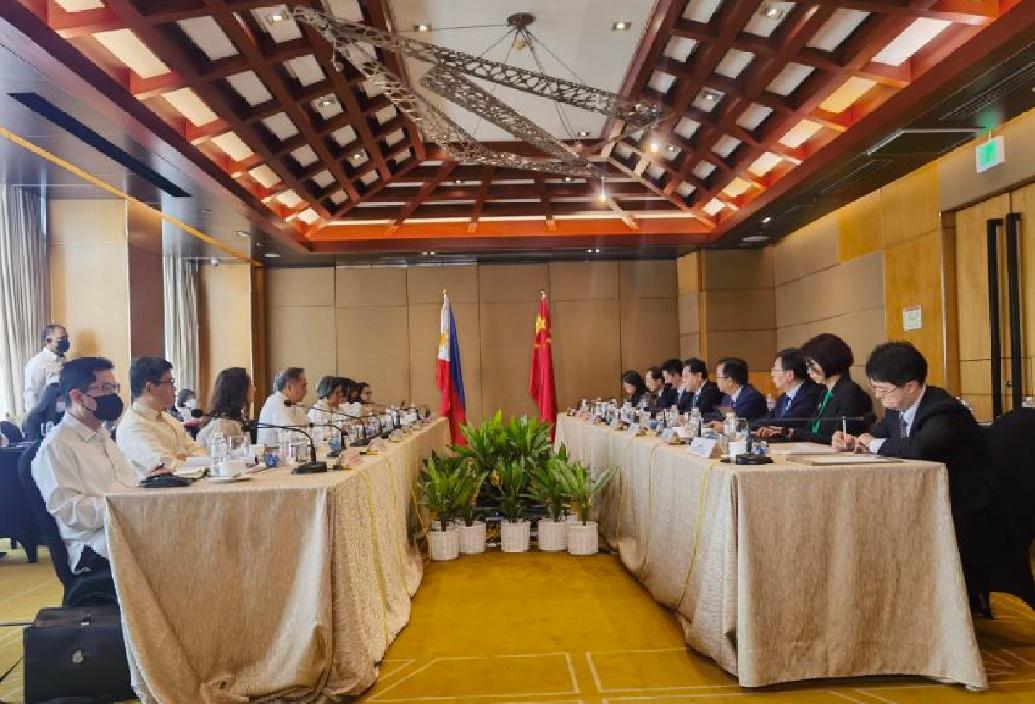 Foreign Affairs Secretary Enrique Manalo said "differences" between the Philippines and China should not stand in the way of managing the two countries' territorial dispute in the South China Sea, adding Manila intends to "work closely" with Beijing in bolstering their economic ties.
The meeting opened with Manalo citing an agreement between President Ferdinand Marcos Jr., who made a state visit to China in early January, and Chinese leader Xi Jinping to amicably manage their overlapping territorial claims while strengthening other aspects of their bilateral relations, particularly trade and economy.
"Our leaders have agreed that our differences in the West Philippine Sea are not the sum total of our relations," Manalo said in his remarks during a bilateral meeting with Chinese counterpart, State Counsellor and Foreign Minister Qin Gang in Manila Saturday.
"These differences should not prevent us from seeking ways of managing them effectively, especially with respect to the enjoyment of rights of Filipinos, especially our fisherfolk whose livelihood and general wellbeing are undermined by incidents and actions in the West Philippine Sea," he added.
Territorial disputes in the busy and resource-rich waterway have sparked occasional violence and have been regarded as potential regional flashpoint for armed conflict. They have also been at the center of a strategic rivalry between China and the United States.
Although not a party to the disputes, the US has challenged Beijing's claims and maintained that keeping the South China Sea — a major trade route — open and accessible is within its national interest.
China, which considers the sea disputes a purely Asian issue, is opposed to any foreign intervention, particularly from the US.
The Philippine government have recently issued strongly-worded protests against China over its aggressive actions in the waters, including one incident wherein a Chinese Coast Guard vessel pointed a military-grade laser at a passing Philippine government ship that caused temporary blindness to Filipino crewmen.
China defended its action, reiterating Chinese sovereignty in most of the South China Sea, noting that the Philippine vessel intruded into its waters.
Washington has repeatedly warned that it would help defend its treaty ally, the Philippines, if its forces, vessels and aircraft are attacked in the South China Sea.
In response to Manalo's remarks, Qin said maintaining peace and security in the South China Sea will be beneficial to the two countries.
"Amid the 'fluid' and turbulent regional situation, a healthy and stable China-Philippines relationship is not only meeting the aspirations of our two peoples, but also in line with the common aspirations of regional countries," Qin said.
China has also strongly opposed a decision by the Marcos administration to grant US military forces access to additional sites under the Enhanced Defense Cooperation Agreement (EDCA) in northern Luzon, which Chinese officials said will be used by the US to possibly intervene on the Taiwan issue.
Beijing warned that granting greater access to US troops in the Philippines endangers regional peace and security as it cited concerns by "many insightful people in the Philippines" that such move could draw the country "into the whirlpool of a potential conflict in the Taiwan Strait."
Qin said China and the Philippines "need to work together to continue our tradition of friendship, deepen mutually beneficial cooperation and properly resolve our differences in the spirit of credibility, consultation and dialogue."
Citing a consensus on a Philippines-China blueprint for development between Marcos Jr. and Xi in Beijing last January, Qin said both sides should "keep our promises to each other so as to bring more benefits to our two countries and people."
"China is ready to work with the Philippines to truly implement the consensus between the two Presidents of our two countries, keep the direction of friendship of our two countries, and jointly uphold a larger picture of our bilateral relationship," he added.
Manalo said there have been "significant developments" demonstrating "not only the vibrancy but the depth and breadth of our relations."
China, he said, has remained the Philippines' top trading partner over the past few years despite the COVID-19 pandemic.
China's investment pledges worth USD$22.8 billion made during
Marcos Jr.'s state visit, "are slowly being realized," he added.
"There is, of course, much work that needs to be done," said Manalo as the two countries prepare to celebrate the 50th anniversary of their bilateral relations in 2025.
Manalo urged China to "endeavor to elevate our bilateral relations to even greater heights" and "do everything possible to ensure that the Philippines and China will continue the positive trajectory of our relations which has been elevated to that of Comprehensive Strategic Cooperation since 2018."
Manalo said he would push for further diversification of the two countries' economic relations and "close of the trade gap between our two economies."
He stressed that cooperation in agriculture, infrastructure development, energy, and science and technology are important elements of our bilateral economic ties, as well as revival of tourism, resumption of flights, and the exchanges of students and teachers. —KG, GMA Integrated News