Filtered By: Topstories
News
Ex-DFA chief Albert del Rosario's remains arrive in Manila from US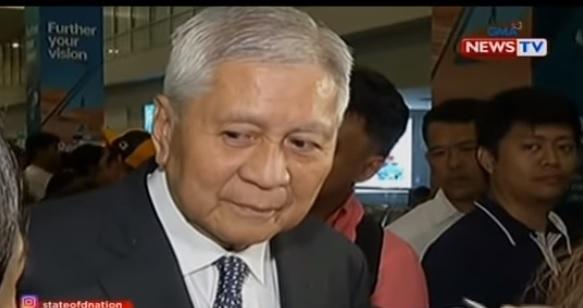 The remains of former Foreign Affairs Secretary Albert del Rosario arrived at the Ninoy Aquino International Airport on Saturday morning.
A press statement from the Del Rosario family, which was written and sent to the media by Dr. Inge del Rosario, daughter of the late ambassador, said that the plane carrying the casket touched down at 5:30 a.m.
Accompanying the former secretary's remains on the plane were his wife, Mrs. Margaret Gretchen del Rosario, and his sister, Joanne del Rosario, and they were met by his children, grandchildren, and siblings.
The family statement titled "A patriot has returned to his beloved family and his home, the Philippines," recounted the series of events on the day that the ambassador passed on.
"In the early morning of Tuesday, April 18, Ambassador del Rosario was en route to San Francisco with his wife and son-in-law, Jay Inocentes, when he breathed his last. While there were valiant attempts to resuscitate him by two doctors who were passengers on the same flight, these efforts were to no avail," the statement reads.
It added that an investigation by the coroner's office in San Mateo, California concluded that "the causes of death of Ambassador del Rosario were cardiac insufficiency, congestive heart failure, and cardiomyopathy. He had suffered a massive heart attack. He died in the arms of his wife of more than 60 years -- Gretchen."
Likewise the family statement said that the ambassador "traveled to California on short notice as he had deeply hoped to pray at a private devotion to our Lady of the Miraculous Medal. He was a devotee of the Rosary and sought to pray for better health as he believed he continued to have a mission to fulfill for his country."
Moreover, it detailed that the ambassador "had suffered over the past twenty years from various ailments and had had numerous back and knee surgeries but persevered despite the pain and suffering to serve as Philippine ambassador to the United States and Secretary of the Department of Foreign Affairs."
After Del Rosario left the DFA because of health reasons, he lived out a work ethic which was unrelenting and an inspiration to his family: till the final week before his death, he continued to go to his office in Makati seven days a week, including Sundays and holidays.
Wake schedule
The Del Rosario family announced that the ambassador's wake would be open for public visitation on Sunday, April 23; and Monday, April 24 at the Chapels of the Santuario de San Antonio, Makati City.
"We ask the Filipino people to pray for the peaceful repose of his soul and for consolation in our time of grief. We are deeply proud of our former Secretary of Foreign Affairs, Ambassador Albert F. del Rosario, and are grateful for the outpouring of support for the family. Our Papa, a loving husband, father and grandfather, a Patriot, has returned home to our Merciful God and rests now in the arms of our Blessed Mother. He is home to stay," the family said. — Michaela del Callar/LBG/DVM/KG, GMA Integrated News