Filtered By: Topstories
News
Cops tell contradicting details on arrests in P6.7-billion shabu bust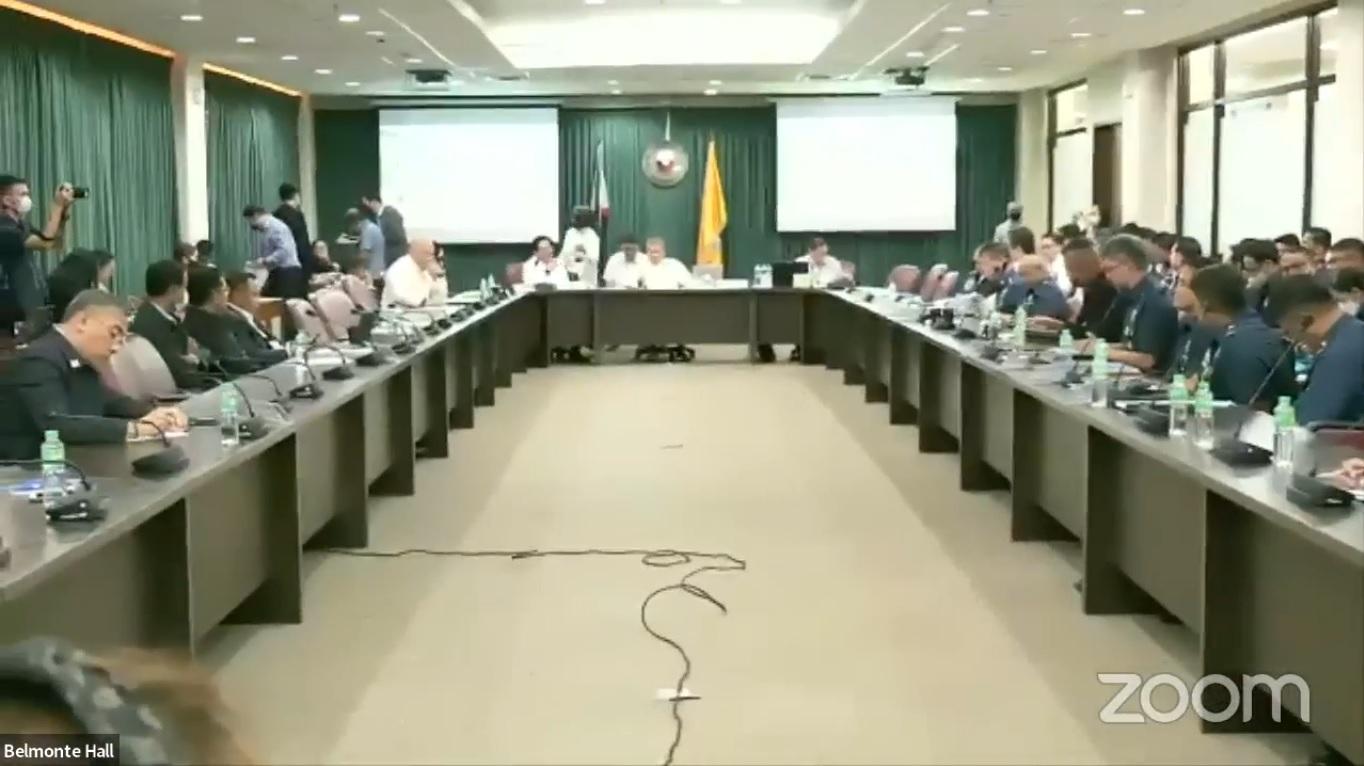 Police officials told different versions of what happened during the arrest of their fellow policeman, former Master Sergeant Rodolfo Mayo Jr., who has been charged with drug raps over his alleged hand in the 990 kilos of shabu worth P6.7 billion nabbed in Manila in October 2022.
During the House dangerous drugs panel's probe into the drug bust, Colonel Julian Olonan, the then-chief of PNP Drug Enforcement Group (PDEG) Special Operations Unit (SOU) Region 4A, said that Mayo, who is detained in Camp Bagong Diwa, was arrested in Bambang, Sta. Cruz, Manila, based on the information he got from Captain Jonathan Sosongco, head of the PDEG SOU 4A arresting team.
"I received a call from Sosongco at 12:50 p.m. of October 8, 2022, na nahuli nila si Mayo sa Bambang with two kilos of shabu. [Then] he [Sosongco] called me to inform me that they will conduct a follow up operation in WPD lending because they were able to follow Sergeant Mayo there. Since the operation was spontaneous, I gave it [the follow-up operation] a go," Olonan told lawmakers.
"He [Sosongan] called me again, that the follow-up operation was positive, [na] napakaraming nakuha droga [a lot of illegal drugs were seized]," Olonan said.
Sosongco, however, denied arresting Mayo.
"My team did not arrest Mayo, your honor. Iyong [team on] follow-up [operation] po," Sosongco said.
Sosongco also said that the one his team arrested during the October 8, 2022 drug bust was Ney Atedero, who is the director of WPD Lending services also based in Manila, around 4:45 p.m. of the same day.
"The volume of illegal drugs we seized was a lot. I informed him [Olonan] of the 990 kilos [of shabu] seized," Sosongco said.
Sosongco's 4:45 p.m. timeline of Atadero's arrest, however, is way later than the 12:55 p.m. timeline that Olonan told lawmakers.
House dangerous drugs panel chairperson Ace Barbers of Surigao del Norte then pressed Sosongco by saying "You are going to stick with that? Because there will be consequence."
"Who is telling the truth between you two?" Barbers added.
At this point, Sosongco invoked his right against self-incrimination.
This move, however, did not sit well with the lawmakers.
"We want to know the circumstances of the arrest, how will that incriminate you? Are you taking your boss for a ride? It is better that you tell us the truth now," Barbers said.
Antipolo representative Romeo Acop, for his part, said Sosongco is lying .
"If you have to lie, make one that is nearest to the truth. E ang layo-layo sa katotohanan ng sinasabi mo eh [What you are saying is far from the truth]," Acop, a former high-ranking police officer, said.
Barber's panel then showed a copy of the CCTV on the October 8, 2022 drug bust in WPD Lending services which corroborated Olonan's account.
Acop then said such different timelines only shows that the police force is not doing enough to rid the country of illegal drug trade that it is no wonder that the public does not trust them to do their jobs.
"Are you even worried? How can such a big amount of drugs enter in the country. Mr. Chairman, maririnig mo ang mga tao sa labas, sinasabi malamang kayo nag-iimport e because you cannot explain this mess," Acop said.
Brigadier General Narciso Domingo, director of the PNP Drug Enforcement Group (PDEG) responded by saying that there are forces who are redirecting the course of the investigation, and that the congressional inquiry discussing such different timelines will jeopardize the government's case against Mayo.
"The discussion on the timeline of the arrest...the case on the country's biggest drug haul will be dismissed, and Mayo will be going out of jail because of these proceedings," Domingo said.
Acop protested, saying the police force should not blame others over its failures.
"No, it is not because of this proceedings na pwede makalabas si Mayo. I take exception to that. If the case will be dismissed, it is because of you," Acop said.
Domingo reasoned out by saying "because the different timeline can be used by Mayo in his defense."
Acop countered that such possibility is exactly the point why the police should not blame the lawmakers in the event the government's case fails.
"Precisely. Nanggaling sa inyo 'yang timeline na magkaiba, hindi sa amin. You are the problem," Acop said.
(You are the ones who are telling different tales, not us.) — BM, GMA Integrated News