Filtered By: Topstories
News
Biden to Marcos: Amid challenges, I can't think of better partner than you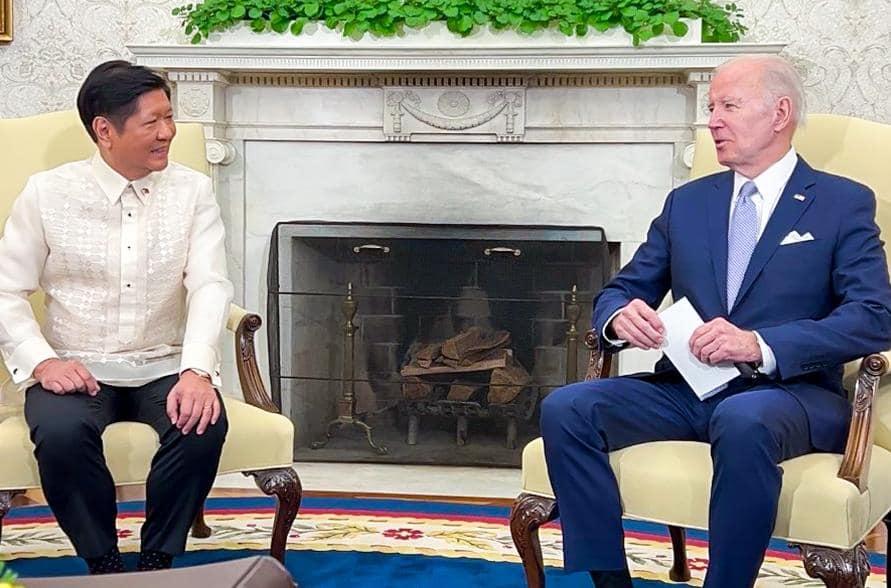 WASHINGTON—Amid challenges, US President Joe Biden told President Ferdinand Marcos Jr. that he could not think of a better partner than the Philippine leader.
Biden thus remarked when he welcomed Marcos to the White House on Monday afternoon, Washington time (Tuesday morning, PH time).
"You were with… here with President Reagan with your father… and we welcome you back," Biden said.
"You know, when we met in New York last year, you told me that the strong alliance has to continue... I'm using your phrase, 'to evolve as we face the challenges of this new century.' And we are facing new challenges. And I can't think of any better partner to have than you," Biden said.
Biden reaffirmed the US' "ironclad" commitment to defend the Philippines.
"The United States [inaudible] remains ironclad in our commitment to the defense of the Philippines, including the South China Sea," Biden said in his opening remarks.
A joint statement by the two leaders reiterated that any armed attack on the Philippine armed forces, public vessels, or aircraft in the Pacific would invoke the US mutual defense commitments under Article IV of the 1951 Mutual Defense Treaty.
Biden and Marcos also emphasized their commitment to freedom of navigation and overflight in the South China Sea, as they said they believe in the significance of respecting the sovereign rights of states within their exclusive economic zones consistent with international law.
In relation to this, the two leaders expressed support on the right of Filipino fishermen to pursue their livelihood.
Biden also promised to continue supporting the modernization of the Philippines' military sector.
He described the relations between the US and Manila as a "deep friendship."
"Mr. President, our countries not only share a strong partnership. We share a deep friendship, one that has been enriched by millions of Filipino-Americans and communities all across the United States," Biden said.
They will also review opportunities to deepen economic cooperation and promote inclusive prosperity, expand people-to-people ties, invest in the clean energy transition, and ensure respect for human rights.
Marcos arrived in the US on Sunday, April 30, Washington time (Monday, May 1, PH time) for an official visit. —NB/KG/KBK, GMA Integrated News