Filtered By: Topstories
News
Marcos witnesses Navy's unveiling of anti-air warfare capability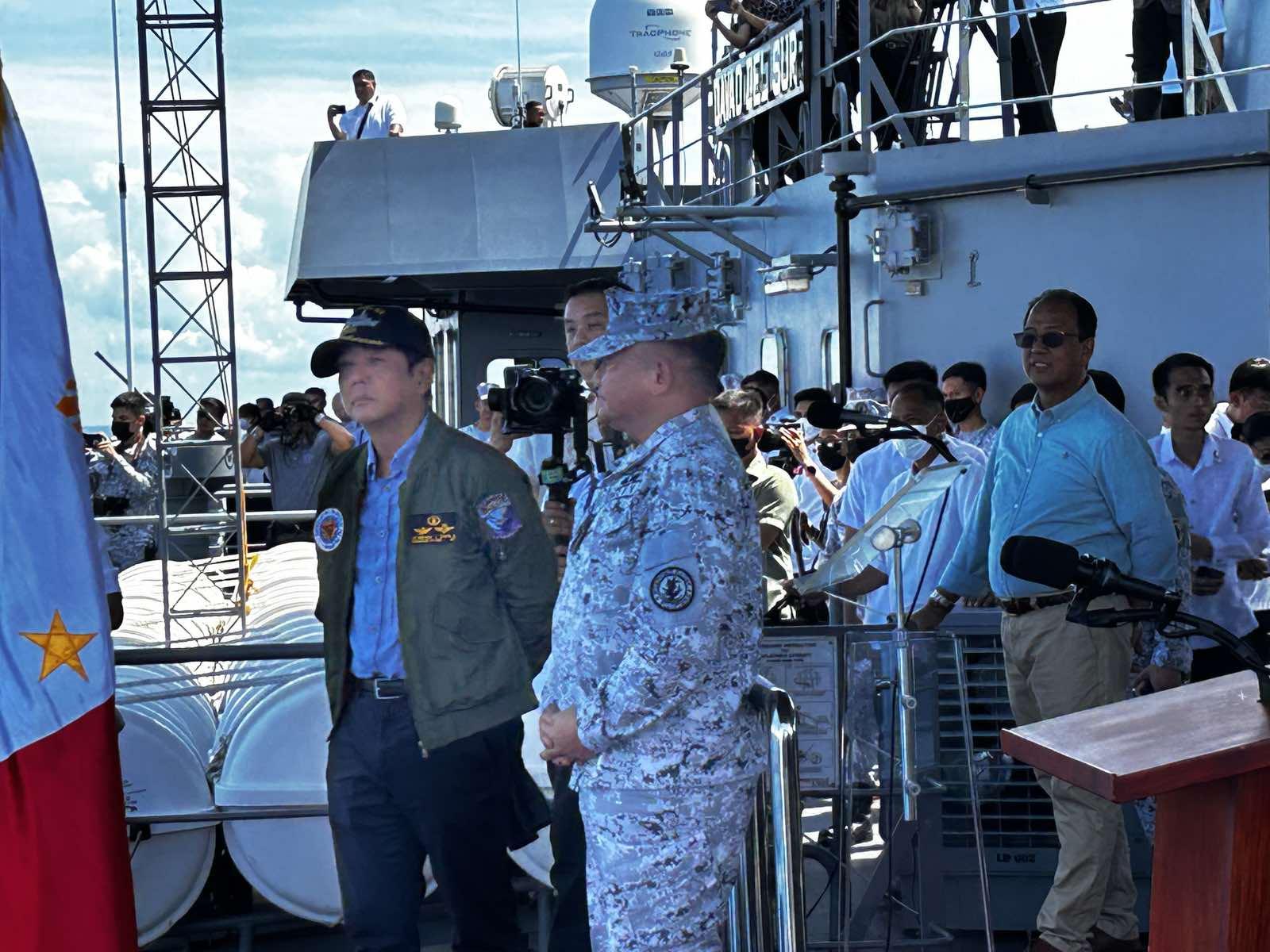 President Ferdinand "Bongbong" Marcos Jr. on Friday graced the Philippine Navy's unveiling of its anti-air warfare capability off the coast of San Antonio, Zambales.
Marcos witnessed this aboard the viewing ship BRP Davao del Sur (LD602). Also in attendance were Speaker Ferdinand Martin Romualdez, Defense officer-in-charge Undersecretary Carlito Galvez and National Security Adviser Eduardo Año.
In his speech, the President said the latest acquisition of the game-changing surface-to-air missile system would further boost the Navy's warfare capabilities.

"With the fluid security situation in our region, it is imperative that the Armed Forces of the Philippines and of course the Navy is substantially equipped, trained, and always on alert to respond to any and all exigencies that may confront our nation. It is for this prime reason that we exert a continuous effort to strengthen the capacity of our Armed Forces," Marcos said.
He vowed that his administration would continue similar naval exercises.
"We are now working on horizon three of the AFP modernization program. As we do so, let us likewise ensure parallel training and capacity building for our personnel, especially for those who would actually operate and maneuver these major naval assets and with the backing of their highly technical training," he said.
Marcos further called on the entire rank of the Philippine Navy "to keep up the good work continually guided by the national interest and the democratic ideals of the Republic of the Philippines."
The launch of the anti-warfare capability came after the test-firing of the surface-to-air missiles fitted on the guided missile frigate BRP Antonio Luna (FF151).
The frigate's countermeasure, the Bullfighter Chaff Decoy — a 130-millimeter super-rapid-booming offboard countermeasure (SRBOC) designed to defeat radio frequency and infrared-guided missiles — was also put on display during the sequence.
The Philippine Navy also showcased the capabilities of the AW159 anti-submarine warfare naval helicopter, which demonstrated the utilization of its compact-FLASH dipping sonar and the BlueShark torpedo to detect, locate, and neutralize stealthy submarine.
Philippine Navy chief Vice Admiral Toribio Adaci Jr. said the event has shown the Navy's "increased warfighting capabilities, especially in air defense, electronic warfare, and vessel survivability."
"This modern acquisition not only signified our readiness to defend our maritime domain but also reflect the tremendous progress we have made in reinforcing our naval force," Adaci said in his speech.
"I am proud to say that our Navy remains resilient, continuously transforming into a formidable force to better safeguard our maritime nation," he added.
The said weapons were acquired through the Philippine Navy's Frigate Acquisition Project Lot 2B awarded to MBDA Missile System based in France, with a budget of around P670 million. —VAL, GMA Integrated News