Filtered By: Topstories
News
Philippines security adviser condemns China coast guard actions vs. Pinoy fishers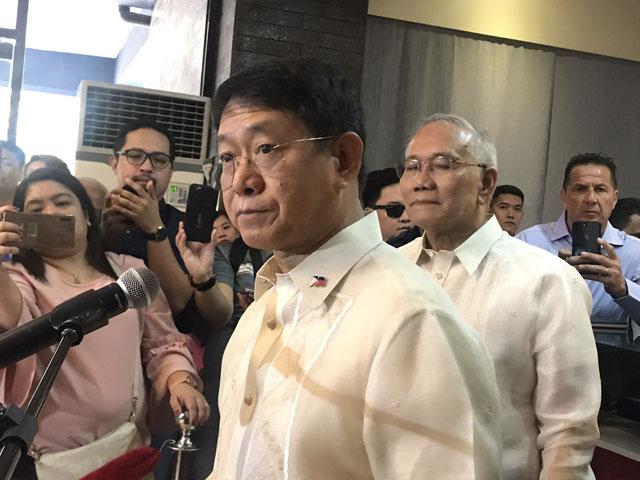 National Security Adviser Eduardo Año has condemned the actions of the China Coast Guard after a video showed a Chinese boat chasing and cutting the path of a Filipino fisherman near the Bajo de Masinloc or Scarborough Shoal.
A drone video by GMA Integrated News' Raffy Tima had caught on video the chase inside the Philippines exclusive economic zone.
"We condemn those actions because it was obvious that our fishermen almost collided with them. What would happen if a collision occurred? Our fishermen's lives would be put at risk," Año said.
Año asked China to tell its coast guard to refrain from such illegal actions against fishermen.
"We urge the Chinese government to provide instructions to their coast guard to avoid such incidents. We are ready to provide medical evacuation assistance if necessary and to protect our fishermen," Año said.
The Department of Foreign Affairs reiterated that the Bajo de Masinloc is an important part of the Philippines, with sovereignty and territorial jurisdiction according to UNCLOS or the United Nations Convention on the Law of the Sea.
The 2016 Arbitral Award recognized Bajo de Masinloc as a traditional fishing ground for Filipinos.
The China coast guard placed floating barriers at the Bajo de Masinloc but these have since been removed by the Philippine side.
This is not the first time that China has placed floating barriers in Bajo de Masinloc, which is only 124 nautical miles away from the western part of Zambales.
Similar floating barriers were reportedly placed after a months-long standoff between China and the Philippines in 2012.
The DFA said that the installation of floating barriers by China violate]d Philippine sovereignty and jurisdiction, as well as international law and the 2016 Arbitral Award.
In addition to Bajo de Masinloc, the National Task Force on the West Philippine Sea and the National Security Council are currently investigating the discovery of dead and damaged corals on a sandbar near Pag-asa Island in the West Philippine Sea.
The Sandy Cay Two is a sandbar located within the Exclusive Economic Zone (EEZ), which experts believe China typically does before commencing a reclamation project. The Chinese Embassy has not responded regarding the dead and damaged corals at Sandy Cay, or if they are involved in it.
Año questioned the origin of the dead corals and the sandbar formation, asking whether it was natural or man-made, and called for an investigation into the matter. —NB, GMA Integrated News