Filtered By: Topstories
News
VP Sara to use intel funds for mandatory ROTC — ex-Pres. Duterte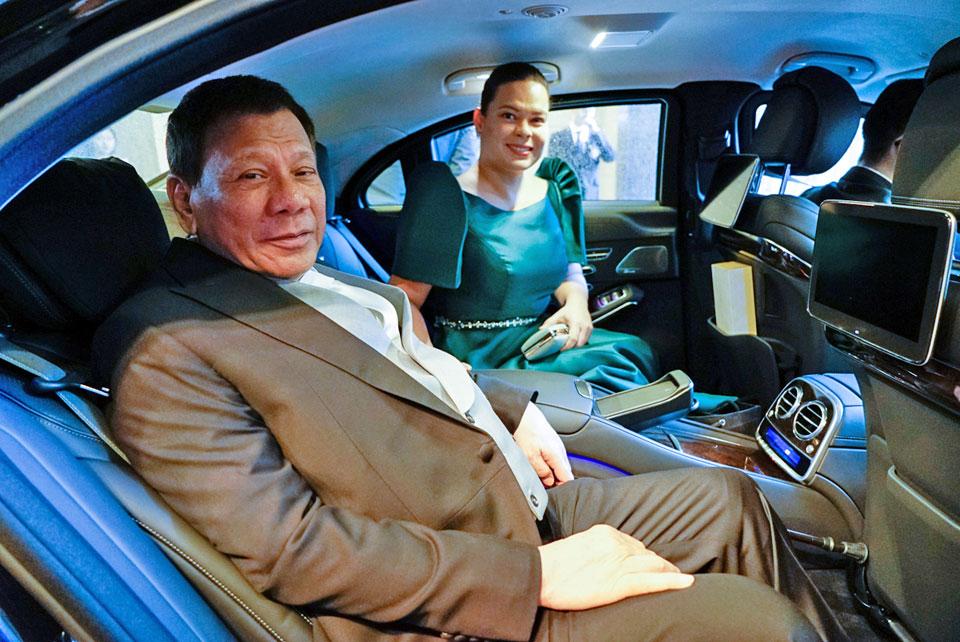 Former President Rodrigo Duterte said Vice President and Education Secretary Sara Duterte intends to use her offices' proposed confidential and intelligence funds to revive the mandatory Reserve Officers' Training Corps (ROTC) program in the country.
The ex-President disclosed that he asked his daughter for a copy of the document regarding her proposed intelligence funds when they met during the inurnment ceremony for his sister in Davao City over the weekend.
"Binasa ko ang rationale. Ang plano niya—unahan ko na lang, so I'm sorry I have to divulge this because binigay mo naman sa'kin, then I just make it public—gamitin niya ang pera, it's only P125 million, gamitin niya sa mga BMT, palakasin niya sa high school, pati ibalik talaga niya ang ROTC. Ipilit niya. Make it compulsory," Duterte said in an interview on SMNI Tuesday evening.
(I read the rationale. Her plan—I'm sorry I have to divulge this because you gave it to me, then I just made it public—is to use the money, it's only P125 million, to strengthen the BMT in high school, and really bring back the ROTC. She wants to push for it and make it compulsory.)
The Office of the Vice President (OVP) is seeking P500 million worth of confidential funds for fiscal year 2024. The Department of Education (DepEd), which Duterte also leads as Secretary, also proposed P150 million confidential funds for next year.
VP Sara has been pushing for the revival of the mandatory ROTC, more than two decades after the program was scrapped in 2002.
In September last year, she said that higher education will be better off spearheading the ROTC program, while the basic education will be in charge of instilling discipline and a sense of nationalism among the students during their early years in school.
The older Duterte said that bringing back the compulsory ROTC will take a long time, but stressed its importance to allow children to help take care of their own communities.
In response, Sara said she wanted to have a "soft landing" for the program through seminars and field trips in military camps.
"Hindi maintindihan ng komunista 'yan. Sabi ko sa kanya mag-pranka ka na lang—itong intelligence fund na ito gagamitin ko para sa utak ng Pilipino kasi ito ang target ko, kayong mga komunista," Rodrigo Duterte said.
(Communists won't understand that. I told her to be frank—I will use this intelligence fund for the Filipinos because my target is you, communists.)
"Itong intelligence fund na ito is to prepare the minds of the Filipinos sa insurgency na hindi matapos tapos, and the ROTC para preparado tayo kung may giyera, ganito ang sitwasyon ngayon, 'pag wala tayong sundalo, meron tayong mga bata na who will take care of their respective barangays to help government," he added.
(This intelligence fund is to prepare the minds of the Filipinos regarding the insurgency that never ends. The ROTC is so we can prepare for war, and so we can have children who will take care of their respective barangays to help the government if there are no soldiers.)
House scraps confidential funds
The House of Representatives earlier removed P1.23 billion worth of confidential funds of five agencies, including the OVP and DepEd, under the proposed P5.768-trillion budget for 2024.
House Committee on Appropriations senior vice chairperson Stella Quimbo earlier said this happened after the House small panel agreed to reallocate P194 billion from the proposed 2024 national budget for 2024 — including the P1.23 billion of confidential fund — to other government budget items that address the rising cost of commodities, seek to develop and protect the West Philippine Sea, and are subject to auditing procedures.
"Our panel introduced P194 billion worth of institutional amendments. The main goal was to rationalize the allocation of resources to fight inflation, invest in human capital and in our country's future," Quimbo said at a press briefing on Wednesday.
"We believe that the House of Representatives is on the right side of history," she added.
Aside from OVP and DepEd, other agencies which lost their confidential fund allocation under the House's proposed amendments are Department of Agriculture, Department of Information and Communications Technology, and Department of Foreign Affairs. — RSJ, GMA Integrated News