Filtered By: Topstories
News
Rebuilding after Yolanda: Land issues and Tacloban's no-build zones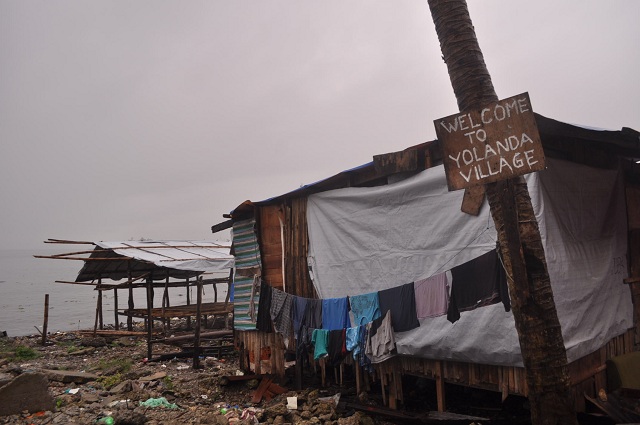 "Hindi madaling iwanan kung saan ka lumaki."
This was the explanation of college student Mark Lester Galin when asked why his family opted to rebuild their house in the coastal barangay of Anibong in Tacloban City.
Building back in their area might also be a coping mechanism for the Galin family and other survivors of super typhoon Yolanda, the deadliest storm in recent Philippine history.
"Parang nagbalik lang sa dati, tapos para sabihin lang na parang walang nangyari," the 23-year-old said.
Rebuilding
After leaving the evacuation centers, many of the residents moved into bunkhouses or tent cities. But with the government prioritizing the construction of permanent residences over temporary ones, the majority now have no resort but to try and rebuild their homes, even if they're situated in storm surge hazard areas like Brgy. Anibong.
The hundred or so new homes in Galin's barangay, which has been renamed "Yolanda Village," were built using donated tarpaulins, roofs and plywood as well as materials salvaged from the rubble.
The provincial government foresees that building back in hazard areas could pose a problem in the future as the residents may oppose relocation.
"We have been trying to talk to them at 'yung iba naman nakukumbinsi [na lumikas]. I think it all boils down to giving them an alternative," said Leyte Governor Leopoldo Petilla.
"They need to transfer to permanent houses as soon as it is ready," he added.
Are no-build zones the answer?
The Philippine Water Code does not allow structures to be built 40 meters from the shoreline.
After the super typhoon, the Department of Environment and Natural Resources tagged some areas in the city "no-build zones" following this guideline.
However, "You have seen that Yolanda in some places went for more than a kilometer inside," said German Development Cooperation (GIZ) chief advisor on disaster risk management Olaf Neussner.
"So obviously 40 meters does not help very much."
Neussner explained that the topography of certain areas should have been considered in the delineation of the no-build zones.
"It really hard to generalize it. It really depends on the area, but in many areas 40 meters is clearly not enough if you want to be safe from tsunami or storm surge," he said.
Neussner also noted that the construction of buildings should also be part of disaster risk management, to be adjusted depending on the risk the builder wants to avert.
"The question is how much you want to reduce the risk. There is no place where you are absolutely guaranteed," he concluded.
Permanent vs. temporary shelter
Instead of funding temporary shelters, the local government opted to build permanent houses to cut down cost and to utilize lands better, explained Tanauan mayor Pel Tecson.
"Our strategy in Tanauan is to quickly move to permanent shelter. We don't want to build them bunkhouses because it means double relocation for residents. Second, we would like to cut down on the cost, and third, we have limited lands here for housing so might as well build immediately permanent houses," he said.
In the towns of Tanauan and Palo, about 1,200 and 1,500 families have to be relocated.
In Tanauan, the local government is handing out some 20 permanent houses on April 8, exactly five months after Yolanda hit. Weekly, it is expected to turn over houses to families affected by the super typhoon and those living within the no-build zones.
In Palo, 500 houses are already being built.
Although there are many donors who are committing to donate houses, the local government is having problems acquiring the land for relocation.
"We have a problem in acquiring the land, that is one problem of all LGUs. We are not that rich and we can't acquire right now any property," Palo Mayor Remedios Petilla said in an interview.
Priority: Housing and economy
Shelter and the economy are the priority areas Leyte needs to focus on as it enters its rehabilitation phase, said Governor Petilla.
He noted that building permanent housing for survivors needs to be paired with providing them with livelihood assistance.
"Bukod sa bahay, dapat may hanapbuhay," he said.
— BM, GMA News
The German Development Cooperation (GIZ) organized a trip for Manila media, including GMA News Online, to Tacloban for updates on Yolanda rehabilitation efforts.