Filtered By: Topstories
News
The personal myth of 'The Butcher' Jovito Palparan
Editor's note: Dano Tingcungco has been a news reporter for GMA News since April 2007. He is a journalism graduate from the College of Mass Communication in UP Diliman. This article contains excerpts from his undergraduate thesis 'The 'Butcher': A political profile of Retired Major General Jovito Palparan Jr."


---
On August 12, 2014, NBI operatives finally captured retired Major General Jovito Palparan in Sta. Mesa, Manila
after he spent two years in hiding
. He is facing charges of kidnapping and serious illegal detention for the disappearance of UP students Karen Empeño and Sherlyn Cadapan in 2006.
Palparan became known in activist circles as "The Butcher" after he was linked to numerous cases of enforced disappearances and killings during his military assignments in Mindoro, Samar and Central Luzon.
I came face to face with Gen. Palparan seven years ago, when I interviewed him for my undergraduate thesis.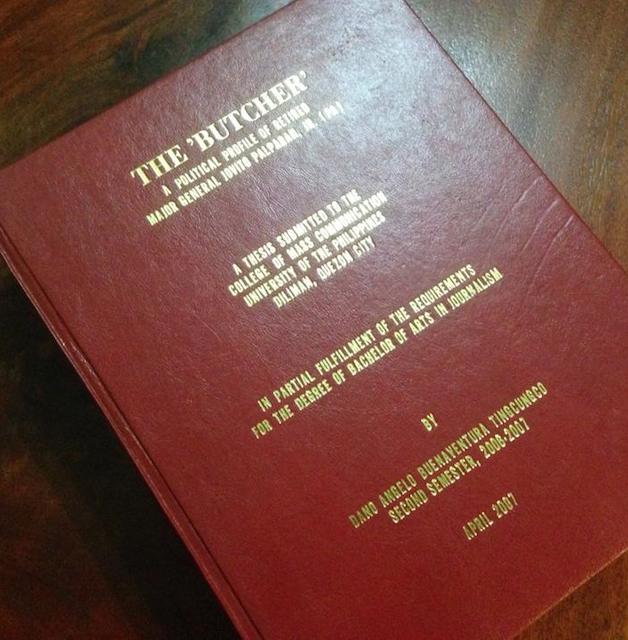 When I heard the news of his arrest, it was almost instinctive: I dusted off my thesis and began to reread what I wrote then. The main premise of my thesis was simple: why was he singled out as the
'berdugo'
or butcher?
Palparan in Sulu

In 2006, the Arroyo administration was at the height of its counter-insurgency campaign. At the time, many believed Palparan was at the helm of the campaign, his contributions so vital that Arroyo gave him special mention in her 2006 State of the Nation Address.

But the success of his campaign is still being debated until now. Along with the decline in rebel activity, why was there also a rise in torture cases and extrajudicial killings? There were just too many to ignore.

For me to understand all of this, I needed to get into the mind of the man himself.

One of the psychological theories I used for my thesis was Carl Jung's theory of the personal myth. It explains that all of us have a myth about ourselves. This myth stems from an experience that eventually defines our entire blueprint. This is the same myth we use for our decisions and actions throughout our lives.

During my interview with him in March 2007, Palparan told me that his first deployment in Sulu defined his life in the military. This was his baptism of blood and fire. Between 1974 and 1979, Palparan lost more than 200 of his men in bloody encounters against the Moro National Liberation Front (MNLF.) He said he stopped counting after his 200th soldier died.

He almost died too. One memory he could not forget was a close brush with an M79 shrapnel:
"Tinamaan sa hita yung katabi ko. Gumulong siya, gumulong din ako, siya natamaan. Kung nagkapalit kami ng posisyon, ako yung gumulong, ako yung may tama. Nagsisisigaw siya: 'Nanay ko, nanay ko.' Kinabukasan, patay."
From his deployment in Sulu to his other battles, his personal myth was born --- that of being a trailblazer. He wanted to take the road less traveled. From a reluctant soldier in his younger years, he took to the battlefield with bravado, willing to risk his life for his personal campaign: to hunt the enemies of the state.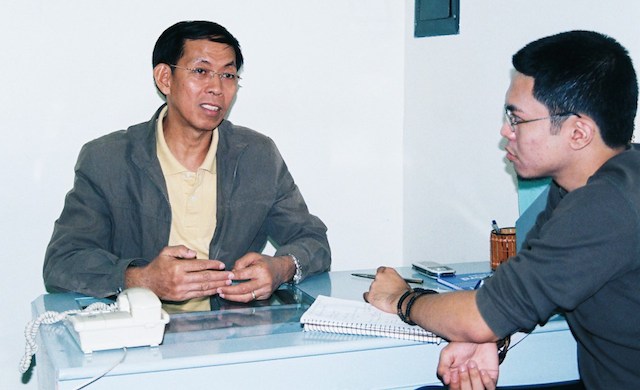 Truth or propaganda?

This myth would have an imprint on the aggressiveness of his campaign. In the 1980s, he began to adopt the counter-insurgency strategy known as the Special Operations Team (SOT), particularly against the communist New People's Army or NPA.

Under this strategy, government forces would "neutralize an area" by dismantling the political backbone of the place or left-wing sympathies, as he calls it.

At the same time, Palparan categorically denied any involvement in human rights abuses, branding them all as propaganda designed to smear his reputation:
"None of the allegations against my soldiers has been proven. The communists are doing this only because the biggest damage for them is the loss of the people's support"
To explain the killings blamed on him in Mindoro, Palparan said:
"Hundreds ang pinatay nila (NPA) bago ako dumating. Hindi na nga naire-report... Wala nang intelligence report na nanggagaling doon. 'Yung mga intelligence (officers) namin, pinagpapatay nila. Nawala na. Umalis na roon. Sila (NPA) ang nag-dominate sa area... Lumala na talaga 'yung NPA doon. Lumaki na talaga sila. Dominated yung area. 'Yung ayaw tumulong sa kanila, pinapatay. Yung pulis, walang magawa doon... Halos lahat ng munisipyo doon in-attack nila. So tinakot talaga nila ang buong Mindoro. 'Yung ayaw siyempre hindi lahat magsusuporta sa kanila. 'Tsaka yung pinagdududahan na kamag-anak na sundalo, pinapatay nila. Ganoon sila kasiga bago ako dumating. Sa newspaper wala ka makita."

Palparan believes he earned the "Butcher" moniker not because of human rights abuses, but because of his willpower:
"Kasi consistent ako. Karamihan kasi ng mga commander ayaw magkamali, ayaw masira ang credibility sa public. In-open ko ang sarili ko sa media. Kasi pag nakatago ka, sila lang (NPA) ang palabas nang palabas. Hindi ka makaka-respond. Maraming ganyan (aggressive in counter-insurgency), pero hindi sila consistent. Umuurong yung iba."


Mrs. Palparan

Seven years after my interview with Palparan, I would hear practically the same things from his wife, Dr. Evangelina. I interviewed her a week after the arrest of her husband for my exclusive report on State of the Nation with Jessica Soho. She insists all the accusations against her husband are mere propaganda:
"He is wrongly accused; wala siyang hand doon. Lahat na lang ng namamatay gusto nilang isisi kay General (Palparan)… kasi naging effective siya sa kanyang campaign on anti-insurgency."

She honestly believes her husband is innocent. She said the retired general was willing to face the charges head-on when his arrest warrant came out in December 2011, but things took a different turn when, according to her, President Noynoy Aquino ignored her husband's surrender feelers. They were losing confidence that the authorities would keep her husband safe in the event of a surrender. She made it clear it was this loss of confidence, and not guilt, that pushed her husband into hiding.

"You have to think of ways to cope, and leave a room for whatever happens. What are we preparing for? We're preparing for the worst— death."
Denial

Seven years after my thesis, I also encountered the stories of these fallen activists, whose deaths still await justice:

•
Edilberto Napoles, Jr., Bayan Muna Mindoro Oriental Coordinator
•
Eden Marcellana, Karapatan-Southern Tagalog Secretary General
•
Eddie Gumanoy, Katipunan ng Samahang Magbubukid-Timog Katagalugan Chairperson
•
Milagros Belga, Karapatan-Laguna volunteer
•
Felidito Dacut, Bayan Muna-Eastern Visayas Coordinator
•
Rizal and Dino Matri, Mangyan leaders

There are many more like them.

In the cases of Empeño and Cadapan, until now nobody knows where they are or whether they're still alive, even with Palparan's arrest.

In my 2007 interview with Palparan, he denied any hand in the abductions, saying he only learned about it on TV. However, when he checked with his soldiers, they said there was a raid in a house in Hagonoy, Bulacan where two women NPA members were abducted, but none of them were named Cadapan or Empeno:
"Sabi ng tao ko, may ni-raid lang na bahay, at yung dalawang babae at isang lalake, kinuha. May pangalan, sina Ka Tanya at Ka Sierra. Pero nagtanong ako sa mga tao doon, natutuwa sila sa (abduction). Kasi sila yung nangongolekta at nananakit sa NPA, kasama sila sa pumapatay at nagse-seminar."

On the day of his arrest, Palparan pretty much said the same thing:
"Ang report ay Ka Tanya, laging lumalabas. Walang Cadapan at Empeno. Ka Tanya at isa pa, sila yung nandun daw na involved sa violent incidents at pangingikil. Matagal na silang nandun, 3-5 years. Kung UP student sila, di sila 3-5 years. Propaganda lang yan. Walang involved na military at that time so di ko tiyak kung sino yun. Marami din kasi silang kalaban. Madaming nasagasaan... I am sure hindi involved ang mga tao ko doon."

The disappeared

Lorena Santos of the human rights group Desaparecidos told me the arrest of "the Butcher" is bittersweet news to the families of Palparan's alleged victims:

"Kahit sabihin kong 'di ka guilty (referring to Palparan), pinatagal mo pa rin ang justice. Taon pa rin ang binilang ng mga nanay… 'Di ibig sabihin na nakuha na, tapos na ang impunity. Di pa siya nako-convict."

Contrary to the statements of Palparan and his wife, the group believes evidence in court will prove his accountability:
"Tingnan natin yung mga ebidensya na nagtuturo kung sino ang kumuha doon sa dalawang estudyante. bakit may mga witnesses na tumatayo at nagsasabi na may hand si Palparan sa pagdukot at pag-torture at pagkawala ng dalawa? Andaming witnesses nun, first- hand, ibig sabihin nakita nila face to face."

Torture witness

In 2012, I interviewed Raymond Manalo, a victim of abduction and torture in February 2006. He sued Palparan in 2008.

According to Manalo, armed men captured and loaded him into a van then rammed him with an M16 rifle. He eventually learned he was taken to Fort Magsaysay. There, he was seared several times with a hot tin can and water-cured in his nose, among other forms of torture.

He recalls meeting Palparan in July 2006. Manalo said the general offered him these conditions if he and his brother wanted to stay alive:
•
if he doesn't show up at his own habeas corpus case filed by his parents
•
if he doesn't join rallies
•
if he refuses to speak to the human rights group Karapatan

Manalo managed to escape a year later, in August 2007.

But before his escape he was taken to Limay, Bataan where at one point, he said he heard a screaming woman. He traced the voices and found two women, whom he recognized as Empeño and Cadapan. He said he saw Cadapan hogtied to a chair upside down. Beside her, men were raping Empeño with wooden sticks, burning her skin with cigarettes at the same time.

Manalo wants nothing more than to see Palparan in jail.

Accountability of the military

In 2006, President Arroyo formed the Melo Commission to investigate the killings of activists and media practitioners. Even with Palparan's denial, the investigative body found him accountable based on the principle of command responsibility.

Command responsibility is the "liability of the officer if he knew about the crime of his subordinate, or had the capability or reason to know about it, but did not do anything to avert or address the crime in question." The Melo Commission cited Articles 28 and 28(a) of the Rome statute of the International Criminal Court.

In 2007, United Nations Special Rapporteur Philip Alston also found the military accountable for extrajudicial killings.

In an unprecedented move, the US Senate and the Netherlands-based Permanent People's Tribunal conducted their own investigations during the same year. They came out with the same findings as Alston.

Unanswered questions

We may have previously attempted to answer the questions, but up to now, these answers only scratch the surface of the story.

How is it possible that eight years after I finished my thesis, my questions then are still questions now? When I reread my thesis, I also took out all my interview tapes with Palparan and listened to them again. It was almost like a memorial of questions that, eerily enough, remain unanswered.

Even with Palparan's arrest, there are still no answers on when Karen Empeño or Sherlyn Cadapan would be back in the arms of their waiting and hopeful mothers. It will not bring Eden Marcellana, Eddie Gumanoy, Leima Fortu or Milagros Belga back to life. It will not erase Raymond Manalo's memory, or the scars on his body.

The killings and disappearances attributed to Palparan will forever be there: a grim and difficult reminder of the human cost of war. It is larger than him or the institution he once represented.

Fortunes have changed and roles have been reversed. Now, it is not only the families of the fallen and the missing who are looking for answers and closure. Even the family of the man they call "The Butcher" wants vindication from the same system that made them fear for his life.

On the day of his arrest, Palparan said he is confident he will win the case:
"I have no regrets for what I have done. What I did is for the good of the people."

It remains to be seen whether the courts will agree with him or not. But even if the victims find justice, nothing will ever bring the fallen back to life. Their deaths were unacceptable. These are contradictions in blood.

The victims are real; their stories, visceral. It no longer matters which version we adopt. Nothing changes the reality of their cold bodies. No amount of gavel pounding in court will ever bring back the color in their faces. Their stories will forever be a memory.
A longer version of this article first appeared in subselfie.com, a collective blog and a passion project of nine news professionals from GMA Network.

Photos courtesy of Dano Tingcungco