Filtered By: Topstories
News
Duterte's first SONA, one year later: The federalism information campaign
Every State of the Nation Address is both a look back and a look ahead—to the President's accomplishments the previous year, and to what he or she plans to do next.
When President Rodrigo Duterte delivered his first SONA on July 25, 2016, he had only been in office for less than a month. However, many of the issues he talked about were already familiar to Filipinos as being close to his heart, thanks to the presidential campaign and his long tenure as Davao City mayor.
GMA News Online looks at some of the issues he discussed in his first SONA, and what the administration is doing to address them.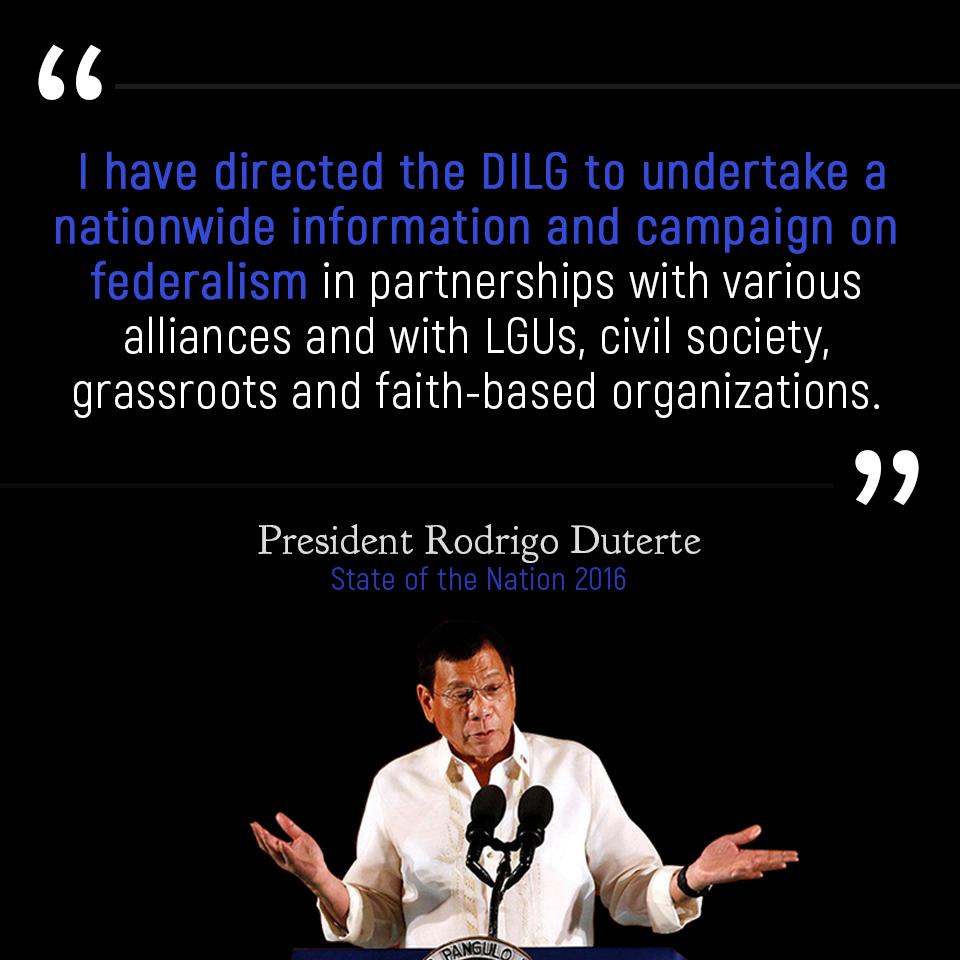 The information campaign on federalism that Duterte talked about in his first SONA has so far been smooth sailing, the Department of Interior and Local Government (DILG) said.
According to the department, it has held several "federalism summits" in cities nationwide since the campaign began in August 2016.
In an interview with GMA News Online on Saturday, Interior Assistant Secretary Epimaco Densing III said the campaign will now focus on grassroots communities: the barangays.
"What I'm doing is re-doing the advocacy campaign and doing it into a barangay-based campaign," said Densing, who was tasked to oversee the campaign.
"We are now partnering with other major protagonists of federalism like the PDP Federalism Institute, the Hukbong Federal ng Pilipinas. We agreed that they will help us in the barangay-based campaign," he added.
What is federalism?
The Duterte administration has been pushing for a shift to a federal form of government as a means to address national economic and power imbalances.
"[N]othing short will appease and bring peace to Mindanao," Duterte said during the presidential campaign.
Under the proposed shift, the country will be divided into states that will be formed from the existing regions.
Former Senate President Aquilino "Nene" Pimentel Jr., a longtime advocate of federalism, proposes 12 federal states, plus Metro Manila as the federal capital.
"Under the federal system, the central government would be limited to a few powers like maintenance of law and order, one army, one judiciary with modifications, one educational policy, one flag, and a few other functions. All other duties of government especially on matters of development would now be a function of federal states," Pimentel told GMA News Online in 2016.
In speeches he made to universities in 2015, Duterte himself envisions at least 14 federal states, each with its own state police, while the federal government retains control of the armed forces, as well as foreign relations and finance.
Pushing the limits
The DILG has conducted several workshops and activities to help ordinary citizens understand the concept of federalism better.
"It's really letting the Filipino masses understand federalism its basic form," Densing said.
"[The workshop] is good for 45 minutes to an hour only, para alam nila 'yung basics ng federalism, not the complicated side, and for them to understand the importance of federalism in their lives," he added.
Densing said the DILG is talking with other groups to come up with the form of federalism they will advocate. He believes they can come up with this form in the next two to three weeks.
"Last week, there was a two-day workshop with federal advocates and we've already made the common principle to advocate. We will have one more meeting to put it into flesh," he said.
"Of course, meron pa ring magpu-push [ng ibang form], but ito ang magiging formal position ng DILG," Densing added.
Ads, media, and a summit
After it holds a "massive information campaign" in the barangays, the DILG will then hold a summit.
"The summit will be the wrap-up ng federalism campaign on the ground," Densing said.
"Then, we might have major discussion sa higher level naman. Intellectual-type na discussion."
The DILG is also planning to use the power of the youth and the media to disseminate information on federalism more effectively.
"Magkakaroon din tayo ng mga debate and fora sa mga colleges and universities," Densing said.
"We're [also] looking at the possibility of doing ads to make the people understand federalism even more. Three-to-five-minute ads," he added.
Densing said the department might also partner with the Philippine News Agency to be able to reach more audiences.
"Kasi meron pala silang access sa mga sinehan, hopefully makasingit kami doon so that 'yung mga manunuod ay maintindihan nila kung ano 'yung federalism at how it will benefit the country," he said.
Federalism a priority in Congress
While issues such as martial law and the conflict in Marawi City have taken the spotlight in the last two months, federalism will remain a priority in Congress when it begins its second regular session on SONA Day (July 24).
"The second regular session is more or less one year long. Hence constitutional amendments to consider federalism is still a priority," Senate President Aquilino "Koko" Pimentel III told GMA News Online.
At the House of Representatives, Deputy Speaker Gwen Garcia also weighed in. "Of course, federalism, which has been a battle cry of our President even during the campaign days, will be of utmost importance as we focus and we hoped that we can move forward in our efforts at achieving Charter change," she said Monday. — BM/RSJ, GMA News