Filtered By: Topstories
News
Niger soldiers say President Bazoum's government has been removed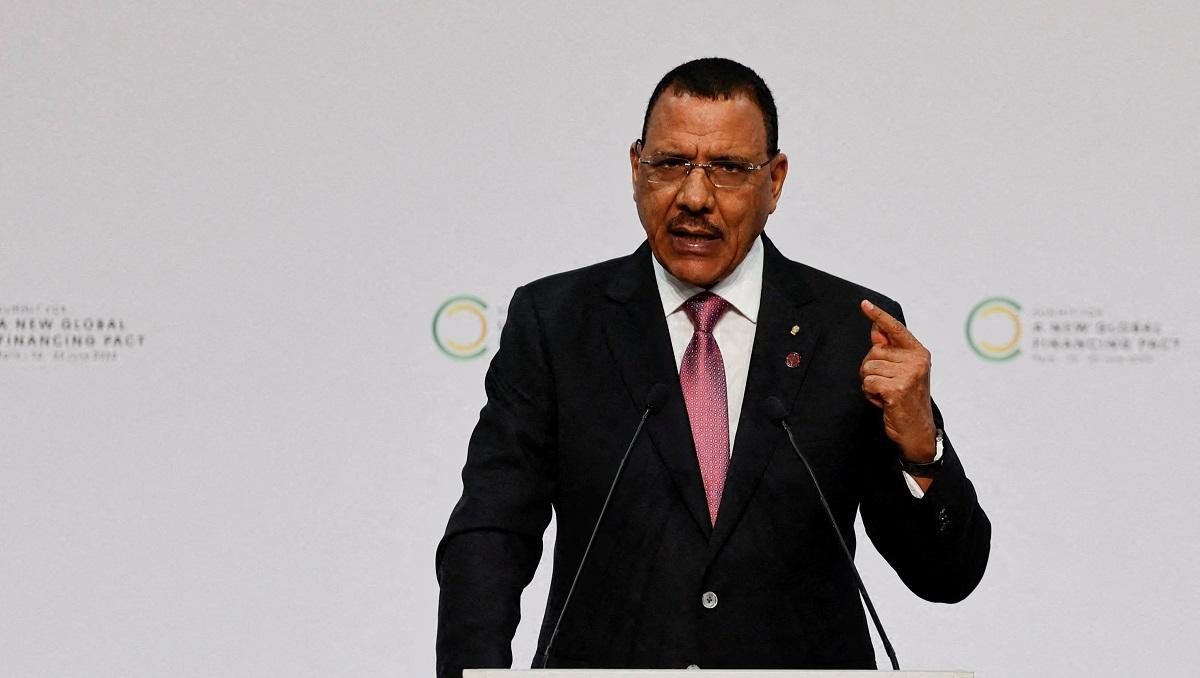 NIAMEY — Niger President Mohamed Bazoum has been removed from power, according to a group of soldiers who appeared on the West African nation's national television late on Wednesday, hours after the president was held in the presidential palace.
Reading from a statement, Colonel Amadou Abdramane, seated and flanked by nine other officers, said defense and security forces had decided: "Put an end to the regime that you know due to the deteriorating security situation and bad governance."
Abdramane said Niger's borders are closed, a nationwide curfew declared, and all institutions of the republic are suspended.
The soldiers warned against any foreign intervention, adding that they will respect Bazoum's wellbeing.
The military takeover, which marks the seventh coup in the West and Central Africa region since 2020, could further complicate Western efforts to help countries in the Sahel region fight a jihadist insurgency that has spread from Mali over the past decade.
Land-locked Niger, a former French colony, has become a pivotal ally for Western powers seeking to help fight the insurgencies, but they are facing growing acrimony from the new juntas in charge in Mali and Burkina Faso.
Niger is also a key ally of the European Union in the fight against irregular migration from sub-Saharan Africa.
France moved troops to Niger from Mali last year after its relations with interim authorities there soured. It has also withdrawn special forces from Burkina Faso amid similar tensions.
Bazoum's election was the first democratic transition of power in a state that has witnessed four military coups since independence from France in 1960.
The United States says it has spent around $500 million since 2012 to help Niger boost its security. Germany announced in April that it would take part in a three-year European military mission aimed at improving the country's military.
"Bazoum has been the West's only hope in the Sahel region. France, the US and the EU have spent much of their resources in the region to bolster Niger and its security forces," said Ulf Laessing, head of the Sahel program for Germany's Konrad-Adenauer-Stiftung think-tank.
He said a coup would create an opportunity for Russia and other actors to spread their influence in Niger.
Seventh coup
Early on Wednesday, presidential guards, headed by General Omar Tchiani, took over the presidency, prompting regional leaders to organize a swift mediation mission to try to prevent a coup.
Frustrations over state failures to prevent violent attacks on towns and villages have partly spurred two coups in Mali and two in Burkina Faso since 2020. A junta also snatched power in Guinea in 2021, contributing to instability in a region that had begun to shed its reputation as a "coup belt."
There was a thwarted coup attempt in Niger in March 2021, when a military unit tried to seize the presidential palace days before the recently elected Bazoum was due to be sworn in.
The African Union and West African regional bloc ECOWAS earlier on Wednesday condemned what they called an attempted coup d'etat.
The president of neighboring Benin, Patrice Talon, flew into Niger on Wednesday afternoon to assess the situation after meeting with Nigerian President and ECOWAS Chairman Bola Tinubu.
"All means will be used, if necessary, to restore constitutional order in Niger, but the ideal would be for everything to be done in peace and harmony," Talon told reporters in Abuja, Nigeria's capital.
The United States urged Bazoum's release, while the European Union, United Nations, France and others condemned the uprising and said they were following the events with concern.
US Secretary of State Antony Blinken, who spoke with Bazoum on Wednesday when he was being held in the presidential palace, said the US economic and security partnership with Niger depended on the continuation of democratic governance. — Reuters