Filtered By: Topstories
News
Pope Francis receives new Russian envoy, vows to continue peace mission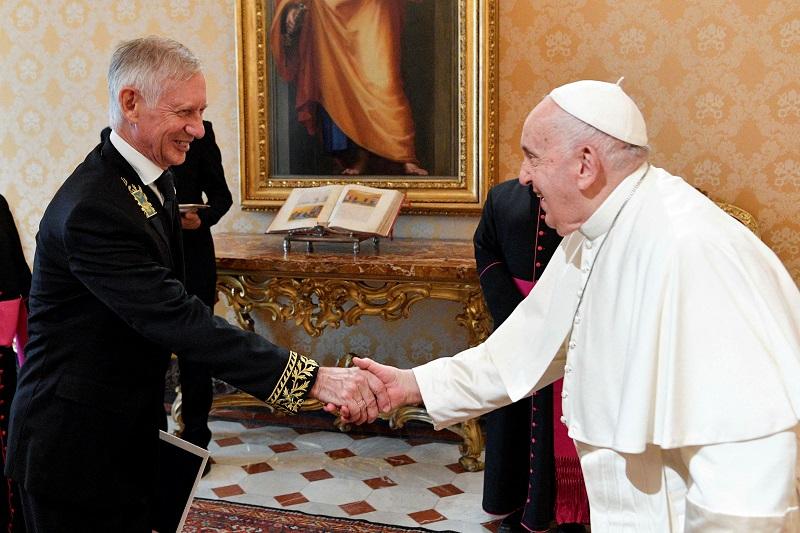 Pope Francis welcomed Russia's new ambassador to the Vatican on Monday and the envoy said the pontiff told him he was determined to forge ahead with his peace and humanitarian initiatives for Ukraine.
The envoy, Ivan Soltanovsky, said Francis also told him he wanted another meeting with Patriarch Kirill, the head of the Russian Orthodox Church, who has strongly supported President Vladimir Putin's invasion of Ukraine.
Soltanovsky, a 68-year-old career diplomat, presented his credentials to Francis at the Vatican, succeeding Alexander Avdeev, who was ambassador when Russia invaded Ukraine.
Francis went to the Russian embassy in Rome in a surprise visit the day after the Feb. 24, 2022 invasion to express his concern to Avdeev.
"Pope Francis expressed his interest in continuing the peace mission," Soltanovsky told the RIA Novosti news agency afterwards, referring to efforts by the pope's special envoy, Italian Cardinal Matteo Zuppi.
Zuppi has visited Kyiv, Moscow, Washington and Beijing and is due to return to Russia in the near future.
Russian Foreign Minister Sergei Lavrov has said he was ready to meet Zuppi, an encounter that did not take place during the cardinal's first trip to Moscow in June, when he was received by lower-ranking Russian officials.
After Ukraine made clear that it was not open to a Vatican mediation unless Russia met all of Kyiv's demands, including a total Russian withdrawal, Zuppi's mission has concentrated on getting backing for humanitarian efforts.
That includes the repatriation of Ukrainian children. Kyiv estimates nearly 19,500 children have been taken to Russia or Russian-occupied Crimea since the start of the war, in what it condemns as illegal deportations.
The International Criminal Court (ICC) issued an arrest warrant in March against Putin, accusing him of the war crime of illegally deporting hundreds of children from Ukraine. Russia, which is not a member of the ICC, denies committing war crimes.
Soltanovsky also told RIA Novosti that the pope told him he wanted to meet Patriarch Kirill again.
Kirill has given enthusiastic backing to Russia's invasion of Ukraine, which the patriarch views as a bulwark against what he views as a decadent West.
A meeting between Francis and Kirill in Cuba in 2016 was the first between a pope and a Russian Orthodox patriarch since the Great Schism of 1054 divided Christianity into Eastern and Western branches.
Two attempts to arrange a second meeting last year, one in Jerusalem and the other in Kazakhstan, failed because of diplomatic difficulties related to the conflict in Ukraine. — Reuters