PNoy asks Mindanaoans: Pay more to solve energy problem in the region
President Benigno Aquino III on Friday said residents of Mindanao need to bear additional electricity cost to help solve the energy problem in the region.
"You have to pay more because this is the reality of economics, not the rhetoric of politics. Everything has its price. You have to pay a real price for a real service. There are only two choices: pay a little more for energy, or live with the rotating brownouts," Aquino said during the Mindanao Power Summit held in Davao City.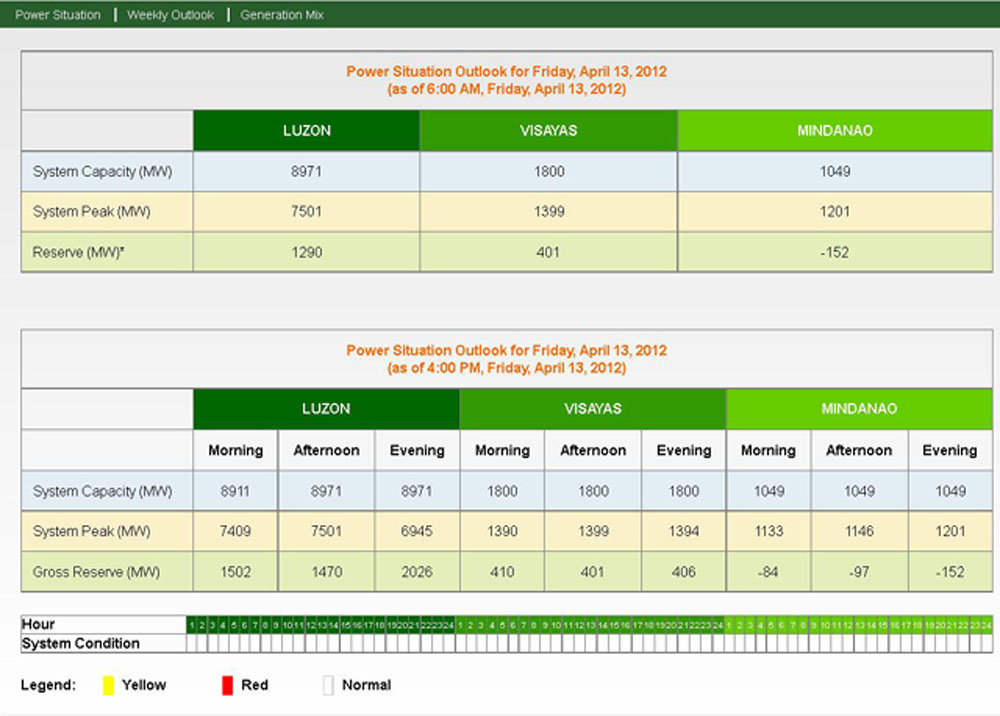 Source: www.ngcp.ph
He said that since the hydropower plants in Mindanao are no longer sustainable, there is now a need to entice private companies to put up power plants in the region.
"Hydropower needs water. And the availability and timeliness of the supply of water cannot be considered a constant. So the situation is: the demand is constant, but the supply isn't," he said.
Malacañang earlier said the power summit will be an opportunity for all stakeholders to have an overview of the real power situation in Mindanao.

In the past months, parts of Mindanao experienced rotational brownouts ranging from three hours to 15 hours daily. The situation, according to the Department of Energy, has improved due to their interventions.

Production capacity
Aquino said Mindanao's energy production capacity is at 1,280 megawatts, including the 200 megawatts from the barges. The peak demand, however, is at 1,300 megawatts.
"Basically, Mindanao relying on hydropower for more than half of its consistent consumption—what is called the base load—is not sustainable anymore, considering the many variables that affect water supply—from rainfall, to natural calamities, even to seasonal variations like El Niño," said.
"If you can no longer rely this much on hydropower to provide for your base load, you need a more diverse mix of energy sources. So this is what we are addressing," Aquino added.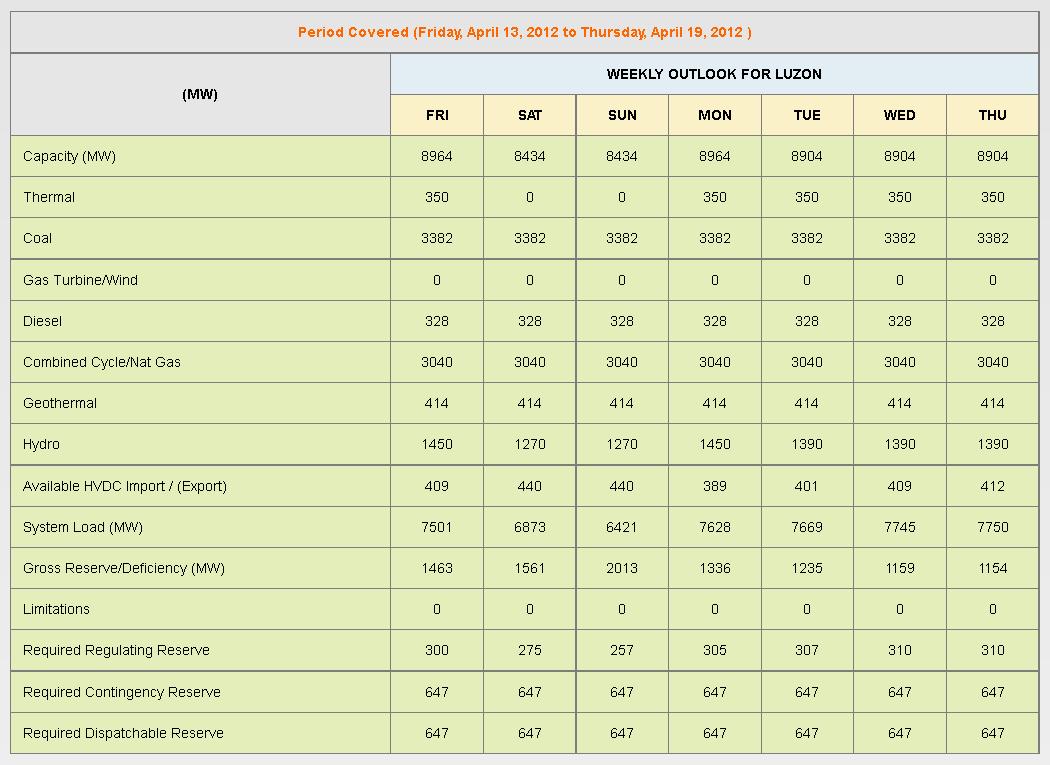 Source: www.ngcp.ph
Aquino noted that the construction of a coal or natural gas power plant costs $2 million per megawatt. The amount would have to be doubled if a hydropower plant would be constructed, he added.
"So for hydro, for example, that's almost P170 million per megawatt. But how can you entice anyone to invest if their generating cost is more than their selling cost?" he asked.
"What we need you to realize is that the old days of cheap power are no longer sustainable, and you must also put in your fair share in solving this problem. You have to pay a little more for the current and future health of the energy sector in Mindanao," Aquino said.
He, however, denied that the additional cost would be P14 more per kilowatt hour.
"I understand some cooperatives are paying an additional 50 to 60 centavos per kilowatt hour—this is in contrast to certain quarters who prefer to sow intrigue rather than to face the facts; and who chose to alarm the public by extravagant claims of Mindanaoans having to pay up to 14 pesos more per kilowatt hour. This is simply not true," he said.
"But, still, prices will increase; and you need to play your part. Ambag-ambag tayo rito," he added.

'Government doing its part'
The President said the government is already doing its part as he cited the P2.6-billion allotment for the large-scale rehabilitation of the 59-year-old Agus 6, which was designed to operate for only 30 years.
He said another hydropower plant, Agus 2, is also being rehabilitated.
"We will not only restore these plants to installed capacity, but improve their output due to advancements in technology. The result: these plants will be able to produce an additional 79 megawatts," he said.
He further said the National Economic Development Authority has also approved the Integrated Natural Resources and Environmental Management Program, which allocates P7.24 billion for four river basins, two of which are in Mindanao.
"(It's) literally getting the water flowing again. We are doing our part," he said.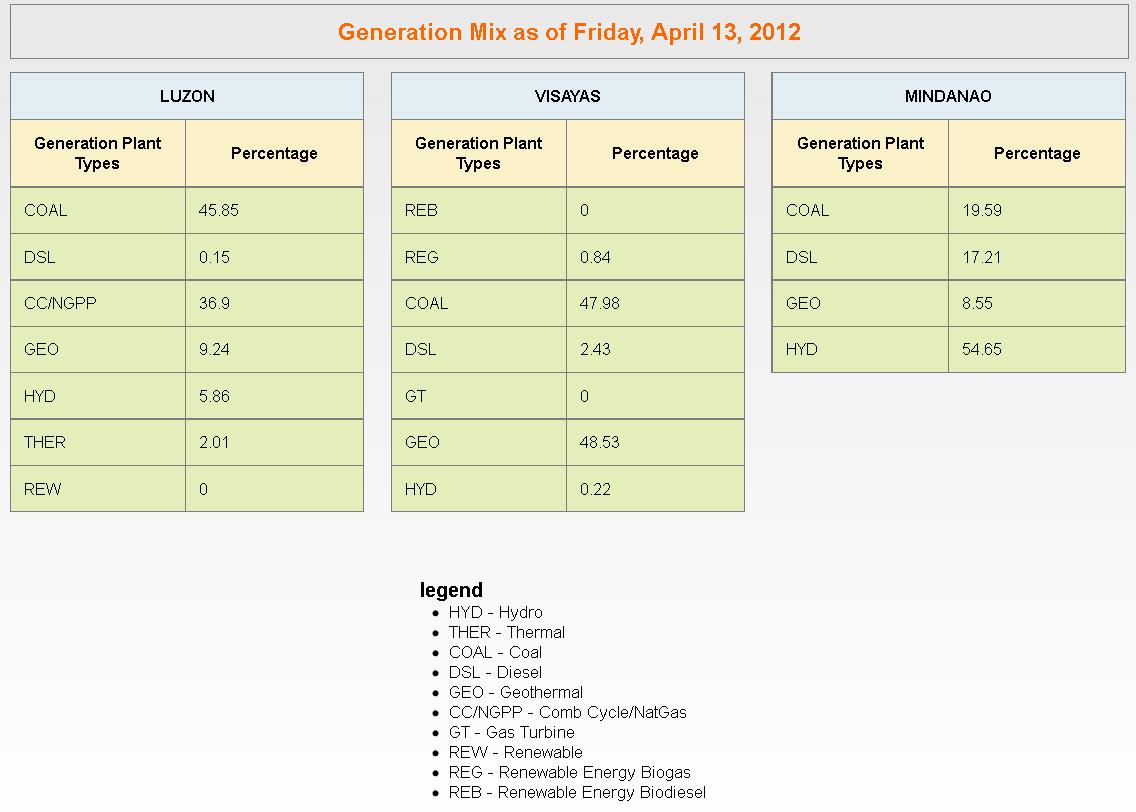 Source: www.ngcp.ph

Aquino said the formation of a Mindanao Power Monitoring Committee is being studied to make sure that the price increases are fair.
The committee will be chaired by Mindanao Development Authority, with representatives from Department of Energy, National Power Corporation, the National Grid Corporation of the Philippines, and others from civil society, electric cooperatives, and the business sector.
"Paying a little more for energy will enable us to ensure a stable supply of power for the future of the region. It will make the lives of everyone in Mindanao better—not just by allowing them to switch on light bulbs—but also because having a more consistent energy source will give Mindanao a more convincing business proposition to potential investors—not just in the energy sector," Aquino said.
He said the solution is not just about energy but about attracting investments and creating jobs, and about securing the future of the region.
He said his dream is that, by the time he steps down in 2016, the energy situation will be one less worry in the minds of Mindanaoans and investors in Mindanao alike.
He added that Mindanao must become not just the land of promise, but the land of fulfilled promises.
"That is why I'm here: not just to show all of you that we are focused on the problems you're facing, but more importantly, that we don't want your region to just get by these next one or two years, we want you to be a pillar of our economy in the coming decades," he said. — RSJ, GMA News