Where pizza is larger than you
Bigger isn't always better, but when it comes to pizza, it's certainly more fun. Imagine a pizza so large that a special door has to be made for it. Imagine a pizza big enough to lie down on. A pizza that takes four hours to bake, but can feed 150 people. Now that's a pizza that deserves a cowabunga.
At El Buono in Quezon City, it isn't just the pizza that's big. While they claim to have the world's biggest deliverable pizza, the 65-inch creation is not the only thing on their menu that can make your jaw drop.
They also have a two-foot burger, huge flower vase iced tea, and a giant dessert that's good enough for 20 people.
El Buono owner and chef Timothy Lance Sarvida says that more than being competitive, it's about the customer.
"We want to give what the customer is paying for. We bring joy to people, we broke a record, we want to make people happy," says Sarvida at the launch of its flagship branch along the Tomas Morato restaurant row in Quezon City last Tuesday.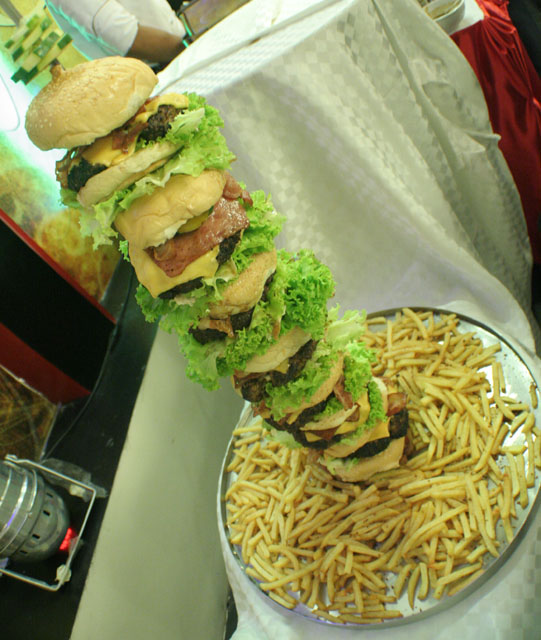 During the launch, Rep. Teddy Casiño, chairman of the House Committee on Small Business and Entrepreneurship Development, led the ceremonial toast together with Quezon City Councilor Alfred Vargas.
"It's about providing opportunities for other people. It's about building nation. So by coming up with this restaurant, you are in fact helping build the nation," says Casiño.
"Eating pizza is not just about filling the stomach but more so building bonds with your family, eating together and eating what you want, and through eating establishing your own personality. Dahil ang pizza po kanya kanya pong hilig, kanya-kanya pong personality. And El Buono pizza is such a place to spend time with your family," says Vargas.

As big as a person

Like most pizza places, El Buono has several flavors to choose from, whether you prefer a lot of meat, just vegetables, or even plain cheese. But unlike most pizza places, the pizza at El Buono can be as small as 10 inches and as big as a person.
Sarvida says the idea to go big was their way of setting El Buono apart from all the other pizza restaurants. Along with Laura Murayama and Sam Faj Calaca, Sarvida founded El Buono in 2008. They began with a humble store in Mandaluyong City before expanding to Makati, Parañaque, Dasmarinas and Morayta.
In 2009, El Buono was named "Asia's Biggest Pizza" by GMA's TV show "Pinoy Records."
Sarvida recounts that when they had the 36-inch pizza, they received several inquiries from people who were interested in franchising. Being new in the industry, they refused.

According to Sarvide, because their small was so small, it was very easy for others to take pictures and copy the technology. After a few months, other pizza stores began offering the 36-inch pizza.
El Buono decided to beat its own record with the 65-inch pizza, which they bake in whole using a special oven. "We had to think of a different pizza concept," says Sarvida.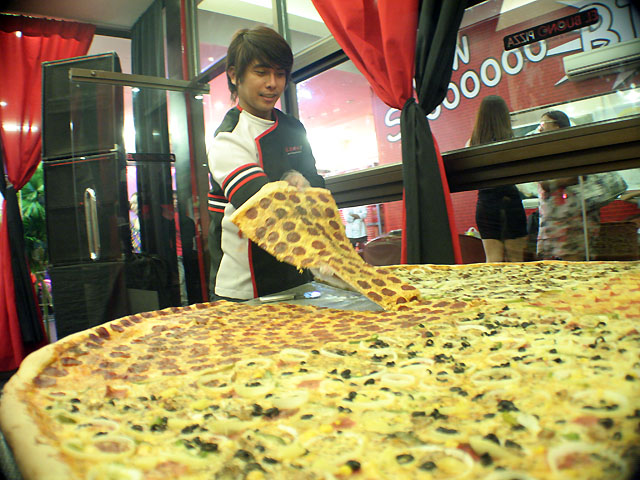 Eventually, they decided to close all their branches and focus on the new store in Morato, which had its soft opening in March of this year.
"Before, our stores were really small. 'Di talaga nag-abala for the interior and everything. But here, eto 'yung pinakamaayos na branch namin," says Sarvida, gesturing to the spacious restaurant. The space is decorated in red and black, with couches and a carpeted platform for groups to hang out.
During the day, the restaurant looks like a family place. At night, it transforms into a party spot for the college crowd with its beer for P8 a cup and its beer pong games from Wednesday to Friday nights.
Whether you're with your family or your friends, El Buono is definitely a place for sharing—the burger is more than enough for 10 people, and the dessert is good for 20 people. If you're on a diet, this is not the place to go to.
And what about the taste? The La Carne Buono and the Le Verdure are both tasty flavors, the former for meat lovers and the latter for vegetarians. The crust isn't too thick, but it's not thin either.
The best thing about the giant pizza is really its size. It may not be the most delicious pizza you'll ever have, but it will be difficult finding something bigger than this. If you're feeling brave, gather a group of 10 and you can take the pizza challenge: consume the entire pizza in under five minutes, and you get it for free.
Otherwise, it costs P7,999—not bad, considering it feeds 150 people, and you can choose four flavors.
The burger tower is a stack of buns and thick beef patties, alternating with lettuce, tomatoes, fried egg, ham and cheese.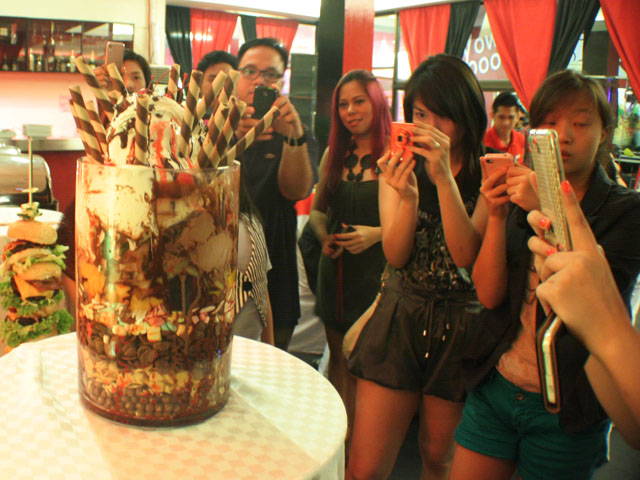 The dessert, the Giant Fruit Parfait Pitcher, is a concoction of all things sweet—ice cream, chocolate wafers, chocolate cereal, jellies, mixed fruit and cherries.
After sampling all the food, we felt like we had eaten enough for the week. It's not the sort of thing you'd do every day, but it sure is a great way to share food. –KG, GMA News