PBA: Balkman goes bonkers as Alaska downs Petron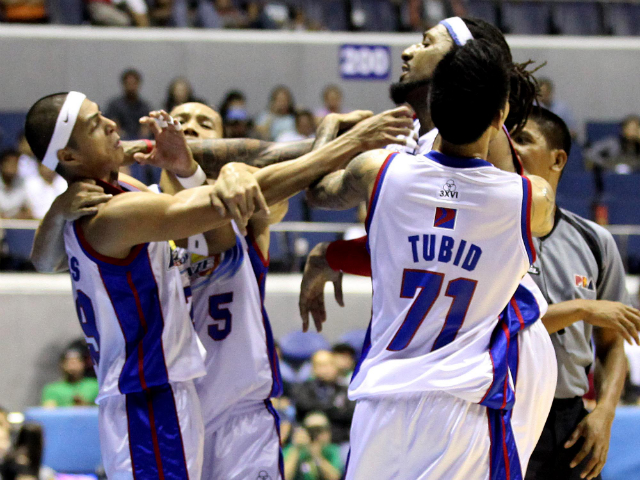 First the insult, then the injury - It wasn't enough that the Petron Blaze Boosters saw their five-game win streak snapped, it had to come with the meltdown of their import Renaldo Balkman.
KC Cruz
(Updated 10:16pm)
The Alaska Aces bounced back from their first loss with an 83-73 win, but the big story of the game was Petron Blaze Boosters import Renaldo Balkman choking his own teammate Arwind Santos late, Friday at the Smart Araneta Coliseum.
Alaska's defense came to play late, as Jvee Casio made two from the foul line to put his team up 80-73. With 26.7 seconds left, Renaldo Balkman tried to convert a hook shot, but missed. Seeking a foul, Balkman moved towards the referees. When his teammates tried to restrain him, the former NBA first round draft pick shoved away Ronald Tubid and put his hands around Arwind Santos' neck on the ensuing sideline altercation.
[Related: Players react to Balkman's meltdown]
On the other end, Alaska finished the game from the line, to mercifully conclude all the drama on the court.
Trailing 67-66 with just over five minutes left in the fourth quarter, a bucket by Ronald Tubid gave Petron only their second field goal in the period. The two came in the midst of a 6-2 stretch for Petron, putting them up by one. But suddenly the Boosters couldn't find the hole, as Alaska clamped down on them in the paint. The Aces then countered as Sonny Thoss set up Dondon Hontiveros for a triple, then JV Casio for a lay-up. Cyrus Baguio also chipped in a baseline jumper, 76-70, with two minutes to play.
Alex Cabagnot countered from outside, nailing a contested triple to bring the Boosters within three, but Baguio replied with a jumper from the right baseline, leaving 46 seconds on the clock. Now needing to foul, Petron sent Casio to the line, beginning the chain of events that led to Balkman's breakdown.
Robert Dozier led all scorers with 18 points, 26 rebounds and five blocks. Sonny Thoss and Gabby Espinas registered 14 and 13 points respectively, but only combined for six rebounds. Cyrus Baguio added 10 points and six boards.
The Aces' head coach Luigi Trillo was quick to praise his import for his team's showing on defense. "I'm proud of Robert Dozier, they really tried to be physical with Petron and got through the bad times in this game. Balkman is really what got them that five-game winning streak, he's their team's catalyst," he explained.
"I don't know if we'll get that all the time against Balkman, but we'll take [that]," Trillo added. "If Petron has their Balkman, San Mig has Bowles, we have Robert."
The win allowed Alaska to take solo first place with a 6-1 card. Petron notched its second defeat, to slip to third with a 5-2 record.
Trillo said luck played a role in his team's performance thus far, saying they caught some of their previous match-ups at a bad time. "But there were opportunities and we took advantage of them," he pointed out. "Our next few game will be crucial since we play A21 and GlobalPort. Those teams are tougher. We can't let our guard down, even though we should beat them on paper. They're gonna be playing with their backs against the wall."
The Aces showed good ball movement in the first quarter, as back-to-back hits by Sonny Thoss gave them an early 8-4 lead. Petron however bounced back with three triples over the next four possessions, courtesy of Denok Miranda and Joseph Yeo, but Thoss and Tony Dela Cruz kept finding chances at the rim as they kept a 14-13 advantage.
After that hot streak, Petron couldn't find the bottom of the net in the last four minutes. Alaska edged forward after Gabby Espinas made a pair of buckets to gave them an 18-13 lead after one period.
Dondon Hontiveros and Calvin Abueva provided Alaska's first seven points in the second quarter. Alex Cabagnot, who had previously been sidelined, returned to action tonight, but was still getting acclimated to the game, and it showed, as the Boosters' offense struggled to find easy shots. Cabagnot picked up his third personal foul defending Raffy Reyes on the break, forcing him to sit down, and the former UE Red Warrior made two to extended the Aces lead, 27-21.
In the last six minutes, Petron's offense slowly revved to life. Arwind Santos made two straight baskets out of a timeout, then Miranda and Marcio Lassiter added treys to form the bulk of an 11-4 run.
Petron played a step behind in the final two minutes as penetration and put-backs landed easy points on the board for Alaska. But with five seconds remaining, Renaldo Balkman nailed a floater to knot the score at halftime, 38-38.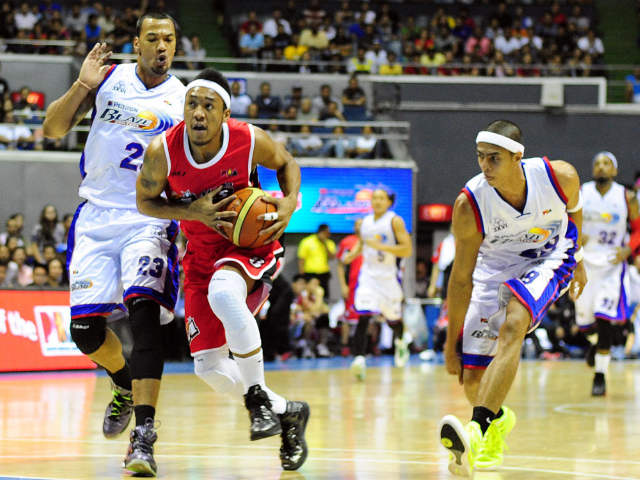 Calvin Abueva (C) blows by Jay Washington (L) and Arwind Santos, as Alaska bounced back from their first loss of the conference.
KC Cruz
Compared to the first period, Petron limited their three-point attempts and produced an 11-of-20 mark from the field (55 percent). Alaska on the other hand outscored the Boosters in transition during the period (9-5). The Aces also made 8-of-12 free throws (66.7 percent), compared to Petron's 1-of-4 mark during the quarter (25 percent).
The Boosters continued to assert themselves in the third quarter, as they began to deny Alaska the easy baskets in the paint. Petron's also made an effort to attack the rim, as Cabagnot and Balkman synced up for a slam off a pick-and-roll to give Petron a three-point lead. Dozier, whose team spent most of the quarter at the free throw line, split his charities soon after, 50-48.
Abueva gave the Aces a brief lead, completing an and-one with four and a half minutes left, but Cabagnot decided it was time to make his mark, and scored 11 of Petron's last 12 points, retaking a 62-60 advantage heading into the final period.
The Aces opened the final period with strong drives by Espinas and Robert Dozier. Petron adjusted with perimeter trapping and tough shot-blocking by Balkman, but Alaska prevailed for the meantime as an Espinas and-one gave them a 67-64 lead, before Petron tried to make a comeback.
The Boosters flamed out in the second half, making only 11-of-41 field goal attempts (26.8 percent), and 27-of-82 overall (32.9 percent). In contrast, the Aces were 13-of-30 during the second half (43.3 percent) and 28-of-69 overall (40.6 percent).
Alaska outscored Petron in the hustle categories, leading in fast break points (13-2) and turnover points (16-8). The Aces also spent more time from the free throw line, converting 25-of-35 tries (74.3 percent) compared to Petron's 12-of-21 mark (57.1 percent).
Denok Miranda top-scored for Petron with 17 points and five assists, including going 3-for-3 from three-point range. Alex Cabagnot added 16 points, while Marcio Lassiter added 12 markers.
- AMD, GMA News


The scores:
ALASKA 83 - Dozier 18, Thoss 14, Espinas 13, Baguio 10, Hontiveros 8, Abueva 7, Casio 5, Reyes 4, Dela Cruz 4, Jazul 0, Belasco 0.
PETRON 73 - Miranda 17, Cabagnot 16, Lassiter 12, Tubid 7, Balkman 6, Yeo 4, Santos 4, Washington 4, Fajardo 3, Lanete 0, Pena 0.
Quarters:
18-13, 38-38, 60-62, 83-73