NU's Parks, Aroga banner FilOil Mythical Five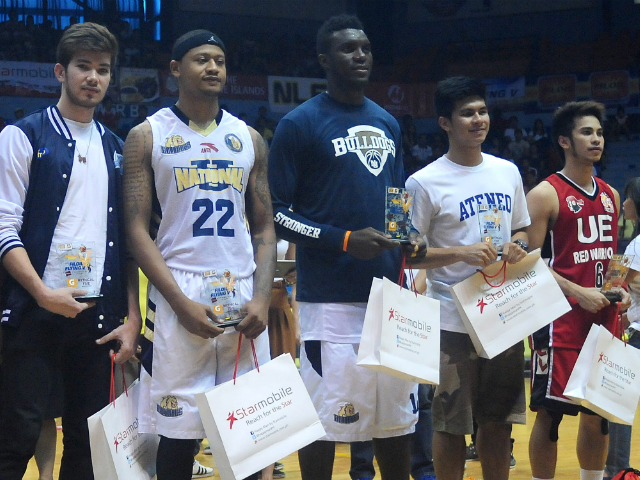 The 2013 FilOil Flying V Hanes Premier Cup Mythical Five (from L-R): Rodney Brondial, Bobby Ray Parks, Alfred Aroga, Kiefer Ravena and Roi Sumang.
KC Cruz
NU Bulldogs Bobby Ray Parks and Alfred Aroga bannered an all-UAAP 2013 FilOil Flying V Hanes Premier Cup Mythical Five, alongside Ateneo's Kiefer Ravena, UE's Roi Sumang, and Adamson's Rodney Brondial, the league announced Wednesday.
National U., which will play for a second straight FilOil championship at 4pm, saw its marquee player Parks average 17.0 points, 5.8 rebounds, 4.4 assists, 1.3 steals and 1.1 blocks this tournament. Aroga, meanwhile, got heavy minutes early in the tourney due to the injury to Emmanuel Mbe, and put up 14.3 points, 10.6 rebounds and 1.8 blocks as a result.
Aroga was also named Best Defensive Player of the tournament.
Their opponents in the Finals, UE, saw their starting point guard Roi Sumang make it into the quintet, on the back of averages of 16.3 points, 4.9 rebounds, 5.6 assists and 1.3 steals.
Adamson Falcon Rodney Brondial, whose side was beaten by UE in the quarterfinals, also made it to the list, having normed 13.8 points, 10.8 rebounds, 1.6 assists and 0.9 blocks.
The group is rounded out by Ateneo Blue Eagle Kiefer Ravena, who put up 21.8 points, 6.8 rebounds, 4.3 assists and 1.4 steals. His side however pulled out of the tournament prior to the postseason.
Last season, Parks and Ravena were also on the Mythical Five, along with Parks' teammate Emmanuel Mbe, fellow Blue Eagle Greg Slaughter, and DLSU big man Norbert Torres. No NCAA player made the list either.
- AMD, GMA News