UAAP
:

Olivares stars as Warriors overtake Archers in 4th quarter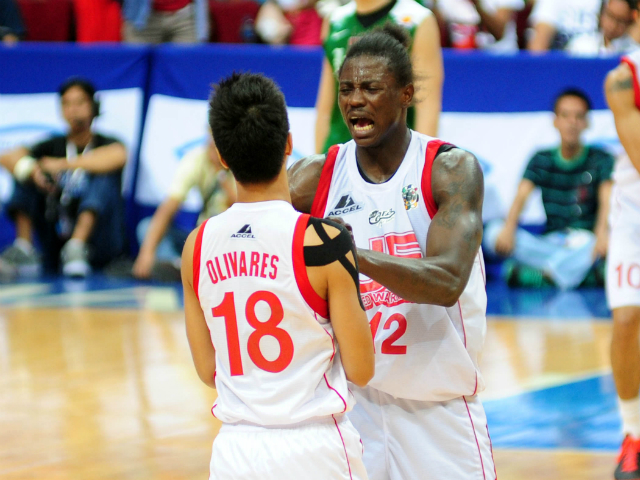 An emotional Charles Mammie celebrates with endgame hero Ralf Olivares.
KC Cruz
(Updated 4:47pm)
The University of the East Red Warriors mounted a comeback behind reserves Ralf Olivares and Dan Alberto in the dying minutes of the fourth quarter, to defeat the De La Salle Green Archers, 85-83, on Saturday at the Mall of Asia Arena in the first round of UAAP Season 76.
The Red Warriors improved their record to 3-3, gaining solo third just behind NU, while the Green Archers end up with a 2-3 mark.
[Review the play-by-play of this game here]
"They cannot underestimate anything, but as early as now, this first round, kasi last year 3-11 lang kami, at least first round pa lang naka-three [wins] na," said UE coach Boysie Zamar. "Going against UP [UE's next opponents] we have to be more determined."
The Green Archers led as much as 10 points in the fourth quarter, but the Warriors shrugged off the fatigue to outscore the Green Archers 27-19 to end the game.
DLSU was two possessions ahead after a wide open triple by Thomas Torres, 1:10 left in the game, but Olivares converted five straight points, including a go-ahead three-pointer of his own, 82-81. La Salle then failed to connect on the last possession as UE survived a game that featured 12 deadlocks.
All-in-all, Olivares and Alberto scored UE's last 10 points.
Roi Sumang paced his team with 21 points, seven rebounds, and six assists. Coming to his aid was power forward Chris Javier, who scored seven of his 16 points in the fourth period. Center Charles Mammie logged 19 points, 16 rebounds (12 offensive), and six assists. Mammie also burst into tears after the win.
"He has gone through a lot," said coach Zamar. "Suspension... noong opening, yung certification. It's our first back-to-back win. That is Charles Mammie, an emotional man."
La Salle stormed out of the gates running and pounding the ball inside, prompting coach Zamar to press for time after DLSU took an early lead, 6-2, within the first two minutes. The Warriors retaliated with an 8-2 blast led by Mammie, this time forcing Green Archers mentor Juno Sauler to call for time with six minutes remaining on the clock.
Teams then swapped baskets until forging an 18-all tie to end the quarter, with DLSU guard Almond Vosotros leading all scorers with eight points.
The two sides continued trading baskets in the early stages of the second, with Jeron Teng doing most of the lifting for DLSU. The Archers gained some separation after a three-point play by last year's rookie of the year, and maintained it after Teng traded a basket for Sumang's charities, 27-24. The Warriors however cashed in from long-range after the timeout, drawing three's from Alberto and Javier, but Thomas Torres answered with a three of his own to even the game at 30-all.
Double technical fouls were called on Gino Jumao-As and Thomas Torres after some rough play elicited the attention of the referees, with the game tied at 34-all.
The teams traded punches until the Archers again broke away from the tie via three consecutive triples, one from Vosotros and two from Florida-native Matt Salem to gain a seven-point buffer, 43-36. After a UE timeout, the Warriors resorted to drawing fouls, and Sumang and Mammie made three straight to cut DLSU's halftime lead to four, 43-39.
The Archers relied on efficient shots near the rim and lights-out shooting from deep, en route to a 51.4 percent shooting performance at the half, with four out of 10 makes from beyond the arc. They also eked out 14 points off nine UE miscues.
Teng paced his team with 13 points on 6-8 shooting, while Vosotros added 11 on a 5-8 clip.
The Warriors' free throws kept them in the game, making seven out of eight attempts (87.5 percent), even while hitting just 15 of their 36 shots (41.7 percent). They held a slight lead on the rebounding department at 20-18 and produced scores from their bench as well, with 14 coming from their reserves.
Mammie topped his team in scoring and rebounds with 11 points and seven rebounds (six offensive), while Sumang posted 10.
Jeron Teng (C) had 13 points after the first half, but none in the third and fourth quarters.
KC Cruz
La Salle opened the third quarter with a tough basket from Norbert Torres inside, 45-39, but the Warriors made six unanswered points before a nifty lay-up by Luigi De La Paz stopped the rally. A basket by Adrian Santos off a dime from Sumang evened the game at 47. Vosotros then drilled seven straight points from the perimeter as La Salle led, 56-49.
Mammie and Javier swapped scores from the inside with Van Opstal to make it 60-53, but La Salle extended their lead to nine after Thomas Torres lobbed it to Vosotros for a backdoor play, and Vosotros' 19th and 20th points, 62-53.
Norbert Torres' hook shrugged off two free throws from Sumang, but Sumang drilled a trey from around 30 feet to make it a two-possession game heading to the fourth, 64-58.
The Archer lead finally reached double-digits after two straight baskets from Van Opstal and De La Paz, 68-58. UE managed to add points only at the 7:39 mark after a split by Sumang, and two more from the line by Mammie, to make it a 68-61 game. Undaunted, the Red Warriors went on a 10-3 run, seven courtesy of Javier, to make it a 73-71 ballgame. Free throws by Sumang then knotted the score at 73-all, the 12th deadlock of the ballgame.
Vosotros cut the tie with a triple, and La Salle maintained the lead after a dunk by Van Opstal countered two splits by Mammie, 78-75. Alberto punched back with a floater, but Thomas Torres' triple had seemingly drove the nail in the coffin, 81-77. Olivares, however, scored five straight points to swipe the lead, 82-81.
The referees adjudged a long-range shot by De La Paz to be a long two instead of a three, with La Salle still down 84-83 after free throws by Alberto. A split by Olivares at the line gave them a two-point lead, a small advantage that the Warriors clung to after Thomas Torres missed the final basket, 85-83.
Vosotros scored a career-high 26 points on an 11-19 shooting clip from the field, to go with three assists and two steals. On his heels was Teng, who scored 13 points and logged five rebounds, five assists, two steals, and three blocks in limited minutes, as the coach pulled him for most of the third quarter and the last few minutes of the fourth quarter.
- RAF, GMA News
The scores:
UE – Sumang 21, Mammie 19, Javier 16, Alberto 9, Olivares 8, Noble 4, Sumido 0, Jumao-As 0, Hernandez 0, galanza 0, Flores 0, Casajeros 0
DLSU – Vosotros 26, Teng 13, N. Torres 9, T. Torres 9, Van Opstal 8, De La Paz 8, Salem 6, Perkins 4, Tampus 0, Revilla 0, Montalbo 0
Quarter scoring:
18-18, 39-43, 58-64, 85-83