Foreign aid for Yolanda victims will be audited, accounted for – Abad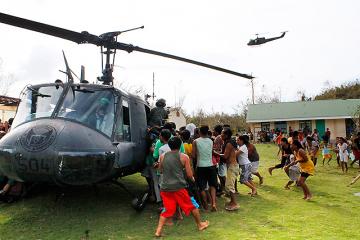 AFP choppers bring relief supplies to Iloilo typhoon victims. Residents rush to a military helicopter to get food packs during relief distribution efforts in typhoon-devastated Iloilo on Monday, November 11. Survivors of super typhoon Yolanda in the Central Visayas begged for help and scavenged for food, water, and medicine as conditions deteriorated. Reuters/Leo Solinap
In the wake of the pork barrel scam, and amid growing concern that foreign aid pouring in for typhoon victims would again be lost to corruption, the government vowed to be transparent in handling funds meant for those who suffered from the devastation caused by Yolanda.

"The COA (Commission on Audit) will ultimately audit because those donations and grants will enter the government's books and therefore have to be accounted for," Budget Secretary Florencio Abad said in a text message to GMA News Online on Tuesday.

COA chairman Grace Pulido Tan has assigned Commissioner Heidi Mendoza to take charge of the disaster aid audit, GMA News' Joseph Morong reported.

In recent months, the misuse of some P10 billion in pork barrel funds allegedly masterminded by Janet Lim-Napoles in connivance with lawmakers has made headlines. Some of the funds were reportedly earmarked for victims of tropical storm Ondoy, and Napoles is now facing plunder charges along with several government officials because of the supposed anomalies.

In a flash appeal on Tuesday, the United Nations said an estimated $301 million (P13 billion) would be needed for relief efforts in a wide swathe of the central Philippines battered by Super typhoon Yolanda, which slammed into many islands with ferocious winds that whipped up tsunami-like waves.

Department of Foreign Affairs (DFA) spokesman Raul Hernandez said the Philippines has so far received 33 offers of assistance from foreign donors, estimated at P2.366 billion so far, for typhoon-ravaged areas that extend from Samar in the east to Palawan in the western section of the country.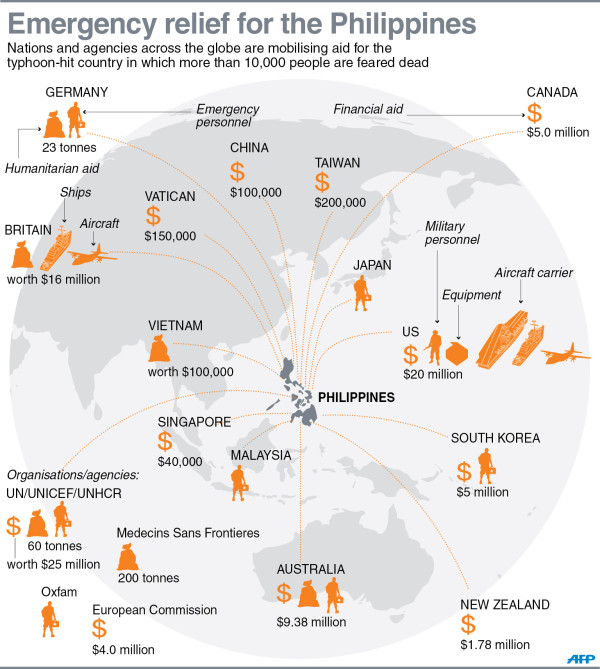 With foreign aid streaming in, one Filipino overseas worker posted an appeal to President Benigno Aquino III asking him to assure "us and our fellow countrymen abroad that all aid, whether financial or in kind, would go straight to the victims of the typhoon."

In a post on her Facebook page, Katherine Whellams noted that allegations of corruption against some officials had eroded public confidence in the government. "It is therefore our moral obligation and necessity to ensure that every cent of these donations is accounted for," she said.

DFA to collate pledges

In a press briefing at the palace on Tuesday, presidential spokesperson Edwin Lacierda said the DFA is in charge of coordinating all the assistance for the Philippines.

"What DFA does is that they will collate and coordinate. Some of these are pledges of assistance, so mag-a-update po regularly ang ating DFA to give us a list of the assistance, pledges of assistance, kung itong pledge po ay naibigay na po," he said.

"We will also tabulate where the assistance went to para at least, klaro po sa ating mga kababayan na itong mga tulong na ibinibigay ng ating mga kapitbahay ay talagang magagamit ayon sa kanyang pinag-donate," Lacierda added.

He said the government would respect the priorities of donors regarding the recipients of cash donations. "For instance, if they have certain intentions for that particular money then we will … accede to their wishes," he added.

Lacierda said if the Philippines is given blanket authority on how to use the financial assistance, "then it will be up to us how we would be able to use it properly or prudently."

However, he clarified that not all assistance is in cash, or will be coursed through the government.

"Ang Australia nagbigay po ng medical assistance," he noted. "Ang ibinigay ng Australia, to be deployed through Australian NGOs, so hindi po 'yan dadaan sa atin. Iko-coordinate lang po 'yan with the DFA," he added.

"It's a medical team in search and rescue, hindi po ito cash, but we monetized it. The contribution is around 1,000,000 dollars," Lacierda said.

Donations intended for private organizations, such as the Red Cross, will go straight to the group.

To ensure equitable distribution of relief goods, the Department of Social Work and Development and the Department of Interior and Local Government were given the task of determining which communities "need more assistance than the others," Lacierda said.

Abad said the DFA would ensure that donor countries approach them first before the donation is released to an implementing agency, such as the DSWD.

#BantayDonasyon

On her Facebook page, Whellam listed down several proposals for the government, to ensure that foreign aid for typhoon victims is properly accounted for:
create a committee that would oversee how the donations are being spent
create a website where people can see updates on the assisance given, and communities being rebuilt

"Let them see and verify the transparent implementation of aid. Again, transparency is the key. It will bring about a better way, namely – a more honest and efficient governance," she said.

Using the hashtag #BantayDonasyon, other Facebook users aired their sentiments about the assistance for Yolanda's victims.

Nheries Carpio: "Bantayan po sana nating mabuti ang milyon-milyung mga donasyon na nanggagaling sa iba't ibang bansa at maging mabilisan ang paghahatid ng tulong sa ating mga kababayan. Sa atin pong mga kinauukulan mga nasa politika... day off din sa pangungurakot pag may time... tulong muna tayo sa ating mga kababayan."

Jasper Guce: "Those Philippine goverment officials who stole millions or billions of pesos from us Filipino citizens, I beg you to return them all and help the victims of super typhoon Yolanda. If you (corrupt officials) still have a human heart please, give back the money stolen from us!!!"

Begging for help

Four days after Yolanda destroyed entire coastal communities with record winds and tsunami-like waves, the magnitude of the disaster continued to build with almost unimaginable horror.

Festering bodies still littered the streets in many areas of Tacloban City, one of the worst-hit areas, with the smell of rotting flesh hanging in the air and ramping up the fear of disease in the tropical heat.

Increasingly desperate survivors begged for help that was having difficulty reaching them -- many still without access to food and water after nights spent in the open.

"We are certainly expecting the worst. As we get more and more access we find the tragedy of more and more people killed in this typhoon," UN humanitarian operations director John Ging said, after President Benigno Aquino declared a "state of national calamity."

The United Nations warned that 10,000 people were feared dead in just one city, Tacloban, the provincial capital of Leyte province where 16-foot waves flattened nearly everything in their path as they swept hundreds of meters inland.

Nearly 10 million people, or 10 percent of the Philippines' population, have been affected, while 660,000 have lost their homes, the UN estimated as it launched a flash appeal for donations.

UN humanitarian chief Valerie Amos told reporters in Manila the money was needed for "food, health, sanitation, shelter, debris removal and also protection of the most vulnerable." – with a report from Agence France-Presse/YA/ELR, GMA News