Pacquiao dominates Rios, wins via unanimous decision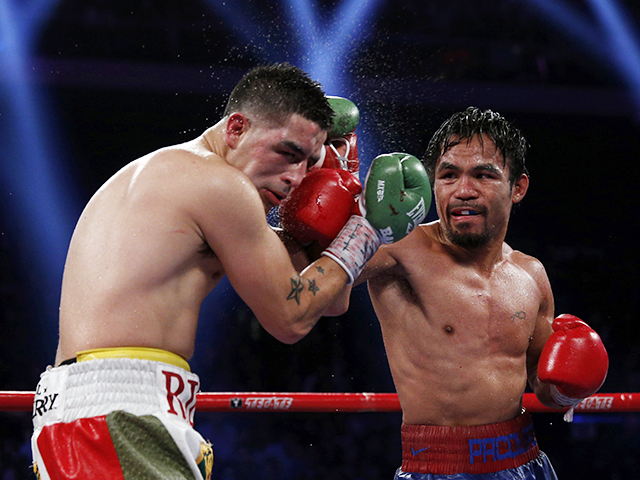 He's still got it - Manny Pacquiao lands a right on his foe Brandon Rios.
Tyrone Siu / Reuters
(Updated 2:52pm)
He's back.
In what could have been his swansong in boxing, Manny Pacquiao proved he still packs a mean punch, registering a unanimous decision victory against American Brandon Rios, Sunday at The Venetian Macau, claiming the WBO International Welterweight belt in the process.
Among the three judges, Michael Pernick scored it 120-108, while Lisa Giampa had it at 119-109. Manfred Kuchler gave Rios two rounds at 118-110.
It was total domination for Pacquiao, who pummeled Rios with a flurry of punches. He showed vastly greater hand speed than his opponent and landed blistering combinations that left Rios' right eye swollen and his left eye bleeding.
Though the Filipino was unable to score any knockdowns, he clearly frustrated his foe, who on several occasions swung at nothing but air as Pacquiao moved out of the way and returned fire before Rios could cover up.
Pacquiao landed 281-of-790 punches for 36 percent, while Rios connected with 138-of-502 punches thrown for 27 percent, according to CompuBox.
"Recovering from the knockout and giving a good show just like the young Manny Pacquiao," the Saranggani representative said after the win.
Pacquiao also shared that he was very careful this time around, avoiding a repeat of the result in his last loss against Juan Manuel Marquez:
"I'm very careful. I learned in the last fight."
[Review the fight, round-by-round]
After nearly a year away from the ring, the Filipino ring icon, who dedicated his win to victims of Super Typhoon Yolanda, showed he still has what it takes, as he took down the taller Rios.
"This isn't about my comeback," he insisted. "My victory is a symbol of my people's comeback from a natural disaster, a national tragedy. It's really important to bring honor to my country with this win."
The tone of the fight was set early and remained the same for all twelve rounds. Rios (31-2-1, 22 KOs) put his gloves high in front of his face in an attempt to block Pacquiao's blows, but the eight-time world champion threw so many punches that quite a few broke through to leave their marks on the American's face.
Showing deft footwork, Pacquiao would jab, turn swiftly to one side, land another punch and turn again.
On several occasions, one straight left would be followed by another, and then, having pierced Rios' defense, Pacquiao would open up with a barrage of four or five punches, to the delight of the more than 13,000 in attendance at the Cotai Arena in the Venetian Macao.
"All I can say is, many Manny punches," smiled Pacquiao's trainer Freddie Roach. "He fought the perfect fight. He let him off the hook. I wanted him to knock him out. But I was very happy with his performance."
Gracious Rios
Fight week had been marked by tension between the two fight camps, which culminated in Roach and members of the Rios team engaging in a scuffle on Wednesday morning but Rios was gracious in defeat.
"I got beaten by one of the best fighters in the world," he said. "He came with a game plan and he executed it. He's very fast and he throws punches from a lot of different angles. He's hard to fight against."
Pacquiao returned the compliments.
"My opponent was very tough," he said. "He is a strong fighter, and a tough fighter. Rios was not an easy opponent. He was one of the toughest opponents I've ever faced."
Following Pacquiao's December knockout against Marquez, there were questions over whether he could still compete at an elite level. Roach had hinted that defeat against Rios would be a reason for his fighter to retire. Victory, however, prompted a different response.
"This is still my time," said Pacquiao. "My time is not over."
Rios' trainer Robert Garcia agreed.
"Pacquiao still has it," he said. "He has quickness and great speed. He'll be around for a long time."
Hungry Pacquiao
Coming into the bout,
Pacquiao described himself as hungry
, following what was essentially a year away from boxing, after losing last December to arch-rival Juan Manuel Marquez via a sixth-round KO, and prior to that, a controversial split decision to Timothy Bradley.
That hunger manifested positively, as the Filipino congressman gave his Super Typhoon-struck countrymen something to cheer for.
Pacquiao dedicated his bout to the victims of Yolanda (international name Haiyan)
, and his fight was broadcast for free to security forces and aid workers, as well as the citizens, many homeless, of Tacloban.
It was not immediately known what Pacquiao's next bout would be, but it is possible that he will seek a rematch against Marquez, or see if Floyd Mayweather Jr. will finally rise up and face him, in a bout many boxing fans have long clamored for.
On the other hand, it is the second straight loss for 27-year-old Rios, who blazed into the limelight after registering 31 wins and a draw without a defeat, until losing his rematch against Mike Alvarado via unanimous decision last March for the Interim WBO Welterweight title.
It was Pacquiao's first fight outside the United States since winning at home against Oscar Larios in 2006. Celebrities were still on hand at The Venetian to witness the fight, including football superstar David Beckham, who was shown visiting Pacquiao right before the match. American Idol finalist Jessica Sanchez sang both the American and Philippine national anthems.
— OMG/AMD/RAF, GMA News; with a report from Reuters by Kieran Mulvaney
TAGGED IN
brandonrios mannypacquiao

#gomanny Tweets