Jericho Rosales calls for Mali the elephant's transfer
Jericho Rosales is the latest celebrity to join the call for the transfer of the country's lone elephant Mali (full name: Vishwa Maali) from her solitary confinement at the Manila Zoo to a dedicated elephant sanctuary in Thailand.
In the mug shot-like picture released by the People for the Ethical Treatment of Animals (PETA) Asia on Wednesday, Rosales can be seen holding a board saying "Jericho Rosales wants Mali freed."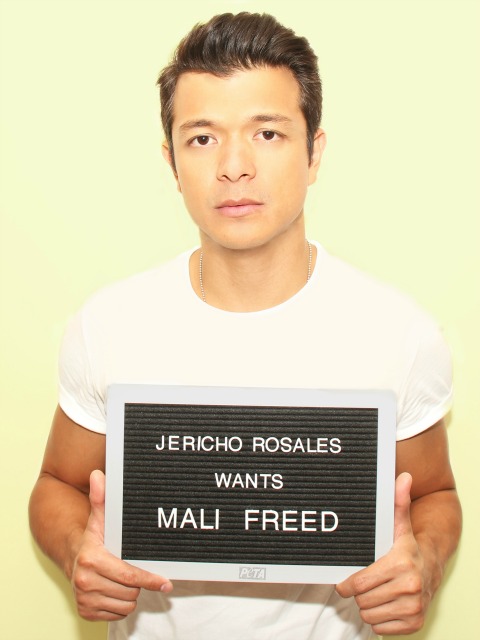 "All evidences tell us that Mali is lonely and badly in need of veterinary care," Rosales said in a public service video for PETA.
"I don't understand why Mali's transfer has not already happened. She deserves a life that is more than the confines of the Manila Zoo," he added.
In a press release, PETA reiterated Mali's need for company and veterinary care, especially for her injured foot.
"Mali has received essentially no veterinary care for more than 36 years, leaving her to endure constant pain from debilitating foot problems. Also, elephants are highly social animals who naturally live in herds and suffer greatly in the absence of other elephants. Mali is all alone, making her transfer even more urgent," the group said.
PETA added that Mali cannot and should not be housed in captivity due to her enclosure's small size.
"Even if the elephant exhibit at the Manila Zoo were to be doubled or tripled in size, it would still not be adequate to house one elephant, never mind additional ones. More and more zoos have recognized that the needs of these complex and intelligent animals cannot be met in captivity," they said.

Celebrities involved
Earlier, a group of models and actresses, including actress and singer Geneva Cruz and model Amanda Griffin Jacob, also posed for a PETA photo shoot, wearing nothing more than placards that spell out "Naked Truth: Mali the Elephant Is Suffering."

Mali's life at risk
The Manila Zoo, however, had earlier said that PETA and its supporters should respect their
decision to keep Mali
.
It said the trip to Thailand will put Mali's life at risk since the chances of the 38-year-old lone elephant surviving the trip to Thailand is low.
—Patricia Denise Chiu/KG, GMA News
Photo courtesy of PETA