Filtered By: Cbb
Community Bulletin Board
The Filipino LGBT experience showcased in Sine Bahaghari
The status of lesbian, gay, bisexual and transgender (LGBT) peoples remains as one of the last great civil issues of our time. In the Philippines, the LGBT community faces a multitude of issues: hate crime, discrimination, and HIV/AIDS, to name a few.
In celebration of National Arts Month, Akei, together with PinoyG4M and Pelikula Tumblr, launches Sine Bahaghari, a showcase of the Filipino LGBT experience as seen in Philippine alternative cinema. The Sine Bahaghari project aims to promote discussion on how the LGBT community is depicted in Philippine cinema and popular culture as well as introduce Filipino-made contemporary independent films to a wider audience.
Featured are two classic works by renowned director Lino Brocka, National Artist for Film, which explored homosexuality as viewed by Philippine society during the 70s.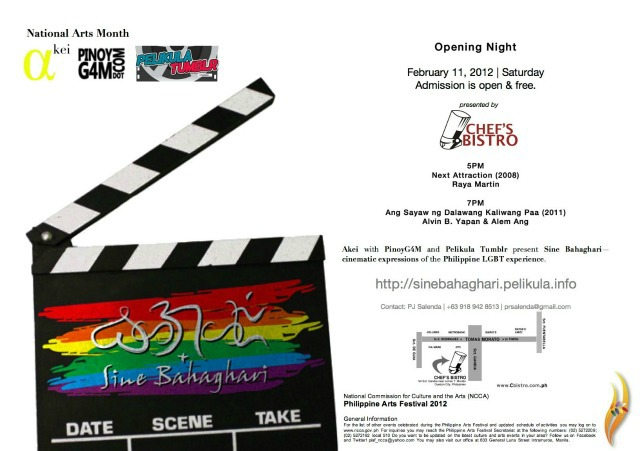 Sine Bahaghari opens on February 11 at Chef's Bistro with two films from celebrated Filipino filmmakers: "Next Attraction" by Raya Martin and "Ang Sayaw ng Dalawang Kaliwang Paa" by Alvin Yapan. Also screening are films from prominent independent filmmakers, such as Adolf Alix Jr, Sigrid Bernardo, Roni Betubin, and Vincent Sandoval.
Sine Bahaghari will have screenings on February 11, 18, 24 and 25. All screenings are free admission and open to the public.
Sine Bahaghari is included in the National Commission for Culture & the Arts' (NCCA) Philippine Arts Festival this February 2012.
For more inquiries, please contact PJ Salendra at (0918) 942-8513 or email prsalenda@gmail.com. You could also visit the Sine Bahaghari website at http://sinebahaghari.pelikula.info. Press release from Sine Bahaghari